Isaac Haxton Joins Team PokerStars Online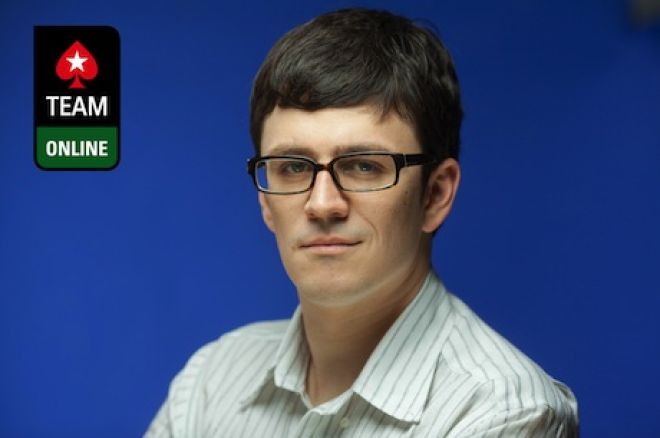 If you follow @PSTeamOnline on Twitter and guessed that "philivey2694" would be the newest member of Team PokerStars Online (we hope you didn't forget the hashtag #GuessTeamOnline), then get ready to cash in.
On Thursday, PokerStars announced that Isaac Haxton is the newest member of Team PokerStars Online. Haxton joins the likes of fellow Team Online members Shane "shaniac" Schleger, Randy "nanonoko" Lew, Adrienne "talonchick" Rowsome, Mickey "mement_mori" Peterson and others, saying he believes in what the world's most popular poker site represents.
"I'm excited for the new opportunities this partnership brings," Haxton said of the deal. "I'm not just playing for myself now – I'm representing a team and a brand. That brings new opportunities and new responsibilities."
In 2007, Haxton recorded his first career live score at the PokerStars Caribbean Adventure, finishing runner-up to Ryan Daut in the $10,000 Main Event and earning $861,789. At the 2012 PCA, Haxton reached the final table of the $25,000 High Roller, finishing third and pocketing $380,730.
Haxton has 23 cashes at the World Series of Poker, including his largest career score, a second-place finish in the $40,000 40th Anniversary event for $1,168,565.
"I want to make Supernova Elite in 2012 playing mostly heads-up sit-and-gos," Haxton added. "I also want to learn Pot Limit Omaha and play some heads-up No Limit Hold'em cash matches."
Before signing with Team Online, Haxton was the challenger in three heads-up no-limit hold'em cash matches, battling Viktor "Isildur1" Blom in the PokerStars SuperStar Showdown. Haxton defeated Blom in their first two meetings by a combined $46,800, but Blom won the $1 Million Challenge, taking $500,000 off of Haxton.
Haxton will drop the handle "philivey2694" and now be known simply as "Ike Haxton."
PokerNews caught up with Haxton Thursday to discuss his new deal with PokerStars, his goals for the rest of 2012, and more:
You've been a successful pro for years. Why did you choose to pursue a sponsorship now?
Honestly, I've been "pursuing" a sponsorship for years. I've entertained a lot of offers from a lot of different sites but there's always been one reason or another that I've chosen not to take them. This team online deal finally brings me terms I like with a site I'm proud to endorse.
Why PokerStars?
PokerStars has always done right by me, which is more than I can say for most of their major competitors. I had always had a good impression of Stars, but being paid promptly on Black Friday meant a lot to me and really cemented that good will.
When you chose the handle "philivey2694" did you think you'd compete with him one day?
Absolutely not. I was playing small stakes LHE at the time and just thought it sounded as fishy and anonymous as possible.
Are you going to miss your old handle now that you're "Ike Haxton?"
Yeah, a bit. I've had a lot fun playing on that account.
Will you miss your avatar?
Definitely. I love South Park Ike. I tried to convince Stars to let me keep it!
What did the 2007 PCA mean for your career?
It was a big turning point. I had never really given much consideration to the live tournament circuit before that. I played some satellites online because I thought it would be a fun vacation. If I hadn't done so well, there's a good chance I would have just gone back to grinding online and it could have been a few more years before I started to play many big live events, if at all.
How excited are you for the 10th anniversary of the PCA?
Very excited! It'll be my seventh consecutive PCA and I'm hoping I can start 2013 off right with a big score.
Do you see yourself replacing Viktor Blom in the Superstar Showdown?
I don't know if anyone can replace Viktor, but my role will be similar in a lot of ways. I'd love to do some Superstar Showdowns in the same format as his, but more immediately we have some other things planned. I can't give you full details just yet, but we're going to have a very cool high-stakes HUNL event coming up quite soon.
Who is your favorite member of Team Online?
Nanonoko (Randy Lew) for sure. I've played a lot with him and he's always impressed me. I remember a few years back when he first started playing 25/50 I was licking my chops at the thought of getting to play with some robotic 24-tabling nit. I thought he had no chance of keeping up in the toughest NL ring games playing that many tables. I was very wrong.
Where is your central grinding station outside of the United States?
Malta, but I travel around a lot, as well. Last year I spent six weeks in Hong Kong and a month in Vancouver. In 2013, I'm planning to spend a couple of months in Melbourne and probably a couple of months in Vancouver again as well.
Why do you want to achieve SuperNova Elite status focusing solely on HU SNGs?
I like playing heads-up no limit but it's hard to get consistent high-stakes action. With HUSNGs, I can pretty much always play $1k hypers, if not bigger, whenever I want. It was only after I started playing a bunch of them that the thought of getting SNE occurred to me. I noticed I was easily banging out 15k VPP in a day, occasionally quite a bit more if I played a long four-tabling session at $2ks or higher. I looked at some numbers and saw that SNE would raise my effective "rewards" rate from around 45 percent at Supernova to around 75 percent at elite. With those numbers in front of me, and knowing that I'd probably get at least halfway there without even really trying, it was a no-brainer to go for it.
Who is your toughest opponent in HU SNGs?
I'd rather not say. The lack of clarity about who's the best keeps the action flowing and I don't want to change that.
You also say you want to improve your PLO game — do you see PLO as the NLH of the future?
I don't know if I'd call it the NLH of the future, but I do think it's a game with a bright future. It actually has a lot of advantages over NLHE. NLHE is so technical, the edges an expert has relative to a novice are so big, that the game isn't a lot of fun for some new players. In PLO, you can kinda just get in there and mash the pot button whenever your hand matches up nicely with the board and you've got a shot. That's not to say that the game, played at the highest level, is any less skillful than NLHE, but I do think it's a lot more fun for a novice who is competing against experts. That's a good characteristic for a poker game to have.
Follow PokerNews on Twitter for up-to-the-minute news.