PokerStars SuperStar Showdown: Viktor Blom Up Nearly $100,000 Before Match Postponed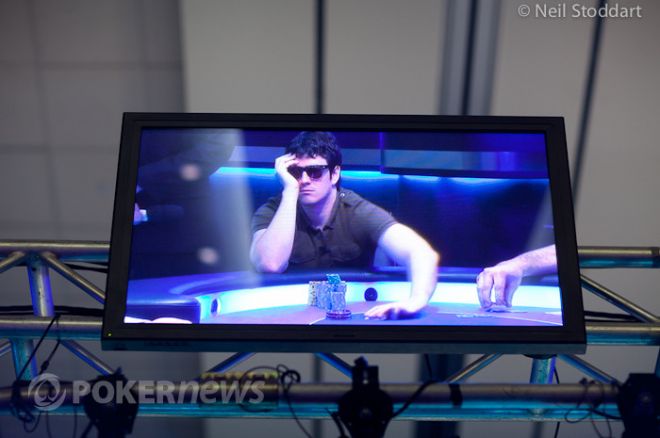 In December 2010, PokerStars launched the SuperStar Showdown featuring Viktor Blom, who was then known simply by his online handle — "Isildur1". After a nine-month hiatus, the SuperStar Showdown returned last Sunday with Blom squaring off against his opponent from that inaugural match, Isaac "philivey2694" Haxton. The latter won $41,701 in their first meeting, but Blom was well on his way to redemption this weekend, up nearly $100,000 in 692 hands, before the match was postponed.
For those who don't know, the SuperStar Showdown is designed as a high-stakes match where challengers face off against Blom in a heads-up match of 2,500 hands. The match is played across four tables of $50/$100 or higher no-limit hold'em and/or pot-limit Omaha, dependent upon the competitors' preference. The winner is decided by whoever shows a profit at the end of the match or felts his or her opponent in the process.
In the latest match, Blom and Haxton agreed to play $100/$200 no-limit hold'em, each prepared with 15-buy-in bankrolls. Action kicked off around 12:00 p.m. EDT, and Blom immediately jumped out to an early lead. According to the PokerStars Blog, the first all-in hand developed on a flop of
and Haxton three-bet all in with
, prompting Blom to call off his remaining $9,300 with
. The flopped nuts held, and Blom raked in the $40,000 pot.
Here are a couple of the other notable hands in the match:
Biggest Pot of the Day: After Blom opened for $600 and Haxton called, the flop fell
. Haxton proceeded to check-call a bet of $1,000 before leading out for $2,400 on the
turn. This time Blom was the one who called, leading to the
river. Haxton fired again, this time $5,280, and Blom responded with a raise to $23,600. Haxton made the call but quickly mucked when Blom rolled over
for a full house, and raked in the $55,200 pot.
Nice River for Haxton: Not long after the hand just described, Blom opened for $600 holding
and then called Haxton's three-bet to $2,100. Haxton, who held
, fired out $2,400 on the
flop, Blom called, and the
was put out on the turn, prompting two checks. Blom needed an eight on the river to win the pot, and wouldn't you know it, the
spiked. Haxton checked, Blom moved all in, and Haxton called off his remaining $15,700. With that, Blom was up $94,954.
At that point, Haxton's Internet connection began acting up. While he tried to find a quick fix, he couldn't and the decision was made to postpone the match with 1,808 hands remaining. Haxton was clearly disappointed with mother nature and took to TwoPlusTwo to explain exactly what happened:
"Hey everyone,

I'm really sorry about all this. I know it's ruining the flow of the match for spectators.

To clarify the weather stuff: There was a really bad storm 2 days ago. My internet was completely down for 2 hours and has been a little unstable ever since. I think something between the ISP and my apartment must have been damaged.

Yesterday my internet only went out once or twice all day and I thought I'd be fine to play. Obviously, it's been a lot worse today but I'm optimistic we'll still be able to get the match done. I haven't had any problems for almost 10 minutes and if holds up for a couple more we're gonna start playing again."
The Haxton-Blom match will reconvene at 2pm EST (18:00 GMT) Tuesday, while a new match will take place on March 18 at 12:00 p.m. EDT against high-stakes no-limit hold'em specialist Andrew "Kanu7" Millar.
SuperStar Showdown Breakdown
| Date | Opponent | Profit/Loss | Record |
| --- | --- | --- | --- |
| Dec. 19, 2010 | Isaac "philivey2694" Haxton | -$41,701 | 0-1 |
| Jan. 2, 2011 | Antanas "Tony G" Guoga | +$44,280 | 1-1 |
| Jan. 30, 2011 | Daniel "w00ki3z" Cates | +$51,196 | 2-1 |
| Feb. 13, 2011 | Eugene "MyRabbiFoo" Katchalov | +$111,750 | 3-1 |
| Feb. 27, 2011 | Attila "DodgyFish72" Gulcsik | +$10 | 4-1 |
| March 20, 2011 | Daniel "KidPoker" Negreanu | +$150,000 | 5-1 |
| March 27, 2011 | Daniel "KidPoker" Negreanu | -$26,500 | 5-2 |
| April 3, 2011 | Scott "urnotindangr" Palmer | -$5,425 | 5-3 |
| April 10, 2011 | Scott "urnotindangr" Palmer | +$66,607 | 6-3 |
| April 24, 2011 | "Mastermixus" | +$1,279 | 7-3 |
| June 19, 2011 | Rui "PepperoniF" Cao | +$150,000 | 8-3 |
| March 11, 2012 | Isaac "philivey2694" Haxton | +$99,886 | To Be Continued |
| March 18, 2012 | Andrew "Kanu7" Millar | ??? | ??? |
Total SuperStar Showdown Profit to Date: $601,382
For more information, visit the PokerStars Blog.
Get all the latest PokerNews updates on your social media outlets. Follow us on Twitter and like us on Facebook today!