Vanessa Selbst Reflects on Her Incredible 2013 and the PokerStars Caribbean Adventure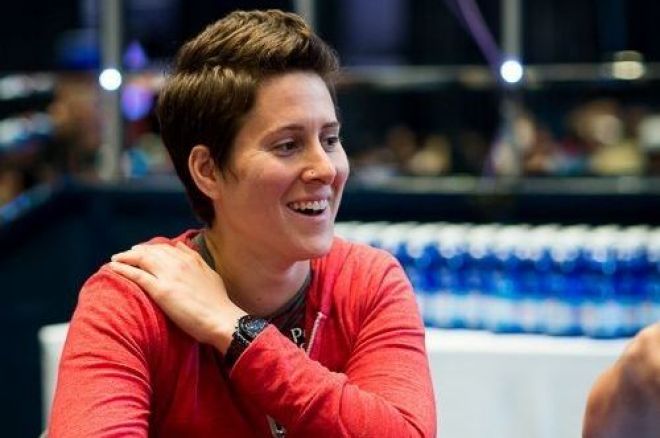 Very few players have done as well as Team PokerStars Pro Vanessa Selbst in 2013 — which has proven to be her second-best year with more than $2.4 million in winnings.
The outstanding year she is having began back in January when she proposed to her girlfriend, Miranda, and then went on to win the $25,000 High Roller at the PokerStars Caribbean Adventure (PCA) for over $1.4 million, becoming the female all-time money earner.
She followed that up with a fourth-place finish in the EPT Grand Final €25,000 High Roller for $380,656 in May; runner-up in the World Poker Tour Borgata Poker Open in September; and most recently, a victory in the UKIPT London High Roller for $109,443.
Have a look at her complete results on the year:
| Date | Event | Place | Prize |
| --- | --- | --- | --- |
| January 12 | PCA $25,000 High Roller | 1st | $1,424,420 |
| May 8 | EPT Grand Final €1,000 Five Card Pot-Limit Omaha Hi/Lo | 5th | $6,543 |
| May 10 | EPT Grand Final €25,000 High Roller | 4th | $380,656 |
| June 8 | WSOP Event #17 $1,500 NLHE | 60th | $7,218 |
| September 15 | WPT $3,300 Borgata Poker Open | 2nd | $492,569 |
| October 5 | UKIPT £2,000 High Roller | 1st | $109,443 |
| November 20 | $125,000 partypoker Premier League VII | 12th | $18,000 |
Clearly it was a big year on the felt for Selbst, and given that this year's PCA is right around the corner, we thought we'd ask the Team Pro to reflect a bit on her incredible year.
PokerNews: The PCA has become a special place for you. You got engaged there and then won the High Roller to become the highest earning female player of all time. What is your favorite PCA memory and why?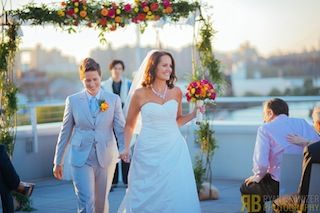 Selbst: We actually got engaged on January 4, 2013 — so it was mere days before the high roller victory. I joked on Twitter that I only proposed for the run good, but maybe there was something to that. Obviously last year was the most incredible PCA imaginable for me. From the first day (getting engaged) to the last day (winning the high roller), it was amazing.
Why do you think the PCA has developed into one of the year's most prestigious stops?
The setting is just so grand and idyllic. You couldn't imagine a more serene and picturesque place to play poker. PCA consistently draws some of the largest and most talented crowds, so it's definitely a place everyone wants to be. It's also one of the only tournament series that consistently draws meaningful fields for all events, not just Main Event, so that's nice.
Do you think having it at the start of the year helps players kick things off with some momentum?
There's definitely a thought that this tournament could set the tone for your year. There have been PCAs where I haven't done anything at all and then I'm already in a decent downswing I have to dig myself out of, and then there are PCAs like the last one. It definitely feels like you're taking the year by storm when you kick it off by winning almost one and a half million dollars.
Speaking of the High Roller win, how did it feel to become the highest earning female player of all time?
It's a really cool accomplishment and thinking about it now makes me happy, but at the time I was just focused on winning the high roller in such a difficult field.
What is the most important thing for you in the poker world? Money? Titles? Respect? Etc.?
The most important thing in poker for me is consistently putting myself in contention to win. The game is changing all the time and people are getting much better at it, so that means I need to continue to grow as a player. I do a lot of work to analyze and improve my own game, and as long as I'm making a few major final tables every year, then I'll be happy.
How do you feel your interview with Bloomberg went? How did that opportunity come about and what sort of feedback have you gotten from the poker community?
I think the interview was a really positive thing. The hosts were obviously really smart women, and they asked good questions. By highlighting the similarities between finance and poker, I think I was able to shed some light for the public on the skill involved in poker, which is something not too many people know that much about.
You recently moved to New York. How has that been going thus far?
New York has been great — I've gotten to see old friends, eat at great restaurants, see theatre, do a lot of cooking, spend time with my family, and connect with people on a non-profit project that I'm working with. I've still been traveling my fair share between the poker circuit and Canada, but I'm trying to make as much time as possible to be in NYC.
Do you see yourself as a full-time poker pro for a long time? What do you hope the future holds for you?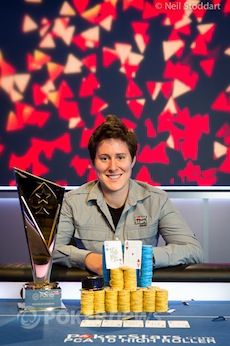 I can't imagine my life without poker in it. As long as poker tours like the EPT continue to put out these huge prizes, I'll be there trying to win them.
2013 was the second-best year of your career. Looking back, can you talk a little bit about your favorite highlights — both on and off the felt?
The year started off right with my engagement and an amazing PCA. Miranda and I drove from Los Angeles to New York, stopping a bunch along the way. I got to see some amazing friends get married. I got married! I final tabled the €25,000 High Roller at EPT Monte Carlo after a dry spell of not cashing from January to May. I replugged myself into NYC. I won a bunch of money in the fall, getting second at WPT Borgata and winning the UKIPT High Roller. Then I'll be playing Premiere League and exploring Montreal. I have EPT Prague coming up, plus holiday celebrations with family and friends. All in all, a wonderful year.
What was the worst moment of the year for you?
I had a tough World Series of Poker. I was playing every day, all day long. I didn't take any real breaks, and I didn't see my friends. I was in business mode. I played even when I didn't feel like it, which is something I usually make a point not to do. After a while, I was burned out, and my head wasn't in it. I'm hoping to find a way to change this in 2014, where I can still play a lot of events (since now I'm playing the mixed events as well), but only focus on the really important ones or take breaks if/when my heart isn't in it.
What are your goals for 2014?
I'm not usually one to set goals for an entire year, so I guess I'll just say that I hope 2014 is as incredible as 2013 was!
Get all the latest PokerNews updates on your social media outlets. Follow us on Twitter and find us on both Facebook and Google+!