Blake Bohn and Mark Sandness Discuss MSPT Running Aces Final Table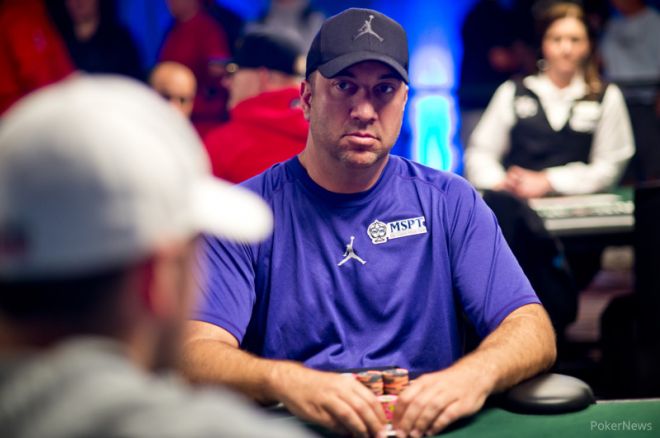 Last weekend, Mark Sandness defeated Team Pro Blake Bohn (pictured) to win the first stop of the Mid-States Poker Tour (MSPT) Season 5.
Running Aces Harness Park in Columbus, MN played host to the $1,100 Main Event, which attracted 354 entrants including a record-setting Day 1b flight of 226 runners. Sandness, who was coming off a first-place finish in the Great Minnesota Freeze Out the month before for $46,910, took home $90,913 for the victory while Bohn received $49,741 for his runner-up finish.
The tournament resulted in one of the toughest final tables in MSPT history, one that included Day 1a chip leader Dustin Dirksen (5th - $17,152), current 2014 MNPokerMag Player of the Year leader Peixin Liu (4th - $22,297), and Day 1b chip leader Tyler Caspers (3rd - $32,932).
"The event went fantastic," said MSPT owner and operator Bryan Mileski. "We always have a large, loyal following in our home state and Running Aces does a great job running the event. Flight 1b on Saturday was a single flight record for us."
Indeed, the general consensus was that it was a great start to a new season, though some have questioned the play between Bohn and Sandness during both three-handed and heads-up play, the latter of which lasted just two hands.
PokerNews recently spoke with both Bohn and Sandness to talk about the Running Aces stop and get their thoughts on some notable hands from the final table.
PokerNews: Blake, as a MSPT Team Pro, how did it feel to make the final table straight off the bat in Season 5?
Bohn: I am very goal oriented and before this year one of the goals was to win an MSPT title. I now have three final tables with two runner-up finishes over the years. It was a good start to Season 5, but I still would love to win one.
So it was disappointing to finish runner-up?
Bohn: Second sucks. I mean all the money is in the top two or three spots. I have won my share of tournaments, but I have also finished second a lot as well. My goal is always to run deep in events because I know with my experience and skill I will win more than my share.
Some people were suspect of play when just three players remained. Some even contend that there was soft play between the two of you (Blake and Mark). What do you have to say to that?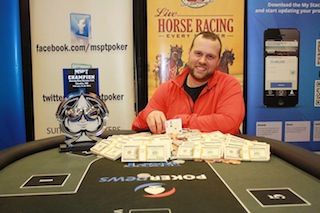 Sandness: I am aware of [the talk]. It's really pretty frustrating, but also it kind of makes you happy in a way because it lets me know there's still money to be made in poker [that people would think that]. The two sides of the fence that I've heard from people that have watched the live stream, there are the guys that saw that it was strategic play, and then there are those who completely misconstrued the situation.
I don't think there is any play I made that is remotely akin to collusion. I don't know — would you consider it soft play the strategy of trying to knock a short-stacked player out? I wouldn't call that soft play. I'd call that tournament strategy.
Bohn: Maybe I should not be bothered by the talk of soft play, but I really am. People don't have to like me, but calling me a cheat is just flat out wrong. Anyone with as much experience as Mark and I have deep in events would know that it was just a situation of two players with lots of hand history against a short-stack player. We were not playing deep-structured poker and the pay jump from third to second was substantial. It didn't matter if it was Mark or some random who played great. I would never go bust or force the action hard in that situation in marginal spots. I believe our play was smart and maybe something the casual fan has a tough time with the concept.
Do you and Mark know one another? If so, what is the relationship like?
Bohn: Mark and know each other from poker. We got heads up six years ago in a big event and became friends over time. Since then we have made four final tables of larger events together, which is something the viewers didn't know. We have lots and lots of deep tournament hand history which always plays a role in decisions.
Did you two have a piece of one another?
Bohn: Mark and I did not have a piece of each other. To my knowledge Mark doesn't swap. I often do with small pieces, I only swapped with one player and he didn't make the money.
Let's talk about a couple of hands. Mark, what was your thought process when you folded
after Bohn had opened, with what turned out to be
?
Sandness: I've played with Blake a lot and understand that he is one of the strongest and most aggressive players you'll ever play against period. When I open-folded there, here was my thought process. It involves being in position versus out of position in that hand. It's not something I'm just going to click back at Blake when I know he can just start stomping on buttons. I don't want to call off my stack right there.
I can definitely make an argument of flatting there all the time, which is fine, but it's one of those spots where I'm in position but yet I'm out of position. I'm missing more flops than I'm hitting, and Blake is going to barrel into all sorts of flops. I don't want to click back and then have to make a decision right there. Tyler was on the short stack, so I just didn't want to get in a less than ideal spot. We're not super deep right there.
There was one big hand during three-handed play where you flopped a set and Mark had two pair. Can you describe your thought process on this hand?
Bohn: My thoughts were I limped the small blind with
, so on the flop of
both of our hands are disguised. I checked and he bet. I check-raised to 400K. When he called 400K that brought the pot to just under a million. Mark only had 1.2 million left behind roughly. I knew then I was shipping the turn with no
or
on the turn, because he could have had
or
range there.
Also by me shipping the turn, my hand is polarized. I never have one pair there. It's 90% made hand and 10% just air. Mark made a good fold, not a great one, but a good one. With the pay jump and with a shorter stack it made his fold pretty standard in my opinion. The great thing about our game is people have different opinions on how to play. If you talk to any high level player, the fold there by Mark is the right play. Not an easy one, but the right one.
Sandness: Here's what was going on there. He check-raised me on the flop. I've played with Blake enough to know that when he check-raises me there, well I'm flatting all my hands. It's going to be
there a large amount of the time. When I flatted him right there and he barreled that turn, just shoved it right there, to me Blake is never doing that with two aces. To narrow it down there, there are two worse pairs that are possible, but he's never doing it with just one pair against me. I've played with him enough to know that.
You two played a remarkably short heads-up match, one that lasted just two hands. What are your thoughts on how things played out heads-up?
Bohn: Yeah we played two hands heads up. The reason is simple: blinds were getting high and about to go up again and we both had a pair on hand one. With me having a chip lead, my goal was to put pressure on him fast and force him to play a big pot or fold. The second hand I open the button with the
and he called with the
. Flop came
and he led out. I felt he was trying to pick up the pot right there and I knew if I shipped it I had a chance to win the pot there and if somehow he had a six or a bigger pair I had outs. These hands could have happened on Hand #100 or Hand #1, with the structure as it is I felt forcing the issue and being the aggressor then was the way to play. Also I felt it was smart to shift gears from three-handed to heads-up. I have said for years Mark is the best tournament player I play against locally and the results prove it.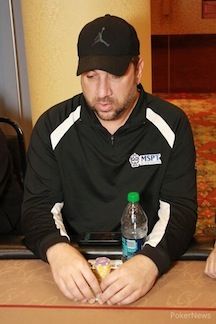 The MSPT doesn't allow chops. What are your thoughts on that?
Bohn: I love that no chops are allowed. It makes for more drama and allows me to put pressure in certain spots and remove pressure in certain spots. I would have never chopped this event three-handed based on stack sizes anyways.
With no chops, the pay jumps are significant. Is this something that influenced your strategy? If so, how?
Bohn: I feel I am really good at knowing all the circumstances. Not just math or bet sizing, but physical tells, players' mood, players' experience, tilt factor, money jumps, stack sizing and more. That's why my results are so strong. I have so much experience and there is no substitute for that.
Blake, you've got a reputation for socializing with other players. Do you consider this a big part of your game?
Bohn: It's funny because off the felt I am so anti-social. However on the felt we play a game where we have a lack of information. So the more information I can get the better decision I can make. Often times I am not even asking questions that matter I am just watching and listening to how they respond. There is no doubt I feel I can get someone to call or to fold based upon me speaking to them.
What's next for you guys as far as poker is concerned?
Bohn: I am off to the LAPC Main Event next.
Sandness: I'm currently in Mexico on vacation with my family. I'm not sure what my next stop will be.
The MSPT continues this weekend at the Belle of Baton Rouge Casino, which takes place smack dab in the middle of Mardi Gras. The PokerNews Live Reporting Team will be on hand to bring you updates all weekend long.
Get all the latest PokerNews updates on your social media outlets. Follow us on Twitter and find us on both Facebook and Google+!