Former WSOP Main Event Final Tablist Lee Childs Talks Hollywood Poker Open and More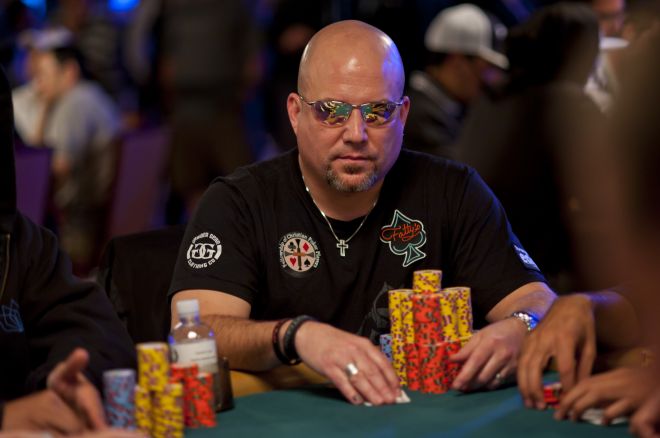 On Saturday, Feb. 15, 2014, the Hollywood Poker Open (HPO) $1,800 Regional Championship from Hollywood Casino Tunica will begin, and PokerNews will happily be on hand to provide live coverage from start to finish. Plenty of notable faces plan to be in the field, including 2007 World Series of Poker Main Event seventh-place finisher Lee Childs. PokerNews recently spoke with Childs about the HPO and the thoughts of removing the "monkey on his back."
PokerNews: First off, what attracted you to play your first Hollywood Poker Open event, and then more of them to follow?
Childs: The first HPO events I played were in Charles Town, WV last year. At the time, I was living about an hour away from there and was excited to finally have some real tournaments with decent structures close to home. I didn't realize until I got there that it was Bill Bruce's crew that was running the events, so I was really happy when I walked in and saw those folks. It's always nice to see familiar faces at events, but to have what I think is one of the best tournaments crews around running the event near home was awesome. They not only do a good job with the logistics, rulings and all the technical aspects, but they are very customer-service oriented, treat the players extremely well and pound for pound out-smile any other crew by far. I played the $2,500 Main Event at The M last summer specifically because I knew it would be a really good structure and run very well by Bill and his team.
Last May, my family moved to Charles Town to be closer to my in-laws, so now Hollywood Charles Town is my home casino. I decided to make the trip down to Tunica and will also be playing most of the events in Grantville, PA — which is only about two hours from home for me — so that I could get into a rhythm playing all these similar structured events run by the same tournament director, floor staff and dealers. It helps to establish a comfort level and I think will help me get better prepared for the series at home. I've never been able to play a tournament series and sleep in my own bed every night, so I am really looking forward to March in Charles Town!
What's should people know that's different about the HPO that would make them stand apart from other tournament series?
Structures, value and personnel. Give me a good-structured tournament and some nice people to be around all day long and I am there. And its not only the staff. The players down here in Tunica have been awesome. Turnouts are way lower than I had hoped for and that's too bad because there are too many poker players missing out on a great experience. So many players want to chase the biggest prize pools and they end up missing out on a lot of fun and more time playing in an environment that most of us started in and got us loving the game in the first place. On top of that, you have some of the most experienced tournament professionals running the events and I've been able to spend some time with them and hear some great poker stories from over the years.
What sort of expectations do you have for this weekend's HPO event in Tunica?
Well, first of all and most importantly, I know that I am going to enjoy it because of all the reasons I have already mentioned. I have no idea how many players we will get since the other fields have been small, but hopefully there are a lot of folks that are still planning on coming in for this main event. I have not been playing as many WSOP Circuit events because I think the structures should be a little better. I think a championship event with a buy-in over $1,500 should always give us at least one-hour levels and should have small increments for the blinds and antes. The HPO structures do that, and it's another major factor why I am excited about these events. This main event starts with 20,000-chip stacks, gives us the 100/200 and 100/200/25 levels, the 250/500 level and even a 700/1,400 level. We just get so much more play for the money and I think poker players deserve that. So many venues are too focused on how much money they can make and how quickly they can get the tournament done these days. $1,800 is a lot of money to put up for a poker tournament for most players, especially those that are purely recreational players and giving us a good structure like this is something that we should all appreciate and support.
Since your big appearance at the final table of the 2007 WSOP Main Event, you have a laundry list of results, but no scores greater than $100,000. Do you feel as though this provides you with a little "monkey on your back" that you'd like to rid?
Not as much as you might think. I have had several pretty deep runs where a single hand made a huge difference in a small/mid five-figure score and putting me in position to have a real shot at a high six-figure score. Some have been standard flips or coolers, and some have been hands that I misplayed. I don't really let those things bother me because there is simply nothing I can do about them after the fact. The lost flips or coolers were completely out of my control, and the misplayed hands I just have to learn from and do my best to not screw those situations up in the future. In poker, as in life, we have to focus on what we can control and let everything else be a non-factor. Life is too short and there are real, serious problems in the world. Losing a key flip or getting rivered for a monster pot are not real problems. Any of us that have the means to play this game on any kind of regular basis should be thankful for that opportunity and make the most of it.
Back to the six-figure score. Let's face it, most poker players will never be fortunate enough to have a score anywhere near that big. I had my big WSOP Main Event score and I was also blessed to have two six-figure online tournament scores winning the Full Tilt $750K Guarantee ($132,000) and placing fifth in an FTOPS Main Event ($144,000). I also cost myself another one online with a big mistake in a prior FTOPS Main Event in which I finished 11th after being in second place with 12 to go. That one was pretty painful as I cashed for about $24,000 and the opponent I gave all my chips too on a bad play went on to win it for $400,000!
Do you plan on playing all of the HPO events this year and traveling that circuit?
After Tunica, I am playing the HPO series in Pennsylvania later this month and Charles Town next month. I don't think I will be in St. Louis or Columbus, but certainly plan to play the $2,500 Main Event at The M this summer.
Lastly, what are your thoughts on the release of the WSOP schedule and the idea of guaranteeing $10 million for first place?
Well, I guess it is good for marketing, but in general I hate how top heavy tournament payouts are. I would like to see higher min-cashes and much flatter jumps up the payscale. The reward should fit the accomplishment. Let's take the 2013 WSOP Main Event, for example. There were 6,352 players in the tournament. Ryan [Riess] finished first and took home $8.3 million. Mark Newhouse finished in ninth place for $733,000. The accomplishment of finishing first out of 6,352 is nowhere near over 10 times greater than the accomplishment of finishing ninth out of 6,352; $7.6 million more for finishing eight spots higher in such a massive field? To me, it's ridiculous. And, is the accomplishment of finishing first deserving of $3 million more than finishing second? Not a chance. Yes, a champion should be rewarded greatly, and I know that lots of players will take issue with what I am saying, but those that do are really just too greedy. I am quite aware of the marketing power of the huge payouts and the attraction to the recreational players. I get all of that and the reasons it is the way it is, but I think its time for the powers that be to reconsider and make changes that are good for all players.
I remember the WSOP Circuit at Harrah's Atlantic City in 2009 not only because that's where I won my ring, but they paid three times the buy-in for the min-cashes that series. I thought it was awesome. The main event was $5,000 that year, so the min-cash was $15,000. That's a meaningful bubble! And that's a reward that is much better aligned with the accomplishment. You have to outlast 90% of a field to cash in a tournament. Anyone that can do that on any kind of consistent basis should be rewarded for doing so. Additionally, this gives players who don't get to play a lot of tournaments a chance to show a nice little profit if they cash. I remember when it was really exciting just to cash in a tournament. Nowadays, it's hard for players to even be happy when they cash because it's just to hard to make any kind of significant ROI. If we had higher min-cashes and flatter payout structures, then tournament grinders who are consistently cashing would have a much better chance of grinding out a living and we'd have a much lower failure rate of aspiring pros. There are not too many players out there playing on their own dime these days because it is just too hard to make enough money even if you get really deep several times. To make up for it, you have to rely on an amazing run finishing in the top few spots out of hundreds or thousands of players. I don't know many poker players grinding it out on the live circuit that are very comfortable right now. Most are struggling to get by, and I really think these changes I am talking about would make a huge positive impact on the financial and mental well-being of all the grinders out there who are working so hard.
So, back to the $10 million question. It's probably going to be good for marketing, but I don't know that a guarantee of $10 million is really that much different than knowing you can win $8.3 million. It's not for me anyway. The allure of the WSOP Main Event is already so big. Poker players dream of playing in this tournament and most will never get to. I don't think the fact that you can win an extra $1.7 million more than Ryan Riess did last year will be something that convinces players who would not put up the $10,000 to change their mind and go for it. I think most players will be more driven simply by the fact that it's the Main Event of the World Series of Poker. They want to say they played it. They have a chance to play against the pros and maybe get on TV. I think it's pretty safe to say that most players are smart enough to know that they are not likely to finish the tournament and head to the cage to collect their $10 million. If we are one of the lucky few who get to play the Main Event, then we know it's a possibility, but for me personally — and I would think for most pros and amateurs — just getting the opportunity to play in poker's tournament of tournaments and a chance to become the next world champion is enough of a reason to get in. Whether there was no guarantee or if it were $5 million or $10 million, I think the majority of the field will be there because of the awe and prestige that surrounds and consumes this event. There is no other tournament like it and there never will be. I used to watch it on TV and think about how amazing it would be to play it and now I have been blessed enough to play it seven times! I don't have a problem with the guarantee other than the fact that if it doesn't result in bringing the number of players up to a level where first place would actually be that much according to the standard pay structure, then it's just going to be even more top heavy creating an even greater inequity for the rewards of the accomplishments of other players.
Remember, PokerNews will be on hand for live coverage for each HPO Regional Main Event beginning with Hollywood Casino Tunica Saturday, Feb. 15. Stay tuned to the PokerNews Live Reporting page for all updates from the 2014 Hollywood Poker Open!
For more information on each stop of Season 2, check out HollywoodPokerOpen.com.
Get all the latest PokerNews updates on your social media outlets. Follow us on Twitter and find us both Facebook and Google+!