Meet Chess Master Nikolai Vlassov, World's First 25-Game Poker Champion
Ilja Kuteinikov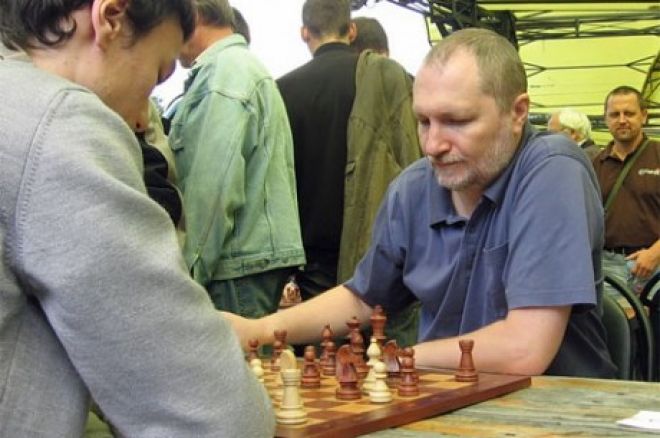 On April 1, Russia's Nikolai "Bazar-wokzal" Vlassov won the first ever 25-Game tournament during FTOPS XXV at Full Tilt Poker.
One day later, PokerNews Russia's Ilja Kuteinikov reached out to Vlassov to discuss his remarkable result and his life as a chess master and an "advanced recreational poker player."
Kuteinikov: Let's start with a short introduction about yourself. How long have you been playing poker? And do you consider yourself a professional or a recreational player?
Vlassov: I was born in 1965. I graduated from Moscow State University (majoring in Mechanics and Mathematics) and I have the rank of chess master. I have been playing poker for about 10 years and I had two very good finishes back in 2007 – when I came fifth in both the Sunday Million and the Sunday Warm-Up.
As for the second part of your question, I am not strong enough to consider myself as a professional. I would call myself more of "an advanced recreational player."
What are your favorite games? How often have you changed your poker specialty?
I have been playing Hold'em and 8-game mix $4/$8 cash for quite a while; I have never changed my preferences.
Here's traditional question for a winner: how are you going to spend your prize money?
There are no winnings per se – I just made up for my six-month loss. In other words, there is no reason to move up in limits, but to celebrate my victory I am going to enter the Event #8 Razz which is beyond my bankroll. (Which he then finished on 21st position.)
How did you prepare for the event? How many of the 25 games could you actually play?
For the most part it was a mental preparation. As soon as I saw the schedule I decided that this one was a must-play for me. Especially as I consider myself an "all-rounder."
Usually I quickly learn the basics but don't go far in depth, so for me the more games the better. I did not know the complete list of the games, but I assumed that there would be nothing new. My plan was to enter the event at the end of the late registration.
When the tournament kicked off, I saw a new game A-5 Triple Draw. The rules are clear from the name of the game, but I checked with my friends just in case.
How did things work out for you in Event #6?
The start was a real nightmare. I went down from the 5,000 starting stack to just 1,000.
After winning a couple of all-ins and several good pots, I recovered my fortunes and by the first break had 11,500 chips. It was above average but still nothing to be excited about, bearing in mind the fast structure of the event.
I became the chip-leader for the first time when there were 123 people in play. I promised myself to tighten up and not to mess around until the prize zone, but as usual started spewing chips, losing one pot after another.
I went on the next break in the middle of the group of the 50 remaining contestants. Right after the break I caught a winning streak. On top of that, a couple of bluffs in my favorite game Razz went very smoothly.
Then Badugi started. After three very lucky hands in Badugi (in one of them I won without Badugi, just with a 3-card combo) I moved to second place out of 37, although I was still trailing the leader by a solid distance.
As far as I remember, I hit the prize zone being third in chips.
There was an ultra-dramatic hand in the top 20 in Omaha 8-or-Better. I moved my entire stack to the middle with two aces against the chip-leader. He showed
, both a queen and a jack hit the flop, but I narrowly escaped thanks to a runner-runner low – split-pot. In the top-12 I was leading by a solid margin from the second stack with 278k vs. 140k.
With three players remaining we were going to make a deal, but while I was trying to figure out the right buttons, someone changed his mind.
I nearly got busted in third place, but Lady Luck stood up for me again and I knocked out the leader (a German player) in the course of just a few hands. During heads-up we were very close to sealing a deal again, but 'Ginek0l0g777' for some reason wanted an extra $100.
I refused that being sure that he would agree anyway. Apparently my opponent did not respect me much and had no fears – so, no deal. It took me a while to finish him off but, stack-wise I was never behind.
Can you single out any of your opponents? Who was the most troublesome or vice-versa that posed no problems for you?
Since the event is very fast and lottery-like, skill was not that important. I used it only in Razz; the rest was sheer luck.
I kept an eye on the strong guys I knew about – the last of the familiar faces was 'Sandman', and he fell just one place short of the final table closing on seventh position.
As for the final table, my greatest concern was the German guy. I was playing next to him for a while in the early stages of the event. I think that is the player who nearly knocked me out in the final 20. I guess we are at the same level, but he is more aggressive. It was very tough for me in the top three and the heads-up.
Hard to believe that luck was the main reason for your result. Aren't you just trying to be modest?
I have no doubt that the main reason was luck, and I am not being too modest. It is just due to the structure of the event. But I deserved my luck! I made only a few mistakes and I have never mixed up the games.
Imagine the same tournament with a more smooth structure and a bigger buy-in. Would you play?
I would definitely play in a $320 tournament – I like multi-discipline events. If the buy-in was bigger, I would try to sell shares.
What are your plans for this FTOPS? Are you going to play all the events, or is grinding just not your cup of tea?
I can't afford to play all the FTOPS events. I am going to participate only in "my" tournaments, such as Razz and H.O.R.S.E. If Razz goes well, I will think about other events. Most likely I will go for the $55 Hold'em one as well.
What about live poker? Don't you get bored always staying in front of a monitor?
I used to play in Metelitsa Club in Moscow and I had some good results there. But after live poker was banned in Russia, I have never visited an underground club. I don't know why.
Don't get me wrong, I have nothing against live poker. On the contrary, my dream is to build up a good bankroll and go to the World Series of Poker.
Many regulars of limit games play Chinese poker, Pineapple OFC in particular. Are you among those who got into this new variant?
I wish I could play Chinese poker, but I have neither the spare time nor the money it takes. On the other hand, I clearly understand that I have no chance of making money there, and also the learning process would be quite expensive.
You have been playing poker for quite a long time. Have you ever been tempted to start playing professionally?
I have always been. The only problem is that I am still playing in the red. I am too lazy to study seriously (although I managed to plough through Harrington on Poker) and I don't have time to do so.
In my heart, I am a tournament player - but after my daughter was born (she is three and a half-year old now) I can't sit at a computer for several hours in a row anymore. With this in mind, I started playing cash games – it is much easier to carve out some time for it. Four years down the road, and I am still learning and doing so every day.
You keep playing poker, although making it your profession is not your goal. What motivates you?
I see that I keep progressing – so the hope is always there. The problem is that my age and laziness makes the process very slow.
In a way I am trying to make poker my profession, simply because in my age I have no chance of becoming a World Champion in chess. In poker, on the contrary, I will have a shot until the day I will die.
Get all the latest PokerNews updates on your social media outlets. Follow us on Twitter and find us on both Facebook and Google+!