Mixed-Games Specialist Melissa Burr Emerges as a Force at the World Series of Poker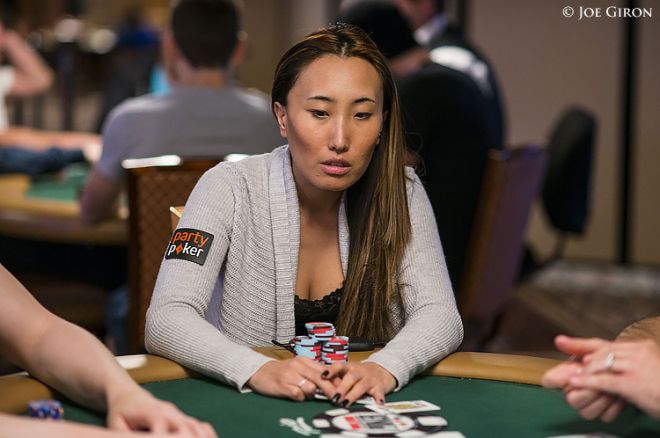 It's a long road from the $7.50/$15 pink-chip limit hold'em game at the Tropicana in Atlantic City, New Jersey to success at the World Series of Poker.
But this year, Melissa Burr has made it.
Growing up in Mullica Hill, about an hour's drive from the East Coast gambling Mecca on the shores of the Atlantic, Burr actually started her poker career in a pool hall.
"I was a pool player and we played poker in the back rooms," she told PokerNews. "When I turned 21 I started going to the Tropicana in Atlantic City and always played Limit Hold'em, which is still my favorite game."
From that $7.50/$15 pink $2.50-chip game in 2001 where she remembers seeing a pile of chips on the table from end to end, Burr soon graduated to $20/$40 and $40/$80.
About five years ago, when the popularity of mixed games soared at the highest stakes, she jumped in the fray and now grinds them professionally at the Borgata Hotel Casino and Spa, playing as high as $400/$800.
The intellectual side of the game has gripped Burr from the very start.
"I enjoyed the mandatory intellectual stimulation that came with poker," she said. "It was different. I was always very competitive playing pool, but this was a different kind of competition and I got to apply my all my years of schooling in math. It was really interesting."
She began an annual pilgrimage to play mixed-game tournaments at the WSOP around that same time, finding very little in the way of success.
In 2013, she finally recorded her first WSOP cash, placing 84th in the Ladies Championship for $1,923 – good for a little more than two big bets in her regular game.
This year everything changed.
She started off the 2014 WSOP with a final table and eighth-place finish in the $10,000 Limit Omaha Hi/Lo Championship, earning $51,768. Within two weeks she had made a second final table, collecting $39,181 for a fifth-place run in the $1,500 Seven Card Stud Hi/Lo.
Saturday, she turned up for her third day three of the series, having made it through to the final ten of the $1,500 Six-Handed Dealer's Choice. She ultimately finished in ninth place, falling just short of her third final table of the series.
"I'm running really well this series," she said. "I've been blessed. I have had really good table draws and found good spots. I've thought a lot about tournament strategy, because the first four years I came out here I didn't have much success and I realized there is a huge difference between playing tournaments and cash games.
"You have to remember that when you bust a tournament it's just over. In a cash game it's never over. In a tournament you have to think of every decision as if it's your last."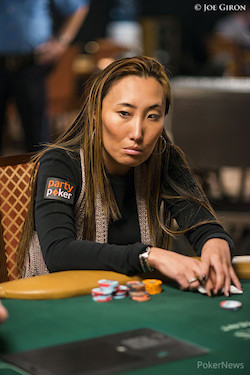 Tournaments have never really been Burr's forte. When Chris Moneymaker won the 2003 WSOP Main Event and no-limit hold'em boomed across the globe, Burr's name remained on that same limit hold'em cash game list at Borgata.
Only the allure of the WSOP has changed that.
"I never really got into the no-limit (hold'em) boom," she explained. "I never got into tournaments. I just always loved cash. I loved the instant gratification of winning or losing in cash games. This year I started getting into playing the no-limit (hold'em) tournaments. I have always come out to play the mixed game tournaments at the World Series, but this is the first year I'm doing really well."
One look at the numbers will tell you poker is a man's world. But in the final 16 of the $1,500 Six-Handed Dealer's Choice event, Burr found fellow female rounders Jennifer Harman, Maria Ho and Maria Mayrinck all in the mix, making up some 25 percent of the field.
"I was almost always (the only woman at the table) and a lot of times today I still am," she said. "That's why I'm thrilled to death that there are other women here with me. It's something to be proud of."
But despite finding her first cash in a ladies-only event and enjoying the female camaraderie on the felt, you may not be too likely to find Burr in the field of a Ladies Championship anytime soon.
"My personal opinion is that in order to get to the level that I've gotten to, I was thrown into the mix with men," she said. "I learned much faster. I got a thicker skin. I was more competitive and that allowed me to get to the level that I have. So I am against ladies-only tournaments."
In Burr's mind, there's no real reason why men are more successful in poker, except the fact there are more of them playing. "It's a sheer numbers game," she said. "I saw it in pool and there's no reason men are better at pool physically. The biggest man doesn't win in pool. It's strategy, wrist snapping action and a lot of different things. Really, it's just a numbers game. More men play so they have a bigger showing.
"If just as many women played poker as men I think the results would be the same."
Burr had a plan to play five $10,000 Championship level events when she came to Las Vegas this summer, including H.O.R.S.E., Limit Hold'em, Omaha 8, Stud 8 and the Main Event.
Her early success has changed only one thing as she is now considering playing the $50k Poker Players Championship.
The other 11 months out of the year she says she's going to stick with cash games, reserving most of her tournament play for the World Series, where she says the experience of running well and playing well on poker's biggest stage has been one without equal.
"It's amazing," she said. "I am so fortunate. I have a solid support structure behind me, the most amazing family, the most amazing friends and they are behind me every tournament I play - They're on Twitter, on Facebook, texting me. It's been overwhelming this year. People that I didn't even know cared about my poker career came out of the woodwork and it's a feeling that is unparalleled to anything I've ever felt."
Ready to make the call to Borgata to get her name back on that cash game list next month and already making plans to return to Las Vegas in 2014, Burr's future appears set.
"I will always come to the World Series, regardless of results," she said. "I will continue to come every year and hopefully be a competitor."
Get all the latest PokerNews updates on your social media outlets. Follow us on Twitter and find us on both Facebook and Google+!