Nick Guagenti On a Roll to Redemption After Borgata Scandal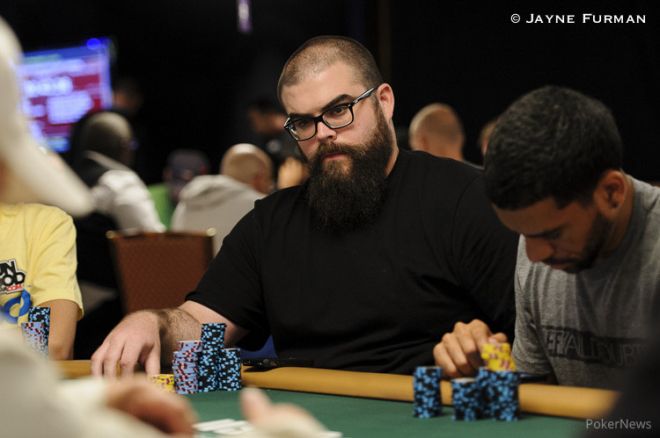 When Nick Guagenti awoke on the morning of January 17th, he found himself on the verge of accomplishing a dream he had pursued for more than a decade. A poker pro by way of Ohio, Guagenti was poised to bring the second largest stack in play to bear in the 2014 Borgata Winter Poker Open's $2 Million Guarantee Big Stack NLHE Reentry event, and with just 26 players standing between him and his first six-figure score, he was in prime position to finish things off.
Instead, the conniving and counterfeiting of a criminal he never met cost Guagenti his chance at the title, as Christian Lusardi's now infamous addition of fake chips into the tournament led to its suspension and eventual cancellation. At the time, Guagenti's biggest score was just under $50,000 for a final table run in a WSOPC Main Event, and with nearly double the chip count of his nearest competitor, the veteran tournament player is convinced he would have exceeded that amount and then some.
After being informed that play would not resume and his run through an enormous field of 4,814 entries had all been for naught, Guagenti was understandably distraught, with bleary and bloodshot eyes the next day telling the tale of a man in tremendous pain. Guagenti found himself in a tailspin, unsure if he even wanted to continue playing the game he loved after having such an opportunity snatched away. He openly talked about quitting poker in the coming days, although the look on Guagenti's face when saying so betrayed his lack of desire to leave his passion behind, and it soon became clear that the cancellation had led to deeper repercussions than the typical tournament outcome.
With a few months and thousands of miles between him and the Borgata, Guagenti is all smiles in Las Vegas, as he has found a way to move past the scandal and return his focus to the felt. In March he made the short trip to Cincinnati to compete in the first annual Queens City Classic, and with his home turf providing a bit of added motivation, Guagenti emerged as the winner of the series' Main Event – earning $153,548 in prize money, securing the six-figure score stolen from him in Atlantic City, and finding redemption from the game he nearly gave up.
While making a deep run in the $1,000 PLO event here at the 2014 World Series of Poker - where he ultimately fell in ninth place after reaching his fifth final table in as many months since the scandal - Guagenti took a few moments to talk about his experience before and after the Borgata scandal nearly derailed his career:
PokerNews: Tell our readers about the lead up to the Borgata Winter Poker Open, as well as what happened after you heard the bad news.
I was running really good before the Borgata — it was on one of the best runs I've had in 10 years — and then [the scandal] happened. I didn't play very much after that; I played the Main there, the heads-up. Then I probably didn't play for three weeks, went to L.A. for a month to play the WPT Poker Classic… but I bricked out like my first 15 tournaments. I was tilted … At that point in time it was weighing on me really hard. I got third in the last event there ($550 PLO – Six-Handed W/ Rebuys) to get me even on tournaments, but I blew it in cash. Like I said, at that point in time it was really bothering me.
PokerNews: That's only understandable considering the situation. What helped you turn the corner so to speak, to regain your focus on the felt?
I went down to the Queen City Classic and final tabled the first tournament ($260 NLHE - Ultimate Reentry) which had like 2,800 people in it. I got ninth, which was fine because I was short the whole time. I went home for a while after that, stayed with my baby girl Paige and my wife Gracie for like four or five days, came back down for the Main, and as you know I won. It was more relief than anything — more being able to deal with it.
PokerNews: And at that point, had you received any sort of resolution from the Borgata?
I heard nothing from them, but by then I was gradually just letting it go because it was affecting me so much, that I just kept telling myself I had to get over it.
PokerNews: Without delving into personal details, can you explain the ways it affected you as far as your game is concerned?
I've been doing this since I was eighteen, and I got nothing else. This is my only skill… I'll be thirty in August. I've been doing this for a living since I dropped out of college my sophomore year. I haven't had a job since. And poker is all about being in the right mindset. Being able to be in the moment, and not be focused on things that are outside of the game. It was definitely affecting me in that manner. I was thinking about it a lot. I was getting asked about it all the time, and I'm still getting asked about it all the time (laughing). I tell them now that I've put it behind me… so far behind me. It's done, you know?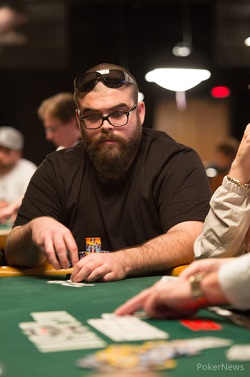 PokerNews: As an Ohio native, the Queen City Classic Main Event you won was played in your own backyard. How did it feel to achieve that kind of validation in your home state?
Well Cincy is an hour and forty-five minutes away from me, so that was great. Got heads-up against my buddy Keven (Stammen), and we ended up chopping it.
PokerNews: Did being back home help contribute to your frame of mind being "right" again?
I always play well around that area… people there, they play really face-up, and it's been that way for 10 years.
PokerNews: You mentioned chopping with Keven Stammen, and from talking with you a bit earlier it turns out that friendship led to a little more good karma manifesting itself. Explain for our readers what you meant.
I swapped 2.5 percent with Keven before the WPT World Championship, and he took it down (for $1.35 million). I ended up playing that one as well, and that was the biggest tournament I've ever played as far as buy-in. My backer wanted me to do it, he actually thought my money was waiting for me there, you know what I mean? Like go get that money they've been holding onto, go get it in that tournament. And I mean, I felt that I'd have some run good, and I kind of did with the swap with Keven.
PokerNews: How do you feel about the resolution which eventually did come down from the Borgata scandal, in which you received just a fraction of the $372,123 in first-place prize money you would have been playing for before the tournament was cancelled?
It was $19,000 and some change, and I ended up getting two refunds for like $1,100. A few of the other players who were left are pursuing it further. They sued for like $33,000. If I was going to go ahead with that, I would sue for my full equity, maybe more for pain and suffering, but I talked to a few lawyers and they said it's just going to be dragged out. Like I said, I just want to put it so far behind me, and the roll I'm on now is helping me put it behind me.
PokerNews: At the point when the Borgata scandal hit, your daughter Paige was just about three months old, so you were dealing with an infant at home, while also trying to take the next step in your poker career. All of which must have made the cancellation that much more tough to cope with, so how did that affect you at the time?
I mean, I was on a roll before that day. I had a piece of Ryan Reiss in the Main, I was crushing cash games. I had won a few tournaments for five-figure scores but the Borgata would've been my first six-figure score. I've been close so many times, and then that happens… I mean, the score finally came in Cincy, but a shot at a $370,000 payday with those chips against that field?
PokerNews: Aside from poker, are there any other aspects of this roll you're enjoying, just in terms of your life away from the table?
I mean, I've got a seven-and-a-half month old baby who makes me happier than anything. I think even if I wasn't on this roll, just seeing her makes me… it's the best feeling I've ever had. I could win five bracelets, and it wouldn't even compare.
Get all the latest PokerNews updates on your social media outlets. Follow us on Twitter and find us on both Facebook and Google+!