Rapid Reaction: Bonomo a Bracelet Bridesmaid No More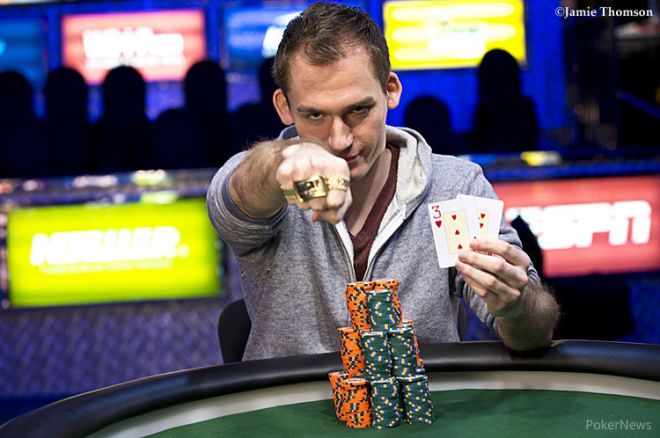 Justin Bonomo and Mike Sowers squared off on Wednesday in a heads-up duel to decide who would earn their first World Series of Poker bracelet, with the Event #11: $1,500 Six-Handed No-Limit Hold'em title on the line. Both players are highly decorated pros who have long since eclipsed the coveted million dollar milestone in terms of career live earnings (Bonomo had earned an impressive $7,513,864 before today's win, while Sowers had amassed $2,494,253 prior to the second place finish), but until their showdown on the Mothership stage, neither had pocketed the prettiest prize in poker.
Having navigated their way through a huge field of 1,587 runners to find themselves one knockout from glory, Bonomo and Sowers waged a war of attrition which saw the former begin heads-up play at a 5-1 chip disadvantage before making a game of things. Showing the resolve and resilience that defines professional play, Bonomo whittled away at Sowers's sizable lead before taking control of the match to claim the gold bracelet that had escaped his grasp so many times before
Close, But No Cigar: Both Sowers and Bonomo have been on the precipice of WSOP glory a number of times before Wednesday's climactic collision, each appearing at the final table several times in their careers without finishing things off. Of his 27 cashes at the WSOP, Bonomo has played his way to the final table on eight occasions, while Sowers has five final table appearances to his credit over the course of 13 WSOP cashes. In the end though, it was Bonomo who managed to get the bracelet monkey off of his back, consigning Sowers to bracelet bridesmaid status once again.
Who Wants Seconds?: Finishing as the runner-up with a gold bracelet on the line stings a little more than the average heads-up defeat... just ask Phil Hellmuth. For Bonomo, however, the agonizing experience has almost become commonplace, as he has finished in 2nd place in WSOP play a total of three times over the years. Back in 2008 it was Erick Lindgren who did Bonomo in, collecting the first bracelet of his career by winning the $5,000 Mixed Hold'em (Limit/No Limit) event. Leonard Martin denied him in 2011 by winning Event #49: $2,500 2-7 Triple Draw Lowball (Limit), and just this week Bonomo fell to Tuan Le in Event #5: $10,000 Limit 2-7 Triple Draw Lowball Championship. When a pair of runner-up finishes in $5,300 Main Events (Seminole Hard Rock Poker Open and the PokerStars Caribbean Adventure) last year are added to the mix, Bonomo's inability to close had become more of a startling trend than a statistical fluke.
Jack Strauss Jr.: Entering heads-up play Sowers had Bonomo's stack outclassed by a 5-to-1 margin, but by the 141st hand of their epic duel, Bonomo had clawed his way back to even. On that deal Bonomo managed to river a wheel straight to crack Sowers' flopped two pair, and it appeared to all the world that the tournament was over. Sowers was heading over to shake Bonomo's hand as the stacks were counted down, but it turned out he had 25,000 left — or less than one big blind at the time — with which to mount a comeback.
And what a comeback it was. Sowers essentially shoved blind on three of the next four hands (with a walk for Bonomo sprinkled in for good measure), somehow doubling up each and every time. Freshly armed with five big blinds, Sowers continued moving all in from there, forcing a fold on Hand #146, chopping despite being dominated on Hand #147, and winning outright on the next deal. The next two hands saw each player exchange walks in the big blind, before Sowers doubled through Bonomo yet again on Hand #151 to leave the latter sweating what had appeared to be imminent victory just moments before. They jousted for a few more hands after that, Bonomo's expression betraying what must have been immense pressure to finally finish Sowers off, before sealing the deal 20 excruciating hands after he had landed the crippling blow.
Tag Team: Just a day before Bonomo's good friend Brock Parker showed he knows how to close, as the pro added a third gold bracelet to his trophy case in Event #10: $10,000 Limit Omaha Hi-Low Championship. With his buddy in position to grab his own piece of gold, Parker took to Twitter to offer a helping hand... or at least a perfectly delivered motivational needle:
Parker was on hand to rail Bonomo during a break in his own tournament, even making good on his tweeted offer and asking if his pal was ready to tag out after Bonomo dropped a few pots to begin heads-up play.
Three 6 Mafia: Wednesday marked the third time in four years that Sowers has made a serious run at winning a Six-Max bracelet. In 2011 he placed 6th in Event #46: $10,000 No-Limit Hold'em (Six Handed) Championship, and last year he worked his way to a 19th place finish in Event #32: $5,000 No-Limit Hold'em (Six Handed). Every poker player has a favored format, and based on these results six-handed play appears to be Sowers' specialty.
Six-Max Speed Racers: When Day 3 of the tournament began on Wednesday there were 10 players still left in contention, but on the very first deal of the day Sowers sent Frank Debus to the rail. Within fifteen minutes of that bustout Todd Anderson (9th) and Viet Vo (8th) went broke, and a just a hand or two later Sebastian Pauli was dispatched as well. All in all, it took just two hours to play down from 10 runners to the heads-up duel between Bonomo and Sowers, meaning the tournament averaged one elimination every fifteen minutes during that span.
From the (One)Outhouse to the Penthouse: Sowers' run to a runner-up finish would never have been if not for a particularly nasty bad beat he administered to Niel Mittelman during the initial stages of final table play.
Mittelman opened to 45,000 and Mike Sowers defended his small blind with a three-bet to 135,000. After action folded back around to Mittelman he decided on a four-bet to 265,000, with Sowers flatting to see the
flop. Sowers then tapped the table to prompt a 175,000 c-bet from Mittleman, with Sowers coming over the top for an all-in reraise to put the shorter stack at risk. Mittelman snapped it off while tabling
, and he found himself crushing the
held by Sowers. When the
hit the felt on fourth street Sowers' arsenal of outs was halved, as the
was no longer an option.
River:
Poker has long been the cruelest of games, and at the sight of a one-out bolt from the sky to burn his bracelet dreams, Mittelman beat a hasty retreat from the final table stage, from the Rio, and for all we know the city of Las Vegas.
Get all the latest PokerNews updates on your social media outlets. Follow us on Twitter and find us on both Facebook and Google+!