Rapid Reaction: Daniel Negreanu Just Misses Seventh WSOP Gold Bracelet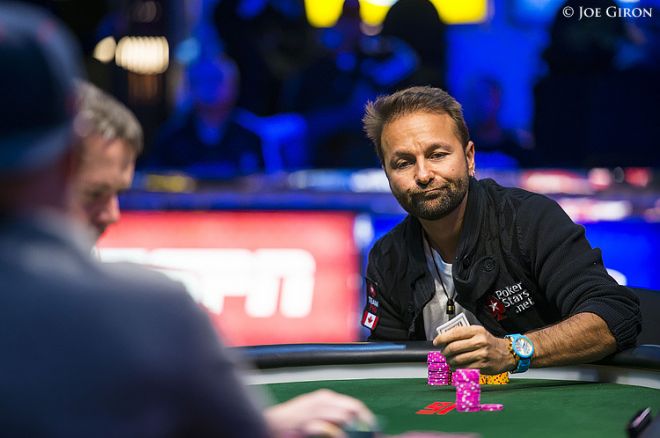 Daniel Negreanu's presence at the final table of $10,000 No-Limit 2-7 Draw Lowball drew the largest crowd of the summer so far to the main stage in the Amazon Room. By the time he got heads-up with Paul Volpe for the title and what would have been his seventh WSOP bracelet win, it was standing room only.
But one of poker's best performers could not give a raucous rail of supporters exactly what they wanted Thursday evening, as he bowed out runner-up, unable to overcome the sizable heads-up chip deficit between him and wire-to-wire winner Volpe.
However, this marking just the 13th of a 65-event schedule surely means we haven't heard the last of "Kid Poker" at the 2014 WSOP. And with more than a few bracelet bets, lofty personal goals, and a proven track record of success here at the World Series, one of the game's best definitely has the motivation to eventually give the crowd what they so desperately desire.
Often a Bridesmaid, More Often a Bride: Negreanu has collected no less than six bracelets at the World Series of Poker, but he could legitimately have as many as 11. "Kid Poker" has finished runner-up five times in WSOP events over the years, including one time last summer when he lost heads-up to good friend and fellow high-stakes legend Eli Elezra in the $2,500 2-7 Triple Draw Lowball event.
Perhaps the most high-profile of those second-place finishes was in the 2009 WSOP Europe Main Event when he lost to CardPlayer Magazine's Barry Shulman. Negreanu had trip jacks against Shulman's pocket aces with one card to come for the win, but Shulman rivered an ace.
Sweating the Bets: It has been widely reported that Negreanu and Phil Ivey have offered up a bet at even money that either one of them will win a bracelet at the 2014 WSOP. Rumor has it that a number in the high six figures has been laid against them. It's the kind of number that certainly would have had a few gamblers nervous when Negreanu went heads-up with Volpe tonight.
"A lot of people scared right now, Daniel!" was the yell from Greg Mueller as he passed by the final heads-up match on the way to an event.
Those who took the action may rest easy for one night at least, but with a runner-up finish this early in the summer, a publicized personal goal of winning three bracelets, and plans to play a lot more poker, Negreanu will likely have them on edge a few more nights before this WSOP is through.
There's No Place Like Home: Negreanu's first bracelet came back in 1998 at the 29th Annual World Series of Poker's $2,000 Pot-Limit Hold'em event inside Binion's Horseshoe.
He collected his two most recent bracelets last year, with wins in the 2013 WSOP Europe $25,600 High Roller and the 2013 WSOP Asia-Pacific Main Event.
But while the Canadian-born Negreanu now makes his home in Las Vegas, you have to go back to a $2,000 Limit Hold'em event in 2008 to find the last bracelet he won in Sin City. He has given himself a shot, though, having made seven final tables at WSOP events in Las Vegas since the 2008 win.
Number of the Beast: Right now, it appears the number six is following Negreanu around at the WSOP.
Of course, he has those six bracelets, but with today's $156,674 score, his WSOP tournament earnings also pushed past the $6 million mark to $6,095,975.
It also marked his 69th WSOP cash.
Choices: Negreanu detractors have been after him recently for attributing his recent success at the tables, including his second WSOP Player of the Year tile and better than $3 million in earnings in 2013, to a series of leadership and personal development courses he took at the ChoiceCenter Leadership University here in Las Vegas.
Whatever Negreanu is doing, it appears to be working. He already has more than $1.7 million in tournament winnings this year and while Thursday night's runner-up finish has to be considered a disappointment, at the very least, it showed he continues to be on top of his game.
It's a Numbers Game: The $10,000 No-Limit 2-7 Draw Lowball drew just 87 players, which was exactly the same as last year's field. The high buy-in and relatively obscure variant of the game ensured only poker's elite showed up for this one.
But no matter how tough the field in these kinds of events, they still give the players in them their best shot at winning a bracelet, as it has to be considered an easier task to outlast 87 players than the 3,000-plus player minefields the lower buy-in no-limit hold'em events have become.
Of course, every single participant in tonight's lowball final table had at least a bracelet coming in, except for the man who won his first when it was all said and done, so these events are no cakewalk either. But with a number of final tables and bracelet wins in game's like limit hold'em, pot-limit hold'em, 2-7 triple draw lowball, Omaha hi-lo, pot-limit Omaha, seven-card stud and S.H.O.E., Negreanu clearly plays all the games and plays them well.
So, one would expect to see him bracelet hunting in events like the $10,000 Razz starting Friday, the $10,000 Pot-Limit Hold'em a week from now, the $10,000 Seven-Card Stud Hi-Low Split-8 or Better soon after, and of course, the $50,000 Poker Players Championship starting June 22.
Negreanu knows the numbers in these events dictate that they will give him his best shot at a bracelet and he's likely to be on his A-game when they're on the schedule.
With Age Comes Wisdom: Negreanu will celebrate his 40th birthday at the end of next month, but before you start thinking poker is a younger man's game and he's over the hill, take a quick look at the numbers.
Including this year, he's recorded four straight years with more than $1 million in tournament earnings. In fact, he has earned more than $1 million in seven of the past 10 years, not including this one. Plus, even in those three "off" years, Negreanu still collected more than $500,000 in winnings.
"Kid Poker" may have found his way to this stage as a star byproduct of poker's original boom, but no young gun has been able to knock him off of it since.
Get all the latest PokerNews updates on your social media outlets. Follow us on Twitter and find us on both Facebook and Google+!