Rapid Reaction: Robert Mizrachi Wins 2nd Bracelet in Dealer's Choice Debut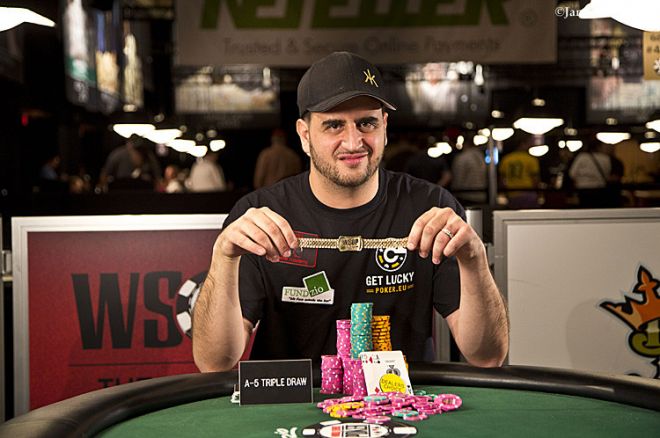 After much anticipation the inaugural $1,500 Six-Handed Dealer's Choice event commenced on Thursday with 419 runners taking their shot at this one-of-a-kind 16-game mix. The small buy-in allowed hopeful amateurs to sit with poker's most proficient mixed-game specialists, and during Day 1 of the event player reception to the World Series of Poker's latest addition was almost universally positive.
By the time the final table was in sight with 10 players remaining, a number of top flight pros remained in contention for the title, including Jen Harman (10th), Melissa Burr (9th), Marco Johnson (7th), Frank Kassela (6th), Daniel Idema (5th), and Bill Chen (4th).
In the end though, the first Dealer's Choice event was a family affair, as Robert Mizrachi outlasted the stacked field and defeated Aaron Schaff heads up to lay claim to his second career WSOP bracelet. The eldest of the four Mizrachi brothers — a clan of cardsharps led by Michael "The Grinder" that managed to make history in 2010, when he, along with Robert, Eric, and Donnie each cashed in the Main Event — Robert has always taken a backseat to his younger brother when it came to the spotlight, but Saturday's win secured his legacy as one of the most consistent performers of the last decade.
Mizrachi the Machine: The win marked Robert's 33rd career cash at the WSOP, putting him within arm's reach of Michael, who has made the money 35 times during his WSOP tenure. Robert has now cashed at least once every year since 2007 at the summer series, and he has now reached 10 final tables in bracelet events. The first prize payout of $147,092 also moved him above the $5 million milestone in terms of live reported earnings, and his current tally of $5,069,193 moves Robert past WSOP legend Dewey Tomko for sixth place on the all-time money list for Florida natives.
First Time For Everything: Robert's win marked the second time a Mizrachi brother has won a WSOP event in its first incarnation. Back in 2010 it was Michael who took down the first ever $50,000 Poker Players Championship, a feat he managed to repeat just two years later. With the Dealer's Choice event and its 16-game spread added to the schedule this year, Robert showed his brother that even if Michael is the master of the 10-game mix, elder siblings always find a way to outdo their younger counterparts.
The Oracle of Omaha: When heads-up play started following the elimination of Shane Abbott in third place, Robert found himself facing a deficit of 660,000 to his Schaff's 1.145 million. Nonetheless, he managed to wear his opponent down as Schaff stubbornly continued to select pot-limit Omaha when choosing the variant by which every two hands of combat would be decided. Mizrachi stormed back to take the lead by winning consecutive hands of PLO and Omaha eight-or-better, respectively. His lead having vanished and at the point of no return, Schaff refused to accept that Robert had him outclassed in PLO, and another pot was shipped to the eventual champion to essentially cripple the runner-up.
"You know, I won a bracelet in PLO," Robert told Schaff at one point during the onslaught.
"Yeah," retorted Schaff. "I wasn't playing that event."
"You were probably still in high school," replied Robert, sensing his man succumbing to tilt and digging the needle in for good measure.
Robert continued to forge ahead by virtue of the four-card format, before changing gears and using draw games to finish Schaff off.
L.L.D.C. Of the final 15 players left in contention, four happened to be females, and while the game of poker is perhaps the most egalitarian of all in terms of gender equality, demographics dictate that whenever one woman — let alone four — has a legitimate shot to win an open-event bracelet, the poker world take notice. So when Maria Ho and Maria Mayrinck joined the aforementioned Harman and Burr among the final 15 players, talk began of a final table which could potentially become a battle of the sexes. Unfortunately, Ho saw her run end in 15th place, and Mayrinck was sent packing in 11th place to leave the field with two less ladies heading into the final day of play.
Both Harman and Burr were looking to make it three of a kind, with the former seeking her third career bracelet, and the latter looking to reach her third final table of the summer. Both would fall just short of the finish line, however, as Harman bowed out in 10th place, and Burr was bounced shortly afterward in ninth. Despite the disappointing ending for this fearsome foursome of females, their prowess on the felt across all disciplines proved that in poker, the only body part that matters is the brain.
Chen Check: With the fourth place result Chen made it 10 straight summers at the WSOP with an in-the-money finish. The 2006 bracelet winner has enjoyed a mixed bag of success at the 2014 WSOP, recording deep runs across a wide variety of variants. After finishing in 15th place in $1,500 Seven Card Razz to get the ball rolling, Chen placed 23rd in $1,500 Limit 2-7 Draw Lowball. Next, he made the final table of the $10,000 H.O.R.S.E Championship, where he ultimately fell in seventh place. On Saturday, with the opportunity to choose from several games which have seen him enjoy WSOP success already, Chen very nearly captured the first ever Dealer's Choice crown.
Why Cantu See I'm Right?: As the WSOP's resident lightning rod when it comes to comes to controversy, Brandon Cantu has never been shy in speaking his mind. His infamous rant after coming oh-so-close to winning the 2012 WSOP Europe €10,450 Mixed Max No-Limit Hold'em event set the standard for pomposity in poker, and accusations over alleged angle-shooting have dogged him ever since. Cantu couldn't avoid the cameras circling in the Dealer's Choice event, after he called the floor on Matt Szymaszek during a hand of 2-7 triple draw. During the dispute, fellow pro Jesse Martin offered his take in less than friendly language, and Cantu interpreted the verbal jabs as fighting words — literally.
A physical confrontation took place right on the tournament floor, with Cantu receiving a lengthy penalty for the indiscretion of punching (or shoving, depending on your perspective) Martin. Despite crossing the proverbial line in more ways than one, Cantu was permitted to continue play after serving his time away from the table, and perhaps fueled by his frustration over the incident, he proceeded to make a deep run en route to a 12th place finish.
Get all the latest PokerNews updates on your social media outlets. Follow us on Twitter and find us on both Facebook and Google+!