WSOP What to Watch For: Chen Goes for Third Bracelet; Monster Stack, Ladies Continue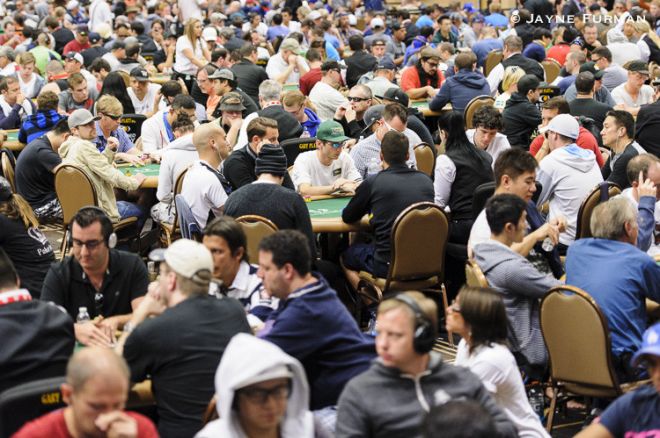 There's no stopping the excitement and drama at the 2014 World Series of Poker, with every tournament seeming to produce stories of note. Today should prove no exception as six different events are in action once again, with a couple of bracelets due to be won among other potential highlights worth watching for today. And providing background noise to today's tourneys will be the building chatter in anticipation of the Sunday kickoff of Event #57: $1,000,000 Big One for One Drop.
Here's a look at what's happening today as the battles for bracelets continue at the Rio All-Suite Hotel and Casino.
David Miscikowski and Norbert Szecsi are the only two players left standing from a starting field of 696 in Event #49: $5,000 No-Limit Hold'em. The pair have already been at it for nearly three hours' worth of heads-up, and they'll be returning this afternoon to determine which of the two wins the bracelet and $719,707 first prize.
This marks Miscikowski's 12th career WSOP cash and first final table, while Szecsi is seeking his second career bracelet after the Hungarian earned one a year ago in a $1,000 no-limit hold'em event.
Miscikowski will start with a small chip lead today with 5,525,000 to Szecsi's 4,920,000, which will be a difference of about five big blinds when play resumes at 2 p.m. PDT today. Check those Event #49 live updates starting then to see which of these two players becomes the next WSOP champion.
They've gone from 7,864 to 3,826 to 576 so far in Event #51: $1,500 No-Limit Hold'em Monster Stack (pictured above), meaning there is still a lot of work to be done this weekend on the last two scheduled days of the four-day event. After all, there are 117,960,000 chips in play spread among those 576 at the moment, and eventually all of them will have to be collected by one player before the $1,327,083 first prize can be claimed.
Right now Salvatore Bianco has the most chips of anyone with 847,000, with Michael Richardson (second, 758,000), Gabriel Paul (third, 753,000), and Daniel Hirleman (fourth, 745,000) his nearest challengers. Meanwhile Tom Alner (seventh, 657,000), Josh Pollock (eighth, 625,000), Jason Wheeler (11th, 579,000), Martins Adeniya (12th, 577,000), and John Monnette (14th, 549,000) will also have healthy stacks to begin play today.
They've pushed back the starting time to 3 p.m. today for this one, which is when you can start refreshing the Event #51 live updates to see which players manage to position themselves best to take a shot at that huge first prize as well as the six-figure paydays awaiting all who reach the final table.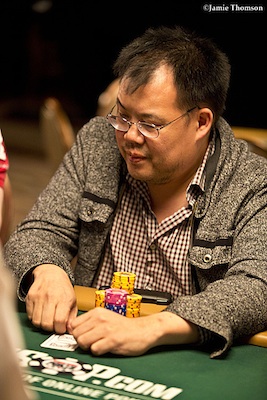 The "Monster Stack" is a notable event, no doubt. So, too, is the Event #52: $10,000 Limit Hold'em Championship, a unique opportunity for fixed-limit hold'em players to play a high-stakes tourney. There were 122 who took up the challenge on Thursday, and today the final 10 will be check-raising, capping, and extracting value bets as they work down to a winner.
Greg Debora returns to lead the final 10 with 749,000. He's in good position to make a first career WSOP final table today after having cashed in events eight times before including five separate times in LHE events. Debora's best-ever previous WSOP finish was a 10th-place showing in a $2,500 LHE event in 2005.
Brian Tate (second, 670,000), Samuel Golbluff (third, 459,000), and Paul Mannoni (fourth, 403,000) will occupy the next spots in the counts to start play today. Of those Tate has made a WSOP final table in LHE before, taking fifth in a $1,500 LHE Shootout event in 2010.
Jan Slavik (fifth, 327,000) is making his 20th WSOP cash, including numerous ones in LHE events. And Bill Chen (sixth, 318,000) returns today as the only WSOP bracelet holder of the group after he won two in 2006, one in a $3,000 LHE event. Meanwhile, among the short stacks, Gabriel Nassif (ninth, 154,000) is seeking his third final table of the 2014 WSOP.
They get back at it starting at 2 p.m. today, which is when the Event #52 live updates will also resume. Check in to see who wins the title and $303,909 first prize.
Yet another special event got going yesterday with the Event #53: $10,000 Ladies No-Limit Hold'em Championship, for which women who participate get a discounted buy-in of $1,000. There were 793 starters on Friday, from which just 101 remain with Patty Landis sitting atop the counts to start Day 2 with a stack of 71,200.
Landis is perhaps better known in the poker world as "DNAssistant" (her Twitter handle), as she works as Daniel Negreanu's personal assistant. She'll be seeking her first WSOP cash today, and with only 20 more eliminations until the money she ought to be in line to get there.
Others with above average stacks to start play today will include Xuan Liu (in fifth position with 55,500) and Melanie Weisner (14th, 41,300), while Cherish Andrews (57th, 18,800), Deanna Dozier (60th, 18,000), and Christina Lindley (82nd, 10,000) will be among those below the average when cards go back in the air.
Play resumes at 1 p.m. local time. Follow those Event #53 live updates to see which nine ladies make the final table as they aim for the bracelet and $153,470 first prize.
Also returning for Day 2 today will be Event #54: $3,000 Pot-Limit Omaha Hi-Low for which 474 players turned out. They are down to 152, with only the top 54 getting a piece of the tourney's $1,294,020 prize pool and chance at the $297,650 first prize.
It will be Event #31: $1,500 No-Limit Hold'em winner Brett Shaffer beginning today with the chip lead with 97,900, just ahead of Florian Langmann (second, 94,000) with Richard Gryko (third, 75,800), two-time 2014 WSOP bracelet winner George Danzer (fourth, 75,400), and Andy Bloch (fifth, 72,600) rounding out the top five.
Event #41: $1,500 Six-Handed Dealer's Choice winner Robert Mizrachi (eighth, 60,100), Dylan Wilkerson (11th, 57,900), Lee Markholt (14th, 54,400), Amnon Filippi (15th, 54,000), and Scott Abrams (19th, 51,500) also will be among those returning to above average chips to start play today.
This one starts back up at 2:00 p.m. Vegas time, which is when you can start checking those Event #54 live updates.
Finally another $1,500 NLHE event gets going at noon today, the fifth of six "standard" $1,500 NLHE events on this year's WSOP schedule (i.e., not counting the "Millionaire Maker," "Monster Stack," and other variations). For those setting lines on today's turnout, the average field for the first four "standard" $1,500 NLHE events was just over 1,806 entrants.
Here again is the busy WSOP schedule for Saturday (all times PDT):
12:00 p.m. — Event #55: $1,500 No-Limit Hold'em (Day 1 of 3)
1:00 p.m. — Event #53: $10,000 Ladies No-Limit Hold'em Championship (Day 2 of 3)
2:00 p.m. — Event #49: $5,000 No-Limit Hold'em (Day 4 of 4)
2:00 p.m. — Event #52: $10,000 Limit Hold'em Championship (Day 3 of 3)
2:00 p.m. — Event #54: $3,000 Pot-Limit Omaha Hi-Low (Day 2 of 3)
3:00 p.m. — Event #51: $1,500 No-Limit Hold'em Monster Stack (Day 3 of 4)
Get all the latest PokerNews updates on your social media outlets. Follow us on Twitter and find us on both Facebook and Google+!