WSOP What to Watch For: Monster Stack Concludes, Big One for One Drop Continues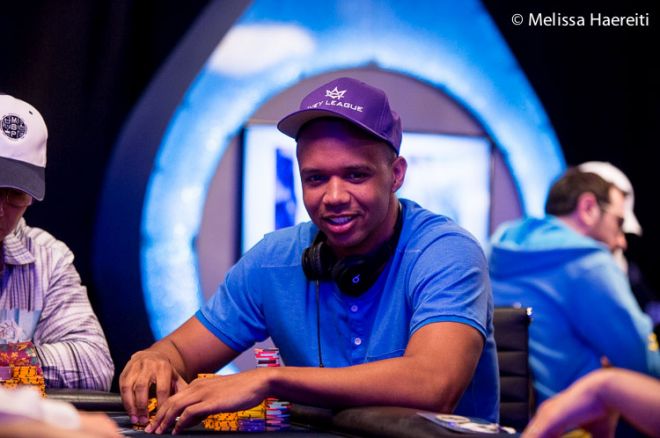 It's another super-sized day of poker in store as Week 5 of the 2014 World Series of Poker comes to a close today. One event finishing is labeled a "Monster." Another one that's playing down to a final table is called a "Big One" But all six events in action today will be huge for those involved, and should prove enormously entertaining to players and fans alike.
Here's a rundown of what to look for in all six bracelet events scheduled for today.
It took four full days, but the massive field of 7,864 that started Event #51: $1,500 No-Limit Hold'em Monster Stack during the middle of last week is now down to just nine players. All nine are guaranteed six-figure paydays today, while the champion will be earning an incredible $1,327,083 first prize.
His name sounds like a cool weapon, and it seems somehow appropriate that a player named "Hugo" would be atop the counts in a huge event like the "Monster Stack." In any case, Hugo Pingray will be returning to the biggest stack today of the final nine after ending last night bagging 22,700,000.
Hailing from Martigmy, Switzerland, Pingray is seeking his first career WSOP bracelet. In fact, he's registering his first ever WSOP cash in this event after having collected a few small scores in France over the last couple of years.
Pingray has some heady competition near him at the top of the leaderboard. Sean Drake (second, 20,975,000) does have a bracelet to his name, having won the Casino Employees Event in 2011. Thayer Rasmussen (third, 15,475,000) has already cashed six times this summer including having made one other final table (not to mention his extensive online success as "THAY3R"). And Joe McKeehen (12,925,000) has a handful of WSOP cashes plus two WSOP Circuit rings, including one from a Main Event win at Caesars Atlantic City in 2013.
Meanwhile Claas Segebrecht (sixth, 8,900,000) will be looking to add another bracelet to Germany's total of four so far this summer, while Lynne Beaumont of the U.K. (ninth, 7,925,000) hopes to follow Vanessa Selbst's lead and add another open-event bracelet to the women's column.
The final table gets underway at 3 p.m. PDT, so start following the hand-for-hand coverage in the Event #51 live updates then.
Just 17 players will be returning for the final scheduled day of Event #55: $1,500 No-Limit Hold'em today, all that remains from the big field of 2,396 who began the tournament on Saturday.
David Jackson of Georgia will return to the chip lead with 1,487,000, followed by Michael Ferrer (second, 1,146,000) and Aaron Massey (third, 949,000), with 2013 November Niner Marc-Etienne McLaughlin (seventh, 795,000), Tim West (ninth, 633,000), and George Kapalas (10th, 554,000) also still in contention.
None of the 17 coming back for Day 3 in this event has won a bracelet before, so start checking the Event #55 live updates at 1 p.m. today to start finding out who among the group will be breaking through to win his first.
Event #56: $1,000 No-Limit Hold'em gets back at it today as well after 2,525 entrants played down to 206 on Sunday. Raymond Chen (130,400) leads the counts entering play today with Giang Hoang (127,400) not too far behind, but there's a long way to go before someone can claim the $403,483 first prize.
Among others with big stacks to challenge the leaders during Day 2 today will be Vinny Pahuja (in fourth position, 99,500), Larry Gurney (ninth, 88,300), Steve Gross (12th, 80,800), Alex Masek (16th, 77,200), Perry Friedman (20th, 71,000), and Matt Salsberg (21st, 70,600).
They'll be resuming play in this one at 1 p.m. as well, so check the Event #56 live updates then to see who makes it through to tomorrow's final scheduled day of play.
While they'll be playing for a seven-figure first prize in the "Monster Stack," today, participants in Event #57: The $1,000,000 Big One for One Drop each had to put up seven figures to get their seat. There were 42 players willing to do just that yesterday, of which just 31 remain with Sam Trickett (13,400,000) carrying the chip lead to Day 2 ahead of Tom Hall (second, 9,125,000) and Phil Ivey (third, 7,675,000). Ivey is seeking a second bracelet this summer and an 11th for his career.
Unlike the 2012 version of the "Big One for One Drop" (which drew 48 participants), this year's field is decidedly pro-heavy with very few amateur players involved. That year's winner Antonio Esfandiari did well yesterday, too, to sit in fifth position with 6,725,000, with Phil Galfond (ninth, 4,390,000), Daniel Negreanu (10th, 4,270,000), Erik Seidel (11th, 4,250,000), Brandon Steven (12th, 4,200,500), and Tobias Reinkemeier (13th, 4,125,000) also all above the average to begin play today.
There should be maximum tension today as they'll be working their way down to the final eight players who'll get to divide the massive $37,333,338 prize pool, with a hard-to-fathom $15,306,668 prize going to the champion.
They'll pick back up at 1 p.m. Vegas time, so drop in on the One Drop then to start following the comprehensive Event #57 live updates.
One of two new events getting going today will be Event #58: $1,500 Mixed-Max No-Limit Hold'em, the second such event on this year's schedule. Vanessa Selbst kicked off the summer winning the first one, taking down Event #2: $25,000 Mixed-Max No-Limit Hold'em for her third career WSOP bracelet.
They'll play nine-handed today, then six-handed tomorrow, then four-handed on Wednesday until down to four players, after which the event becomes a heads-up tourney.
Play starts at 12 noon, which is when the Event #58 live updates get rolling.
Finally another new event starts later this afternoon — also new to the WSOP schedule — in Event #59: $3,000 Omaha Hi-Low. This is the third and final fixed-limit Omaha hi-low event on the schedule, with Brock Parker having won the Event #10: $10,000 Omaha Hi-Low Championship and Nick Kost taking down Event #14: $1,500 Omaha Hi-Low.
They start at 4 p.m., so follow those Event #59 live updates beginning then.
Here again is a look at everything happening on Monday at the 2014 WSOP (all times PDT):
12:00 p.m. — Event #58: $1,500 Mixed-Max No-Limit Hold'em (Day 1 of 4)
1:00 p.m. — Event #55: $1,500 No-Limit Hold'em (Day 3 of 3)
1:00 p.m. — Event #56: $1,000 No-Limit Hold'em (Day 2 of 3)
1:00 p.m. — Event #57: The $1,000,000 Big One for One Drop (Day 2 of 3)
3:00 p.m. — Event #51: $1,500 No-Limit Hold'em Monster Stack (Day 5 of 5)
4:00 p.m. — Event #59: $3,000 Limit Omaha Hi-Low (Day 1 of 3)
Get all the latest PokerNews updates on your social media outlets. Follow us on Twitter and find us on both Facebook and Google+!