Your Guide to the Inaugural WSOP Dealer's Choice Event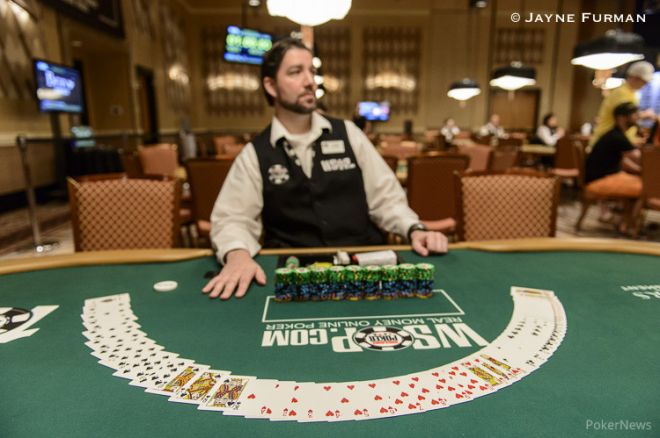 The 2014 World Series of Poker is beyond the halfway point with 34 events already in the books. To stir things up a bit, the inaugural $1,500 Six-Handed Dealer's Choice event is coming at a perfect time. What makes this tournament so unique? There are 16 variations of poker to choose from. Some are common, some you've probably never heard of, and some have never once been played at the WSOP before.
The three-day event kicks off Thursday at 4 p.m. PDT, and to get you prepared we are drawing out the rules for you to use in the event itself, follow along with the action, or to even add to your next home game.
Starting with the "Dealer's Choice" lingo, the player with the dealer button will have the option to pick which poker variant will be played for an entire orbit. Once completed, the button will be passed to the next player who will then choose which game will be played.
The 16 games include no-limit hold'em, limit hold'em, razz, seven-card stud, seven-card stud hi-low, pot-limit Omaha, pot-limit Omaha hi-low, Omaha hi-low, deuce-to-seven triple draw, ace-to-five triple draw, badugi, badeucy, badacy, deuce-to-seven no-limit single draw, pot-limit hold'em, and five-card draw high.
Draw Games
Badugi
Badugi is still relatively a new game but growing in popularity. More commonly found in cash games, it is on rotation for high-stakes mixed games and is part of other mixed-game variants like badeucy and badacy. After four betting rounds and three draw opportunities, the object is to make the lowest four-card hand without any duplicated cards in suit or rank. Ace is low so the best badugi hand is A-2-3-4 rainbow. Any four-card hand of different suits is a badugi.
2-7 Triple Draw Lowball
Limit deuce-to-seven triple draw is a five-card draw low game. Each player is dealt five cards and the goal is to make the lowest possible five-card hand. After four rounds of betting and three draws, the best possible hand is 23457. Straights and flushes do count against you. Some of the best 2-7 players you'll find at these events include John Juanda, Jason Mercier, and Nick Schulman.
Ace-Five Triple Draw
2014 marks the return of ace-to-five to the WSOP after a nine-year absence. The last ace-to-five event took place in 2004. The buy in was $1,500 and saw 184 entries. The most recognizable player to cash in was Barry Greenstein who fell in second for $44K. For this draw game, aim for the lowest possible hand. Straights do not count against you so the nuts is a wheel, or ace-to-five.
Badeucy
Now the fun begins! Making its WSOP debut, badeucy is a combination of 2-7 triple draw and badugi but with modifications. A split-pot game, the object of badeucy is to make the lowest five-card triple draw hand and/or the lowest four-card badugi hand. The best hand is 2-3-4-5-7 with the first four cards in all-different suits. A high-stakes cash-game favorite, it would not be surprising if this game were not seen often during the event.
Badacy
Badacy is also making its variant debut at this year's WSOP. Badacy is similar to badeucy but is played as badugi combined with ace-to-five triple draw. Ace is low so the best possible badacy hand is A-2-3-4-5 with the first four cards in all-different suits. Also a popular game in the high-stakes mixed game, you shouldn't expect to see this chosen too often unless it's from players like Scott Seiver, Dani Stern, or Brian Rast.
Five-Card Draw High
This is considered one of the earliest, simplest, and purest forms of poker. Each player receives five cards face down. A round of betting occurs, players discard and draw, and a final round of betting occurs. The best five-card high hand wins. The WSOP has awarded four bracelets for this event between 1978 and 1982. Lakewood Louie earned two back-to-back titles in 1978 and 1979. The last bracelet was awarded in 1982 to David Skalansky after defeating a field of 31 players.
No-Limit 2-7 Single Draw
The game is in the name. Unlike 2-7 Triple Draw, No-Limit 2-7 Single Draw only allows for one round of discards and a no-limit betting option. Erik Seidel is considered to be one the best players within in this variant as he has five WSOP cashes including one bracelet.
Stud Games
Razz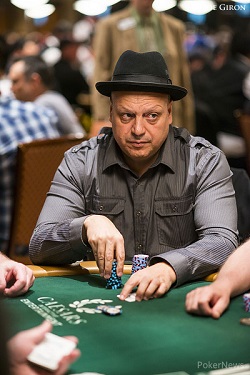 Tired of being dealt only bad hands? Razz helps with this very problem. The idea is to let the worst hands in poker win for a change. Formally "razzle-dazzle," razz is a variation of stud and played for the low only. Straights and flushes don't count against you, aces are always low, and subsequently, the best hand is
, or also known as "the wheel." Each player gives an ante and the high card has an initial forced-bet. Thereafter, the stakes proceed as in regular stud. They double on fifth-street and remain doubled until the river.
Seven-Card Stud
Before the start of the Texas hold'em poker boom, seven-card stud was one of the most popular poker variations in the United States. Antes are the forced bets placed by every player before receiving any cards. A player is dealt two cards down and one card up. The player with the lowest ranking up card or "door card" will post the forced "bring-in" bet but has the option to "complete" by posting the small limit of the game. Once betting is complete, the remaining players are dealt a fourth card, referred to as fourth-street. This will continue till four cards up with the two cards down from the start. A seventh card will be dealt face down. The winner will have the highest-ranking hand.
Seven-Card Stud Hi-Low
Stud 8 is a split-pot game with a combination of a stud high hand and a razz low hand, except the five cards must be eight or lower with the best possible low being a wheel or ace to five. Players you will always find playing this event include Jeff Lisandro, Huck Seed, and living legend of seven-card stud Artie Cobb.
Flop Games
No-Limit Hold'em
This is the most popular of all poker variations. Most players should be familiar with the rules of the game but just in case and to be fair, each player is dealt two hole cards with the overall goal of making the best five-card hand using a community board. Action occurs on multiple streets: preflop, the flop, the turn and the river. Don't let the simplicity of the game mislead you. "It takes a moment to learn, but a lifetime to master."
Limit Hold'em
The game is played the same as no-limit hold'em with the exception of the bet sizing. A player can only raise by the amount of the big blind. Only two limit hold'em events will take place at the 2014 WSOP: the $1,500 buy-in Event #43 on June 20 and the $10,000 Championship Event #52 on June 26.
Pot-Limit Hold'em
Played the same, but in pot-limit hold'em you can only raise a maximum of the pot size.
Pot-Limit Omaha
Omaha high is considered the dominant game in Europe and in high-stakes cash games. The one glaring difference between Omaha and hold'em is that players receive four hole cards rather than two. To produce a winning high hand, a player must use two cards from his hand, and three cards from the community cards (flop, turn, and river). You can only raise a maximum of the pot size. PLO is an action game, resulting in a lot of big swings.
Pot-Limit Omaha Hi-Low
In Omaha 8-or-better, the pot is split between the best high hand and the best low hand just like in Stud Hi-Low. One must be weary of what the nuts are for both halves of the pot and also cautious of players sharing the same hand.
Limit Omaha Hi-Low
This is the least popular variant of Omaha. If you want a game more tamed with less risk you can gear towards Omaha 8-or-better and risk to lose less as compared to PLO or PLO8. Within all three game variants, you can expect to find a similar crowd including Mike Matusow, Todd Brunson, and Eli Elezra.
Which variant do you wish to learn or play? Let us know and follow all the action from the live reporting page.