Jorryt van Hoof Leads 2014 WSOP November Nine, Mark Newhouse Goes Back-to-Back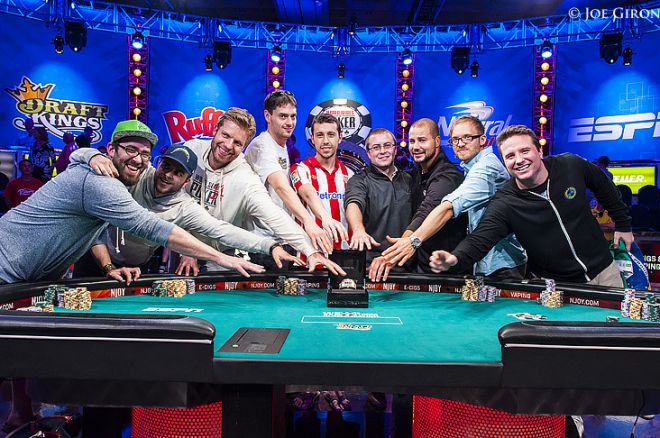 After seven long days of poker played out over a week-and-a-half, the 2014 World Series of Poker Main Event has at last reached its November Nine. The Netherlands' Jorryt van Hoof will have the chip lead when play resumes this fall as only the second Dutchman ever to make a WSOP Main Event final table, while Mark Newhouse became the first player in a decade to return to the final table a second straight year.
Unlike in 2013 when Newhouse entered the final table short on chips, this year he'll be in third position behind van Hoof and Felix Stephensen of Norway. Joining those three will be the Spaniard Andoni Larrabe, Sweden's Martin Jacobson, three Americans — Dan Sindelar, William Pappaconstantinou, and William Tonking — and the first Brazilian ever to make a WSOP final table, Bruno Politano.
Here's how the chips fell by the end of play last night:
| Position | Player | Country | Chips |
| --- | --- | --- | --- |
| 1 | Jorryt van Hoof | Netherlands | 38,375,000 |
| 2 | Felix Stephensen | Norway | 32,775,000 |
| 3 | Mark Newhouse | USA | 26,000,000 |
| 4 | Andoni Larrabe | Spain | 22,550,000 |
| 5 | Dan Sindelar | USA | 21,200,000 |
| 6 | William Pappaconstantinou | USA | 17,500,000 |
| 7 | William Tonking | USA | 15,050,000 |
| 8 | Martin Jacobson | Sweden | 14,900,000 |
| 9 | Bruno Politano | Brazil | 12,125,000 |
Newhouse becomes the first player since Dan Harrington to make back-to-back WSOP Main Event final tables. Harrington finished third of 839 players in 2003, then fourth of 2,576 in 2004. Meanwhile Newhouse negotiated his way through fields of 6,352 last year and 6,683 this time around, outlasting 13,017 players (thus far) in his two Main Event runs.
Here's a look at how they worked their way down from 27 to the final nine yesterday:
From 27 to 18: Sindelar Surges
Short stacks fell quickly on Monday, with eight players eliminated within the first three hours of play.
Sean Dempsey started play with the fewest chips of the returners with just over six big blinds, and he'd soon lose them to Mark Newhouse who started Day 7 with the most to finish 27th.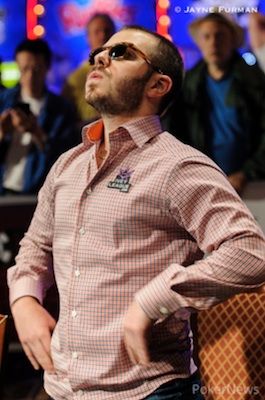 Brian Roberts soon followed in 26th, then after the day's first break a half-dozen more hit the rail as Bryan Devonshire (25th), Kyle Keranen (24th), Yorane Kerignard (23rd), Iaron Lightbourne (22nd), Leif Force (21st), and Dan Smith (20th) successively hit the rail.
Three of those players had made deep Main Event runs before, as Devonshire had previously finished 12th (in 2011), Keranen 38th (in 2012), and Force 11th (in 2006). Meanwhile "King" Dan Smith earned his first career Main Event cash when his run ended after his A♠K♠ failed to improve versus van Hoof's 4♠4♥.
They began the next level, and about 15 minutes later Scott Palmer would lose the last of his stack to Christopher Greaves after running 2♦2♣ into the latter's A♥A♠ to finish in 19th. Like the first eight eliminated on Monday, Palmer collected $286,900 for his finish.
By then Sindelar had moved into the chip lead with just over 23 million with Politano and Jacobson then occupying the next two spots in the counts.
From 18 to 15: Jorryt Jumps Up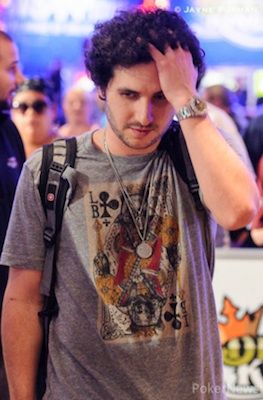 Scott Mahin would be the next to fall after a hand with Andoni Larrabe.
Following a 6♦10♦8♥ flop, Mahin had flopped two pair with 10♥8♣ and committed his stack versus Larrabe's A♦K♦. But a diamond fell on the river to complete the flush for the Spaniard, and Mahin was out in 18th.
Soon after was the point that van Hoof's Day 7 began taking an especially positive turn, starting with his knockout of Russia's Andrey Zaichenko in a hand that saw van Hoof flop a straight versus the Russian's pocket aces, then get Zaichenko to commit his last chips on the turn drawing dead to finish 17th.
Then following the dinner break Eddy Sabat would be eliminated in 16th. Once again, van Hoof was the responsible party.
That hand saw the pair battle to the river with the board coming 9♥J♣5♠7♥4♥, then Sabat calling all in on fifth street holding J♥10♥ for a rivered flush. But van Hoof held A♥8♥ for the nuts, and like Mahin and Zaichenko, Sabat was out with a $347,521 cash.
PokerNews fans can grab some RunGoodGear on a discount during the World Series of Poker. Simply use the promo code "pokernews" for your next order and receive 10 percent off. That's right, all you have to do is type "pokernews" into the promo code box and 10 percent of your order goes right back into your bankroll.
From 15 to 12: Stephensen Seizes Lead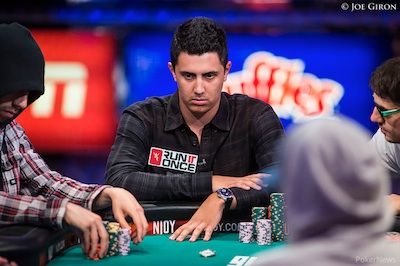 A massive pot of around 25 million between Thomas Sarra, Jr. and Stephensen started the next chapter of Day 7, a hand that began with a Newhouse open, called both by Sarra and Politano. Stephensen then reraised, and after Newhouse folded Sarra four-bet to chase Politano. Stephensen responded by moving all in, and Sarra called with his last chips.
Stephensen had A♠K♠ and a dominating position over Sarra's K♦Q♥, and when the board brought no improvement for Sarra he hit the rail in 15th.
After that the hot-running van Hoof eliminated his fellow countryman Oscar Kemps in 14th after picking up A♣A♥ to crush Kemps' K♥J♣. Stephensen would edge ahead of van Hoof soon after, though, moving up over 30 million and into the lead.
Next to go was Craig McCorkell who was knocked out in 13th place in a hand that saw McCorkell shove his last 14 big blinds or so from the button with K♣5♣ and get called by Newhouse in the small blind with A♠9♦. The board brought no help for McCorkell, who like Sarra and Kemps earned a payday of $441,940 for his finish.
From 12 to the November Nine: Velador Bubbles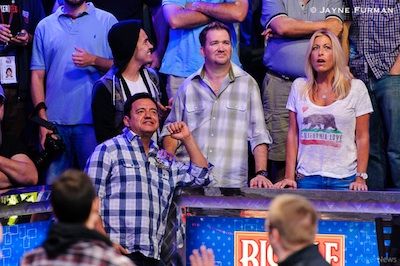 The final 12 played on for a while, then two eliminations came in fast succession.
First Christopher Greaves went out in 12th, his K♥5♠ falling to Jacobson's A♣3♣ after getting his chips in following an ace-high flop. Moments later Maximilian Senft was ousted in 11th after going all in with K♦Q♥, getting called by Newhouse with 3♠3♥, then watching a trey flop and his tourney run end shortly thereafter.
The final 10 players then reassembled around a single table, and as play continued van Hoof edged back into the top spot. There were a couple of dramatic doubles, one by Tonking (through Jacobson) and a huge one that saw Larrabe's A♠A♣ hold up against Luis Velador's A♦K♠.
That hand left Velador short, and on the 24th hand of 10-handed play he'd commit the last of his chips with 4♦4♥ and was unfortunately up against Newhouse's 5♥5♠. The board ran out 6♦A♥A♣3♥A♠ and Velador — the last of the remaining players with a WSOP bracelet (he has two) — was knocked out in 10th.
On Tap
The nine players now must wait nearly four months to find out who among them will become the next World Series of Poker Main Event champion. Play will resume on Monday, November 10th. All nine are guaranteed at least $730,725 (the ninth-place prize), while that $10 million first prize awaits the eventual champion.
Video of the Day
Following the conclusion of play last night — when the celebrations were in full swing — Sarah Grant helped us get to know this year's November Nine a little better with introductions of each player. Take a look:
Get all the latest PokerNews updates on your social media outlets. Follow us on Twitter and find us on both Facebook and Google+!