WSOP What to Watch For: Main Event Day 7 Preview -- From 27 to the November Nine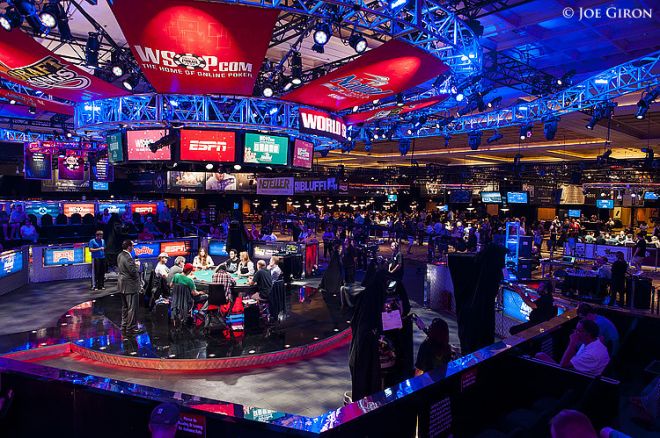 Seven weeks of poker are culminating today with a seventh day of the 2014 World Series of Poker Main Event as the final 27 players from a starting field of 6,683 in the $10,000 buy-in tournament will reconvene to see who among them will reach the final table and the November Nine.
Having collected 22,335,000 by the time play concluded last night, Martin Jacobson of Stockholm, Sweden comes back to the biggest stack among the final 27 today, while Mark Newhouse returns to above-average chips and a chance at history as he attempts to make his second straight WSOP Main Event final table.
Two-time WSOP bracelet winner Luis Velador — currently in second position with 16,600,000 — will be among Jacobson's other challengers today, as will Dan Smith (seventh, 10,335,000) who is fresh off a $2 million-plus score in the Bellagio $100K Summer Super High Roller just a couple of weeks ago.
Craig McCorkell (eighth, 8,765,000), Andrey Zaichenko (10th, 7,335,000), Bryan Devonshire (14th, 5,765,000), Jorryt van Hoof (15th, 5,395,000), Leif Force (18th, 4,035,000), Sean Dempsey (23rd, 3,145,000), and Yorane Kerignard (24th, 2,885,000) are among the other notables still left with a shot at becoming the next world champion of poker.
Here's a rundown of various items worth keeping in mind when following today's Day 7, starting with the stories of Jacobson and Newhouse.
Jacobson's Journey
Jacobson has ended each of the six days he's played in this year's Main Event in favorable position, starting with Day 1a when he finished the night leading the 505 survivors from that first Day 1 flight.
The Swede would then finish 12th out of the 817 who made it through Day 2a/b, good for 21st of 1,864 to start Day 3. He'd end Day 3 sitting 29th of 746, completed Day 4 sitting 18th of 291, and finished Day 5 in 14th position out of 79. In other words, he's been well above par throughout the tournament thus far, and enjoyed the chip lead for much of the latter part of play last night as well.
Jacobson has four previous WSOP final tables to his credit, including just missing a fifth this summer after finishing seventh in the Event #32: $10,000 Six-Handed No-Limit Hold'em Championship. That cash carried him up over the $4.8 million mark in lifetime tourney earnings, second only to Chris Bjorin on the all-time list for Swedish players.
An Old Story for Newhouse
As we anticipate Day 7 of this year's Main Event, it's easy to recall how last year Anton Morgenstern entered Day 7 with what seemed a comfortable chip lead with 27 left, sitting with nearly 22 million chips and almost eight million clear of his nearest foe. But a rough start caused the young German to fall quickly that day before ultimately busting in 20th place.
A key hand accelerating Morgenstern's descent a year ago involved Newhouse, in fact, who began last year's Day 7 sitting in 15th position with 27 left, then catapulted into the lead after a hand that saw Newhouse flop a full house versus Morgenstern's trip aces, then get all of his chips in on the turn to earn a huge double.
Newhouse then fell back himself and would need to survive multiple all-ins — including doubling up once during ten-handed play — in order to make the November Nine where he'd ultimately finish ninth for a $733,224 cash.
No player has made two straight WSOP Main Event final tables since Dan Harrington finished third out of 839 players in 2003, then fourth out of 2,576 in 2004. Last year 6,352 played the Main Event, with 6,683 taking part this time around. That means Newhouse has already outlasted 12,999 Main Event players over the last two years heading into today.
In the Main Event Money Again
This actually marks Newhouse's third WSOP Main Event cash as he also finished in the money in 2011.
Speaking of players who have cashed in the Main Event before, there are a number of them among the final 27, including two others — Bryan Devonshire and Leif Force — who barely missed making final tables previously.
Here's a list of those 10 players, noting where they sit chip-wise at present and how they've done in past WSOP Main Events, among them Force who this year is making his fourth Main Event cash:
| Player | Current Position (Chips) | Previous Main Event cashes |
| --- | --- | --- |
| Luis Velador | 2nd (16,600,000) | 2006 (392nd, $30,512) |
| Craig McCorkell | 8th (8,765,000) | 2012 (172nd, $44,655) |
| Mark Newhouse | 11th (6,820,000) | 2011 (182nd, $47,107); 2013 (9th, $733,224) |
| Andrey Zaichenko | 10th (7,335,000) | 2012 (232nd, $44,655) |
| Bryan Devonshire | 14th (5,765,000) | 2011 (12th, $607,882) |
| Eddy Sabat | 16th (4,670,000) | 2013 (375th, $28,063) |
| Kyle Keranen | 17th (4,465,000) | 2012 (38th, $191,646) |
| Leif Force | 18th (4,035,000) | 2006 (11th, $1,154,527); 2007 (392nd, $34,664); 2011 (381st, $30,974) |
| Oscar Kemps | 21st (3,910,000) | 2012 (213rd, $44,655) |
| Brian Roberts | 26th (1,365,000) | 2006 (790th, $15,504) |
Roberts, incidentally, also final tabled a WSOP Europe Main Event in 2011, finishing fourth for a €400,000 payday. Also worth noting, Devonshire — sitting just behind William Tonking (13th, 5,870,000) in the counts at present — only played a couple of prelims this year, having spent most of the summer enjoying the outdoors and rafting as he explained to Sarah Grant during a break yesterday.
WSOP Winners and First-Timers
As noted, Jacobson will have a healthy lead over Luis Velador in second position to start play today. Velador is the only remaining multiple-bracelet winner left in the Main Event with two — one in a $1,500 no-limit hold'em event (2008) and another in a $2,500 pot-limit hold'em/Omaha tourney (2010).
There are three other WSOP bracelet holders left in the field. Craig McCorkell won the $3,000 NLHE Shootout event in 2012 while Leif Force also picked up gold that summer in the $3,000 NLHE/PLO heads-up event. And Sean Dempsey earned his first WSOP bracelet earlier this summer in Event #39: $3,000 No-Limit Hold'em.
Zaichenko has nearly two dozen WSOP cashes to his credit, and Dan Sindelar (third, 16,345,000) has 17. Meanwhile for six of the remaining players are making their first WSOP cashes in this year's Main Event: William Pappaconstantinou (5th, 14,640,000), Felix Stephensen (9th, 7,740,000), Thomas Sarra, Jr. (12th, 6,510,000), Christopher Greaves (19th, 3,935,000), Iaron Lightbourne (22nd, 3,875,000), and Scott Mahin (25th, 1,460,000).
The World Plays Poker
Of the 27 remaining players, 17 are listed as from the United States, among them Velador who is originally from Jalisco, Mexico and now resides in California.
The U.K. has two players left (McCorkell and Lightbourne) as does the Netherlands (Kemps and van Hoof). Andoni Larrabe (4th, 15,280,000) is the only player remaing from Spain, Bruno Politano (6th, 11,625,000) the last from Brazil, and Maximilian Senft (20th, 3,920,000) of Vienna the last Austrian. So, too, are Stephensen (Norway), Zaichenko (Russia), and Jacobson (Sweden) the lone representatives of their countries left in the field.
Sizing Up the Stacks
When play resumes today there will be just over 44 minutes left to go in Level 30 with blinds at 60,000/120,000 with a 15,000 ante. That means short stack Scott Palmer (27th, 760,000) will start today with just over six big blinds.
With 200,490,000 chips in play, the average chip stack with 27 players left is 7,425,555 (almost 62 big blinds). The average at the final table will be more than 22.2 million.
Last year with a similar-sized field Carlos Mortensen became the 10th-place finisher when he was eliminated a short while after the halfway mark of Level 35.
What's at Stake
The top 693 finishers in this year's WSOP Main Event made the money and thus got a share of the whopping $62,820,200 prize pool. But even though 666 players have already cashed, more than half of those riches still remain up for grabs as $35,126,183 is scheduled to go to the top 27 finishers, with that $10 million first prize awaiting the winner.
Here's how the payouts stack up, with the next pay jump coming after the first nine eliminations occur today.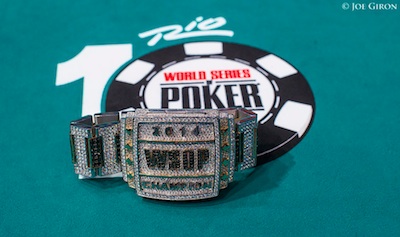 | Place | Payout |
| --- | --- |
| 1 | $10,000,000 |
| 2 | $5,145,968 |
| 3 | $3,806,402 |
| 4 | $2,848,833 |
| 5 | $2,143,174 |
| 6 | $1,622,080 |
| 7 | $1,235,862 |
| 8 | $947,077 |
| 9 | $730,725 |
| 10-12 | $565,193 |
| 13-15 | $441,940 |
| 16-18 | $347,521 |
| 19-27 | $286,900 |
Start checking those Main Event live updates at 12 noon PDT today to see how Day 49 — the final day of play for the summer — plays out and who becomes part of this year's World Series of Poker November Nine.
Get all the latest PokerNews updates on your social media outlets. Follow us on Twitter and find us on both Facebook and Google+!