25 California Card Rooms Issue Letter Supporting Internet Poker Legislation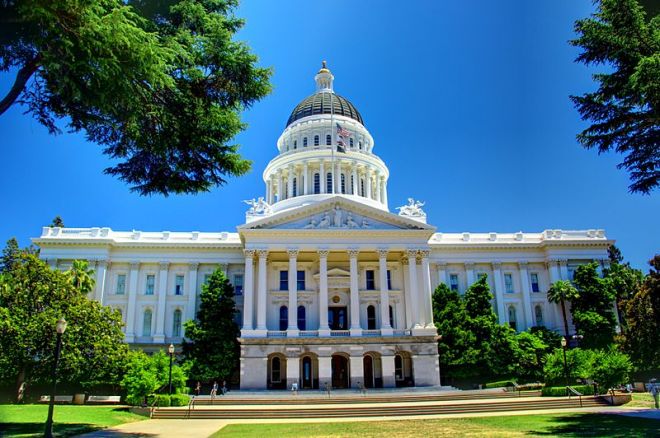 Twenty-five California card rooms, including popular Los Angeles clubs Hollywood Park and Hustler, issued a letter to state lawmakers supporting Internet poker legislation and explaining their position on a few of the contested issues that may be addressed in the next six weeks if legislation moves.
The alignment of card rooms follows the announcement last month that 13 of the state's Indian tribes had reached a consensus on language for a poker bill.
"I think it's pretty impressive that 13 Indian tribes are all on the same page with legislation, and now you've got 25 card rooms also putting out what their position is," said attorney David Fried, who spearheaded the letter as legal representation of California Grand Casino in Northern California. "That in and of itself raises the possibility that legislation will move, and in August there will probably be amendments made to the legislation to address people's concerns."
The statement from the card rooms, which was sent to State Sen. Lou Correa and Assemblyman Reggie Jones-Sawyer — the two legislators in each house who have introduced Internet poker bills — and members of the Governmental Organization Committees that are considering them, was more general in nature than the specific language asked for by the tribes.
The 13 tribes made it clear they are unified on what they are seeking when and if amendments are brought to the table. The card rooms aren't necessarily on the same page on every issue, which is why the letter was more general.
"They won't agree unanimously, but for the vast majority they will probably stick together all the way through the amendments," Fried said.
The main points addressed in the letter, other than a support for online poker legislation, were that all card rooms be allowed to participate in the way of their choosing and that a bad actors clause be included.
Whether or not the bills should contain a bad actors clause, which they currently do, is the most hotly contested issue that may derail legislation from passing this year. The California legislative session ends Aug. 31. A representative of Assemblyman Isadore Hall, who chairs the Assembly Committee on Governmental Organization that held a hearing on Internet poker in April, said there are no iPoker hearings scheduled at this time. The legislature is currently on recess until Aug. 4.
Disagreement on the bad actors clause is the reason why this letter is missing the three largest card rooms in the state — Commerce, Hawaiian Gardens, and The Bike — and the tribal letter didn't feature the Morongo Band of Mission Indians. They have a partnership agreement with PokerStars and want participation of the world's most popular site to be decided by the state's gaming regulators rather than precluded through legislation.
"A number of card room owners would have loved to get into Internet poker earlier but had licenses to protect," Fried said. "It seems unfair for them that unlicensed companies could accumulate assets and customer lists, then when it becomes legal use those assets against them."
The announcement last month that Amaya Gaming acquired PokerStars, removing the ownership that operated the site in the U.S. during a gray period of legality, hasn't changed the stance from those pushing for a bad actors clause aimed at preventing PokerStars from taking part in California.
"The assets they have are the same assets," Fried said.
Fried indicated the bad actors clause should be decided by the legislature rather than regulators because casinos interested in participating need to know before they decide whether to commit $15 to $20 million to obtain a license and set up infrastructure.
"It's not fair to hold it to the end of the process," he said. "When they apply for a license, they need to know the rules and definition of bad actor."
It's unclear what role these card rooms want to take in online poker if a bill is passed in California. For the most part, they haven't been as active on the issue in the past as other card rooms and tribes.
"They all want to participate in some way," Fried said. "It depends on the final legislation, how they are going to participate, whether they'll have a license, be in a consortium or be in a market affiliate. The legislation should permit each card room and tribe to decide."
Lead photo courtesy of Asilvero via WikiCommons.
Get all the latest PokerNews updates on your social media outlets. Follow us on Twitter and find us on both Facebook and Google+!