Australian Player Hits $69,000 Jackpot at Full Tilt's Sit-and-Go Tables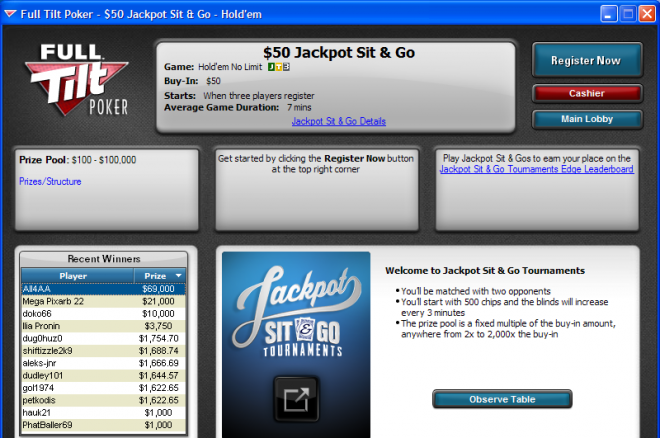 Things keep going strong at the newly-launched Jackpot Sit-and-Go tables on Full Tilt. On Aug. 15 the room announced that the $100,000 jackpot was hit for the second time in less than a week.
Contrary to the tables where the lower jackpot prize multipliers determine a "winner-take-all" prize structure, the three highest tiers of Full Tilt's Jackpot Sit-and-Go tables guarantee everyone a good reason to celebrate, as they also award third and second place with 10 percent and 15 percent of the total prize pool, respectively.
"I was nervous when the big one dropped," said "All4AA," the 28-year-old UK-based table winner from Australia, who transformed his $50 buy-in into a $69,000 top prize.
"Two of us quickly hit the deal button, happy to split 3-ways, but that didn't happen so we played," All4AA told the Full Tilt Blog. "I received a couple of good hands. My
hit two-pair and was enough to knock out the third-place finisher."
"Doko66" left the table $10,000 richer after exiting in third. Rather than engaging in an heads up that would see "All4AA" and "Mega Pixarb" battling for a $90,000 top prize, the two decided to discuss a deal and chop the prize pool in a way that would reflect the 3-to-1 chip lead held by All4AA.
"I had quite a dominate stack at this point, about 1,150 chips, though was also happy to do a deal," All4AA explained.
After a short discussion, the two agreed on a deal that awarded second place with $21,000 and left the winner with a $69,000 first prize. "The $6,000 shave off of the top prize still kept me very happy and content that I didn't lose out to a series of unlucky hands," All4AA continued, expanding on how he plan to invest his winnings in even more poker.
"I will use a bit to visit the family back home and I will store some for the Main Event at the WSOP," All4AA went on. "And, of course, to keep a decent bankroll on Full Tilt!"
The Second Big Jackpot in a Week
All4AA's remarkable hit came six days after the $50 Jackpot Sit-and-Go tables have gave away their first top $100,000 jackpot.
Also in that case, the three players at the table decided not to agree on a deal right away, instead choosing to keep playing at least until the first player was eliminated.
Then, however, as the heads-up started with very similar stacks, the two players still in the game agreed to split the total prize pool in half and left the table with $45,000 each.
If you are not familiar with the concept of Full Tilt's Jackpot Sit-and-Gos, they are three-max hyper-turbo sit-and-gos where the prize pool is determined randomly.
Most of the games have just a multiplier of two times the buy-in, however, players are entering in hopes to hit the maximum prize of 2,000 times the buy-in.
Image courtesy of the Full Tilt Blog
Get all the latest PokerNews updates on your social media outlets. Follow us on Twitter and like us on Facebook now!