Russian Student Turns $10 into $15,000 on Full Tilt Poker Jackpot Sit-and-Go Table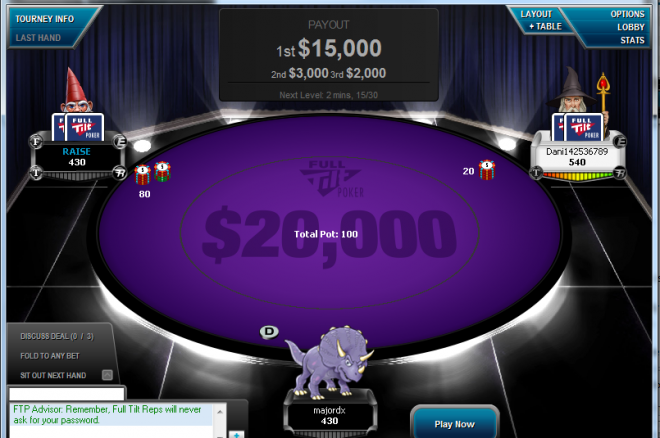 Less than 24 hours after Full Tilt Poker introduced its new Jackpot Sit-and-Go tournaments on June 24, a 23-year-old student from Moscow, Russia, has 15,000 reasons to celebrate.
"VSA24", also known as Alisa, was the first player of the new tournament to clinch a thrilling win, bringing home $15,000 after a mere $10 buy-in. "This is my first big win and I would like to say a huge thank you to all the Full Tilt Poker team!"
Alisa, who was introduced to poker by her boyfriend, spoke to PokerNews about her experience at the Jackpot Sit-and-Go tables, describing the euphoria of finding herself $15,000 richer after only a few minutes of play.
"I've always loved sit and gos," Alisa said. "That's why once I saw the new "Jackpot" tab in the lobby, I decided to try the new ones out."
Alisa wasn't as fortunate during her first four tournaments, but gradually, she acclimated to the game. "I have managed to adapt my strategy to the new short-handed format."
Luckily for Alisa, she gained enough experience in the new, fast-paced freezeout tournaments right before the buy-in multiplier gave her the chance to battle against two opponents for the top $15,000 first prize — the highest available for a $10 buy in.
The right cards came to Alisa's side of the table. Her
managed to beat her opponent's
on a decisive
board worth 1,500 times her initial buy in. Alisa was rendered speechless as she saw the dream of a big win become a reality.
"When the violet-colored table appeared on the screen, I was speechless. In the beginning, I thought that it wouldn't even matter what place I would finish at, as the second place was going to get $3,000 and the third $2,000."
"I have never played this kind of tournaments before, and I have to say that it was quite interesting to do so," she said, adding that it's fair to admit that the result of a poker game often comes down to luck. So, well, that has been my lucky day for sure!"
For some, $15,000 may not be a life-changing amount, but Alisa's stroke of luck intervened at just the right time as she makes preparations for her upcoming wedding. "I don't have any precise plan about what to do with this money yet, as I'm still getting used to the idea that I have really won that. To be true, I still can't believe that I won $15,000 from a $10 buy-in! Right now, I'm in the middle of the preparations for my wedding, so this money is going to help me for sure!"
"PackieAA" Turns $1 to $1,500
The young Russian player wasn't the only one made happy by the new sit-and-go format. On June 26, 20-year-old "PackieAA" from the Czech Republic turned $1 into $1,500 - the highest possible jackpot in the $1 level - in less than 15 minutes after three games.
"It Is unbelievable," PackieAA said."Jackpot sit- and-gos are a great option for those players who are not very patient … the action in these turbo tournaments is never boring."
PackieAA plans to use the majority of his $1,500 prize to enroll in university and continue his schooling.
"One year ago, I started to study economics at university, but I soon had to stop because of some financial issues. Now I want to go back there, and thanks to poker I am finally saving some money for it."
Join the action at the Jackpot Sit-and-Go tables!
The jackpot sit-and-go tables that Full Tilt Poker introduced on June 24 are super turbo sit-and-go events that pit players against two opponents for a prize pool up to a hefty $20,000 for a buy in as low as $10.
Once in the newly added section of the poker room's client, all you have to do is to choose the buy-in to play for – the available choices include $1, $2, $5 and $10 games – and you will be immediately seated at a table to challenge two more players of the same buy-in level.
At this point, right before the first hand is dealt, a random generator will define the prize pool you will be playing for. Prize pools are related to buy ins (yes, you guessed right: the higher, the better), and go from a minimum of 2x to a maximum of 2,000x the initial buy-in.
Unless you won't be playing for the biggest available prizes ($100 or more), the new tournaments are winner-take-all events, which according to Full Tilt Poker data last an average of 7 to 8 minutes each.
If you want to discover the new games and give yourself a chance to be the next "VSA24", make sure you head to Full Tilt Poker and click on the new "Jackpot" tab available in the client. If you don't have an account on Full Tilt Poker yet, you can open one from PokerNews and combine some great poker action with the exclusive Free $25 no deposit bonus available only to PokerNews players.
Get all the latest PokerNews updates on your social media outlets. Follow us on Twitter and find us on both Facebook and Google+!