WSOP Champion Alex Bilokur: "I Am Not Mentally Ready for the Big One"
Ilja Kuteinikov

Giovanni Angioni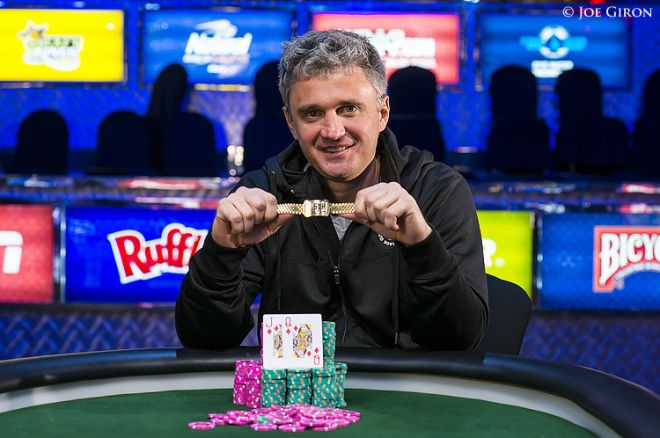 On June 12, Alex Bilokur gave Russia its first World Series of Poker bracelet in 2014 by winning Event #28: $10,000 Pot-Limit Hold'em following a remarkable comeback against Matthew O'Donnell.
Although he started heads-up play at a 9-to-1 chip deficit, Bilokur managed to change his strategy, turn the gap to his advantage and bring home both his first WSOP gold bracelet and the $398,567 top prize.
"I choose the right strategy, and that gave me the right result," he told PokerNews'own Sarah Grant right after the tournament. "I was lucky enough to change the way I was playing, and that helped me to win the heads up," he continued.
Although this was his first major success in a WSOP event, Bilokur is not a new name in the poker scene. During his career he had already managed to earn several big results, including victories at the $25,000 High Roller event at PokerStars Caribbean Adventure and the $10,300 High Roller at European Poker Tour Barcelona, both in 2012.
PokerNews Russia's Ilja Kuteinikov reached out to Bilokur to discover more about the incredible comeback that launched him into fifth place on Russia's all-time money list ($3,394,930).
PokerNews: Although your victories have made you a known name among professional poker players, we get the impression that the general public does not know much about you. How would you introduce yourself to our readers?
Bilokur: Well, I would say that my name is Alex, I am married, I have two children and I live in a country house. I would also add that I am very satisfied with my life as it gives me the chance to devote a lot of time to poker, which is by far my favorite hobby. And I can tell you that the fresh air you get in the forest where I live makes playing poker very enjoyable.
Besides that, I work in a trading and manufacturing company.
On June 12 you won your first ever WSOP bracelet. What are your thoughts on the tournament?
I closed the first day of play with a decent stack and things went fairly well, even if I had to throw away a lot of strong hands preflop.
The tournament was without antes and I thought I understood pretty well the way people were playing at my table, so my main objective was not to lose chips to my opponents and advance to the second day with a comfortable stack.
On the second day I remember having some 15 minutes when I was dealt some very good hands like ace-king, two kings, again ace-king and so on. People gave me approximately half the average stack thanks to those hands.
You started the heads up with a 9-to-1 chip deficit. How did you manage to change that and win the tournament?
I had a similar experience with Jonathan Duhamel in the Bahamas during the PCA High Roller event. I think he had a 3-to-1 or 4-to-1 chip lead at that time.
With a short stack I could not raise bad hands, because if my opponent would make a three-bet, I would have no other option than to shove all-in. So I began to play more post-flop. I have tried to outplay the opponent, and I think it turned out well.
At the start of the heads-up I had 500,000 chips while O'Donnell had 4,300,000. At the next break, we were already 1,600,000 to 3,200,000 – during the five hours of play his chips had been quietly, but constantly migrating towards me.
When I first doubled up, Andrey Zaichenko, who was there rooting for me, shouted: "Alex, everything will go fine now!" When you start with a 1/10 ratio, you don't have many chances to win, but there I understood that there was a real opportunity to catch up and compete for the bracelet.
Despite the fact that you are often referred to as an amateur, your results look impressive for a professional. What's your secret at the table?
Let's start with this question: what is a [poker] professional and what is an amateur?
I'm a poker player, but I also have another source of income. Judging from the earnings, I would tend to consider myself as a professional player.
As for the 'secret', I don't have any special one. I try to keep myself in top form; usually before a tournament, I go swimming with my kids and make sure to spend some time in a gym. Also, when I play poker, I try to stay away from alcoholic beverages.
When I play, I like to understand what's going on at the table, and this is easier when you play against small fields. Usually I prefer to play events with no more than 300 people, as those are the ones where you can show your poker skills.
Before our conversation, I thought you were a businessman who play poker during his free time: was I wrong?
I am a business owner and I take care of strategic planning of my company. But I also play a lot of events, especially European Poker Tour ones. I like the organization and the great bunch of guys you get to play against.
Your major successes are all coming from hold'em tournaments. Are you planning to try some other poker variants?
Yes, I am planning that right for the World Series. I think I will try that I know how to play a few more poker games.
Seeing that you play both online and offline, I wonder: What makes you feel more comfortable?
When you play offline, it is good for you to study your opponents and their game, which is something I am comfortable with.
As for the online, I have hideous results there because I'm irresponsible and I don't spend too much time on statistics and data. But I like the online action, so that's why I play there.
Soon it will be time for the "Big One for One Drop" to start. What do you think about the tournament? Are you considering selling some shares and playing it yourself?
No, I am not mentally ready for it and I believe that this event is more a show than a poker tournament.
Generally speaking, I do not play tournaments for more than $25,000 as I know that higher buy ins would make me feel uncomfortable.
If one day I will be mentally ready to play for so much money, then I will give it a shot. Who knows, maybe in a year or two I could really do it.
Get all the latest PokerNews updates on your social media outlets. Follow us on Twitter and find us on both Facebook and Google+!