Ben "jenbizzle" Jones and His Huge Six-Figure Start to 2014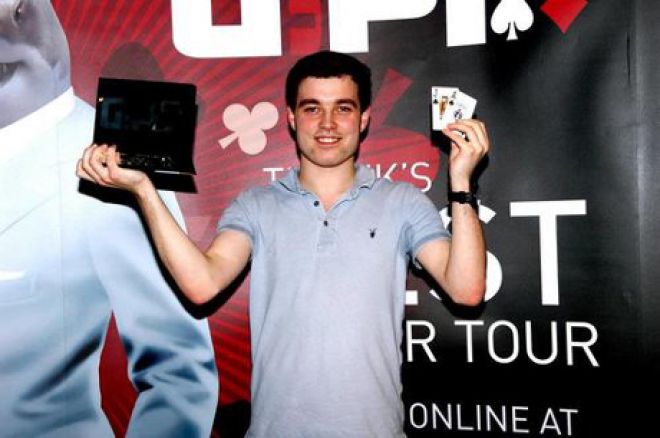 Like many people did over Christmas, professional poker player Ben Jones headed back to his family's home to spend the festive period with his parents. It has turned out to be one of the most profitable decisions he has ever made.
Jones usually resides in Leeds (U.K.), where he admits the pace of life — think lots of parties and nights out — can sometimes distract him from playing poker. When Jones visits his parents in a part of Cheshire that is a million miles away from the party hub that is Leeds, Jones likes to knuckle down and concentrate on playing plenty of online poker tournaments. And knuckle down he has.
Since the turn of the year Jones has been on the mother of all heaters, and it seems he can do nothing wrong at the virtual felt. Jones celebrated the New Year arriving by winning the Full Tilt Poker Tyrannosaurus Rex tournament for $7,125, and followed that up with a win in the very same tournament the next day for an additional $7,087!
More recently, Jones took down the PokerStars Sunday Supersonic for $54,231 to keep his ridiculous run going.
According to PocketFives.com, Jones now has $1,094,897 in online tournament cashes. The table below shows only a small sample of Jones' unbelievable results since the turn of the year.
| Date | Site | Tournament | Finish | Prize |
| --- | --- | --- | --- | --- |
| 31/12/2013 | Full Tilt Poker | Tyrannosaurus Rex | 1/117 | $7,125.00 |
| 31/12/2013 | PokerStars | $55 NL Hold'em | 5/202 | $595.90 |
| 01/01/2014 | Full Tilt Poker | Tyrannosaurus Rex | 1/141 | $7,087.50 |
| 01/01/2014 | PokerStars | $33 Rebuy 6-Max | 2/72 | $1,280.40 |
| 01/01/2014 | PokerStars | $109 NL Hold'em Turbo | 3/268 | $3,028.40 |
| 02/01/2014 | Full Tilt Poker | The Benjamin | 4/195 | $1,950.00 |
| 02/01/2014 | Full Tilt Poker | Tyrannosaurus Rex | 7/162 | $1091.25 |
| 02/01/2014 | PokerStars | $51 NL Hold'em Hyper-Turbo | 1/423 | $4,058.75 |
| 03/01/2014 | Full Tilt Poker | Friday Night Fight | 1/118 | $7,080.00 |
| 05/01/2014 | Full Tilt Poker | $250,000 Guarantee | 1/967 | $56,480.00 |
| 07/01/2014 | iPoker Network | €5,000 GTD | 2/116 | $1,854.07 |
| 08/01/2014 | PokerStars | $109 Turbo | 6/537 | $2,282.25 |
| 12/01/2014 | PokerStars | Sunday Supersonic | 1/1451 | $54,231.87 |
Matthew Pitt, Editor of the UK & Ireland PokerNews site, caught up with Jones last week — before his Supersonic victory — and asked him a few questions about his blistering start to 2014 and future poker plans.
If my sources are correct, you're from Manchester but living in my home city of Leeds at the moment. Is that correct?
Yes, I'm in the centre of Leeds. I live in Headingley with some of my student mates from my first year of university a couple of year ago. I'm living with them until they finish University.
I have to ask, what has gone on this year with your poker?! I was looking at your recent results and basically you've gone nuts!
Yeah, I've been living with students so I've been going out and having a lot of fun! Although poker is my career as such, my lifestyle is more chaotic while I am living in Leeds. As soon as I get a chance to get away from all of that and quieted down – there's not as much to do at my parents' house in Cheshire where I've been staying recently – it's good to be able to crack down on grinding and put some good volume in. December and January are usually the softer months of the year because a lot of the Americans go back to America for Christmas, and the PCA is on and stuff like that. Usually, around this time of year, I start putting a lot of volume in and start really making a run.
Is it just softer fields or have you been running really well, too? You won back-to-back T-Rex tournaments at Full Tilt Poker and then the Nightly Fifty Grand on PokerStars and you don't do that just by having a softer than usual field!
It's been ridiculous really. I came back to my parents' on December 15 and it felt like I had been smacked in the face because I couldn't make a run in any tournament and I was like "Oh my God, it's not going to be like this until I go back home to Leeds is it?!"
I was feeling fresh on New Year's Day after I stayed in on New Year's Eve because I wasn't feeling great and I ran really good. I won the Sunday Warm-Up at PokerStars two years ago on New Year's Day so I was pretty psyched to do some kind of repeat. Yeah, I ran really well, but the fields were noticeably softer. Obviously, you have to run better, but I feel like I played a lot better at the final tables than I have before thanks to putting so much volume in; I felt a lot more comfortable at the final tables so a combination of running good and playing better.
You won the Full Tilt Poker $250,000 Guaranteed this Sunday, too! This was your second largest cash, right?
Yeah, my second biggest.
What does a poker pro do once you have won that amount of money? I mean, do you reinvest it in your bankroll? Do you have a splurge?
I think different players do different things. Some people are backed and will have to give some or most of it away to their backer, or if they make some money they may go out and have a splurge. It depends on whether someone is nitty or a bit wild; I like to stick in the middle really so I can do something productive with the money – adding to the bankroll, saving and investing some – but also I like to have a bit of fun with a small percentage of the money to reward myself. I think doing this is good because you can associate it with real money as opposed to numbers on a screen.
I think that is an area where some players struggle. They fail to see that it is real money they have won and only see X number of buy-ins on their screens.
Yes. If you bust a live tournament, aside from the fact you have grinded away for two days, you've played all of these hands and you've travelled, it does hurt a lot more because you realize that the money is real and there are real people around you. Whereas online, you bust a tournament and simply start another one.
Speaking of live poker, you won the Bolton leg of the Grosvenor UK Poker Tour last year. Do you have any plans to play more live events now that you have a more substantial bankroll or do you see online as being your main game for now?
Online is definitely bread and butter for me, but I was playing quite a lot live last year compared to the year before and I am trying to build up more live experience. Over the last couple of months I have become more comfortable playing live. I played my first two European Poker Tour (EPT) events last year, which didn't go too well in the main events but I had some good sweats in the side events. I've also had a few close runs in some of the UK stuff so I will be looking to play a bit more live and a bit higher and try to become a regular on the EPT side events and Main Events, but they are like a big shot really.
Live tournaments can get very expensive quickly can't they?
I think some people get carried away with it. I think I'm going to take it as it comes and not really make any set plans and try to base my live events around how I feel and how things are going online.
You have $1,000,000 in online cashes now. It must be pretty awesome to get past a milestone like that.
Yeah it is!
Do you take much notice of the rankings such as those on PocketFives.com or do you only really use them for banter between your mates?
It's good to have fun with the rankings, and I find them good for motivation when you're running bad and aren't getting any scores or only getting one score for the entire week. It's good for spurring you on when things aren't going well and obviously getting recognized when it's going good.
Get all the latest PokerNews updates on your social media outlets. Follow us on Twitter and like us on Facebook now!