2014 partypoker WPT Merit North Cyprus Classic Day 2: Controversial Rulings and More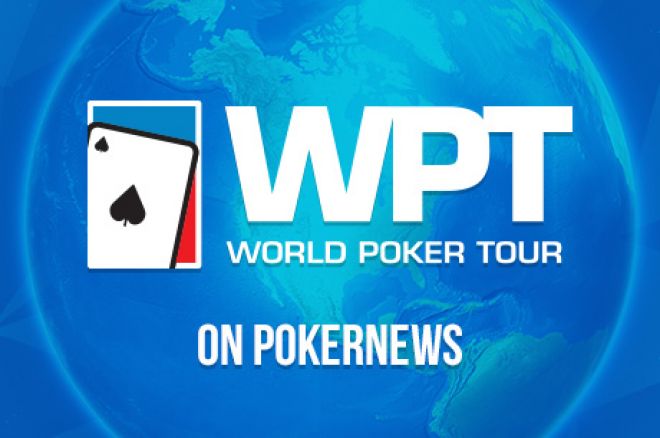 Day 2 of the 2014 partypoker World Poker Tour Merit North Cyprus Classic Main Event was again about surviving. The money was nowhere to be seen yet, and the day was about grinding and gaining chips. With 82 players from Day 1a and 98 from Day 1b, a total of 180 players started out at 1 p.m. local time — no wait, make that 210 as a bunch of players entered or reentered before the start of Level 2.
Day 2 Top 10 Chip Counts
| Rank | Player | Chips |
| --- | --- | --- |
| 1 | Antonio Buonanno | 428,000 |
| 2 | Dmitry Kataev | 377,000 |
| 3 | Alexander Bogdanov | 367,000 |
| 4 | Ali Hassan | 336,000 |
| 5 | Sheref dursun Anar | 335,000 |
| 6 | Oliver Price | 318,000 |
| 7 | Nicolas Chouity | 316,500 |
| 8 | Christian Christner | 312,000 |
| 9 | Alexander Lakhov | 309,000 |
| 10 | Stefan Schillhabel | 301,500 |
After the first 90-minute level, registration closed and the total amount of entries was made public — 404 entries made for a $1,471,320 prize pool. Of that, $310,000 was reserved for the winner, plus a ticket worth $15,400 for the WPT World Championship at Borgata at the end of the season. A total of 45 players will reach the money, but that stage wouldn't be reached just yet.
Things did move rapidly, though, with just 79 players surviving the second day of play. All the time in the world remains, as there are three more days to go before a winner will be crowned.
Starting out as the chip leader was Lebanese high rollerAlbert Daher. Daher again played his own style, which consists of playing a whole lot of pots, and winning most of them. That last part malfunctioned at first, and Daher fell way back. One of the bigger pots he lost was the one where he called a five-bet in position, called a flop bet, but gave up on the turn. His opponent, Christian Christner, started out as one of the shortest stacks, but gained huge towers of chips without having to show his cards.
Daher lost a fun little pot to Alexander Lakhov as well, where the hand itself wasn't as interesting, but the table talk sure was. Lakhov goaded his Lebanese opponent into playing a pot with the big blind sitting out. The two of them were at it throughout the entire hand, and had a big laugh when Lakhov rivered a full house and got paid.
"At the end of the day, I have your stack," laughed Daher. "I promise you."
Daher didn't get his entire stack, though, and the two went on to finish with above average stacks, so they just might find themselves dueling on Day 3 if they have a favorable table draw which lets them meet again.
There were some controversial situations as well. Ilan Boujenah wasn't happy with a ruling that set him aside from the table for two hands. He was accused of angle shooting, while he claimed to do nothing wrong. Walking barefoot, he was furiously lifting his hands in the air out of dispair. He took his straw hat and angrily slammed it on the table.
Even more interesting was a situation just minutes before on Toby Lewis' table. A player opened to 2,300, and another player made the call. Lewis then squeezed from the button to 8,000. The initial raiser folded, but the third involved player shoved all in. Lewis asked for a count, and the dealer started counting the big chips. As soon as it was clear that the player had Lewis covered, the Brit said "OK, that's fine" to indicate the dealer didn't need to count more as it was clear that Lewis had to decide for his tournament life. The Russian-speaking dealer misinterpreted Lewis' words as an indication that Lewis was folding, and announced "Pass." The Russian speaking player who had just pushed his stack forward, thought Lewis had folded, and proudly showed his
.
And Lewis just sat there, with his cards still face down.
The floor was called over, and several players on the table tried to explain what happened. A Russian-speaking floor came over as well, and eventually the man in charge was clearly informed what exactly had happened. He thought about it, made sure it was a mistake by the dealer and not of one of the players, and then decided that he couldn't penalize any of the two involved players, as it wasn't their fault that the situation existed. He ruled that both Lewis and the all-in player had to take their stacks back (the 8,000 squeeze from Lewis, and the 56,500 push from the other player), and that the two would divide the 7,000 in the middle.
Lewis showed his
and was at peace with the situation, though he said he would have most likely called. If Lewis had called he would have been in a race. He could have been out, or he could have doubled, but instead he lived to fight another day, and that day is Day 3. He ended Day 2 with an impressive 298,000.
Leading the 79 remaining players was none other than Antonio Buonanno with 428,000 in chips. The European Poker Tour Monte Carlo winner had a huge stack all of the sudden, but when we asked him how he got all of those chips, he said he just grinded no showdown pots the entire day. Yesterday, he wore a shirt (and matching jacket) with the text "Antonio Buonanno Grand Final Winner Monte Carlo 2014," so we wouldn't forget. If he ends up winning this World Poker Tour here in North Cyprus, he can go to the printer and add a little more text to it. Maybe that's not even needed, though, as who would forget about an Italian winning two huge tournaments like this?
The players will return Monday at 1 p.m. local time. The first hurdle that they'll have to take is reaching the money stage. With the WPT paying 45 spots, that shouldn't take all that long. PokerNews will again be right there in the belly of the beast, bringing you all the updates you can ask for, so stay tuned.
In the meantime, enjoy this video of the famous WPT party at the beach last night. This wasn't just any other party; with fire dancers, a capoeria performance, live music, and headline act from world renowned DJ Subzero, it was a party most will not easily forget:
Get all the latest PokerNews updates on your social media outlets. Follow us on Twitter and find us on both Facebook and Google+!