Hellmuth, Negreanu, Hachem and Others Give Advice for This Year's November Nine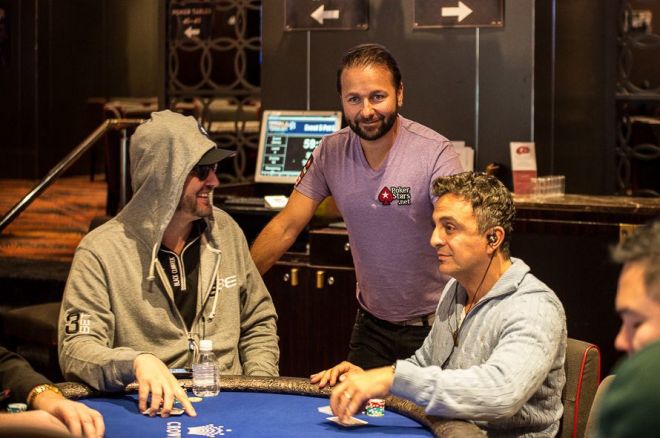 The 2014 World Series of Poker Main Event final table is less than three weeks away, and on Nov. 10 the final nine players will take to the Penn & Teller Theater at the Rio All-Suite Hotel & Casino to battle for poker's greatest prize. When the time comes for the cards to hit the air, it will have been nearly four months since the November Nine reached the biggest stage of poker back on July 14.
Four months is a lot of time. There will be a lot of waiting, a lot of planning and preparation, and a lot of stressful moments. Momentum can be lost, players will be coached up plenty, and strategies will be laid out. On top of all of that, the lights will never be brighter come Nov. 10 when play recommences. Not only will the final nine be playing in front of thousands on the stage of the Penn & Teller Theater, the action will be live on ESPN around the world where millions will tune in.
Preparation can help players move their way up the ladder, but receiving advice from past champions could be priceless both in becoming the winner and leaving one's legacy on the game after the fact. PokerNews recently spoke with some past WSOP champions while in Melbourne, Australia, for WSOP Asia-Pacific to get their advice for this year's November Nine.
Phil Hellmuth has plenty of WSOP experience. With 13 gold bracelets, over 100 cashes and 50 final tables, and a 1989 Main Event win under his belt, he certainly knows a thing of two about performing in WSOP events, and he advises that play will be much more cautious than the players may think.
"My tip is everybody is going to be playing a lot more patiently than they think, but I predicted that the last three years," says Hellmuth. "Everybody argued with me, and they all came out playing super tight, which is not surprising because moving up means something. It may be mathematically correct to play a little tighter, so I would say expect people to be playing a little tight."
Greg Merson, who won the 2012 WSOP Main Event and has talked a lot with Hellmuth over the recent years, warns players not to let too many people get in your head.
"Probably just not to get over coached to the point that other people's strategies are entering your mind," says Merson. "Just keep it as simple as possible and don't change too much because whatever you were doing worked, so try to keep it the same."
"I think I would've gotten in better shape," Merson adds when asked about what he would have done differently during the off months given the opportunity again. "I hired a personal trainer that I was working with pretty hard for the first month. Then I went to Europe and I played WCOOP, and I kind of fell off that wagon. Then we were only a few weeks away when I was done with that trip and I just didn't come in in good shape. I put in a lot of long hours to be ready for a potentially really long final table, but being in good physical shape is also very important for that. Anyone who is not in good shape, I would definitely consider getting in good shape because if you're going to play for so long it's really important."
Jonathan Duhamel, winner of the 2010 WSOP Main Event, also advised towards physical wellbeing, but he was more about the rest.
"Sleep more," Duhamel responds about what he'd have done differently. "I put a lot of pressure on myself during the months off because I was the chip leader, so I would try to put less pressure on myself and sleep a bit more because I wouldn't be so stressed. It was good, though, and in the end I won so I can't really say I would actually change anything."
There's no doubt that being the last man standing to claim the $10 million first-place prize will be no easy feat, but all of poker's greatest champions know that there's an entirely new challenge that comes after you win. Any player who wins the WSOP Main Event is vaulted into poker's spotlight, whether that player likes it or not. Instead of sharing the spotlight with eight others, the champion will be the only one under the microscope of the community moving forward. They're expected to carry the torch for the game for the rest of their careers, and what sort of knowledge can they gain ahead of time?
"Surround yourself with good people," says Duhamel, who was the victim of a home invasion in late 2011. "People are really going to come out of all walks of life, whether it be to be your agent, borrow money, or just be around you more, and you have to be sure to not give into everyone that tries to come back into your life. You'll have won a lot of money, so it's important you really look out for yourself."
While it is very important to look out for those around you, as Duhamel became very aware of given his unfortunate circumstances he was put in, Hellmuth said that the champion will also need to worry about himself, particularly keeping his ego and bankroll in check.
"We've had a history of Main Event champions losing a lot of that money back, a history of it," says Hellmuth. "Almost everybody that wins, loses money the next few years. With the final table that we have where a lot of these guys are going to think they're a lot better than they are, they win the Main Event and they think they're a great player, then they're going to go through a lot of money. I think they need to be a little more conservative, pick their spots a little bit better, and know that when you win the Main Event it's awesome, but it's just the beginning."
Along those lines, Merson suggests taking some time away from poker altogether. Everyone knows how easy it is to tilt when you're losing, but there's a thing known as "up tilt" that can be just as devastating to players who are winning.
"Take time off of poker," Merson says. "For me, it took six to seven months before I started playing relatively well again. I didn't lose money, but I was swinging pretty big, and I was only a small winner or break-even through the first six or seven months. There was times when I really didn't care about playing well and that's just unacceptable as a pro, so that would be my biggest piece of advice. And that's for any big score in general. It happened to me again this year after PCA."
Daniel Negreanu, six-time gold bracelet winner and two-time WSOP Player of the Year, suggests that the winner, "Use the money towards something that is going to enhance their life long term. Think about what it is their passion was when they were young. Now they have life-changing money and they have a dream, whatever that is, chase it."
Joe Hachem, winner of the 2005 WSOP Main Event and someone who has been outspoken about how the Main Event champion should pay strong attention to their legacy, advises, "Be true to yourself. Be true to who you are. Don't let money or fame or anything change you, and enjoy it. Being true to who you are I think is the most important thing. Once you lose sight of that, you lose everything."
Get all the latest PokerNews updates on your social media outlets. Follow us on Twitter and find us on both Facebook and Google+!