Inside Gaming: Legalize Sports Betting on Federal Level Says NBA Commissioner Adam Silver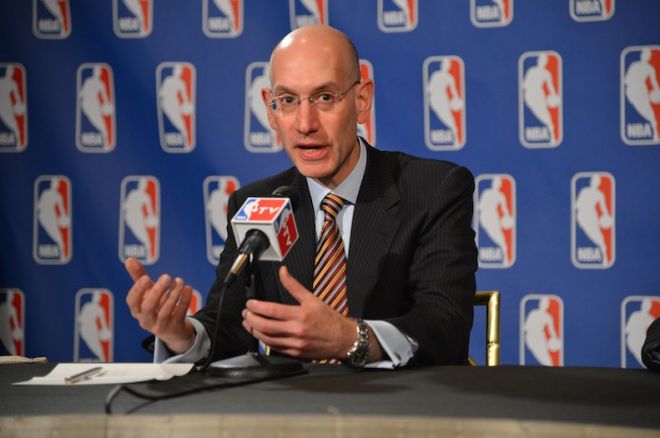 This week's Inside Gaming focuses on yesterday's op-ed by NBA Commissioner Adam Silver arguing in favor of the U.S. passing a federal law permitting sports betting, a position which may prove to have significant impact on the gaming industry in the future.
In the wake of New Jersey's still ongoing push to legalize sports betting, The New York Times yesterday published an opinion piece by NBA Commissioner Adam Silver on the subject that has many in the industry already buzzing.
Headlined "Legalize and Regulate Sports Betting," Silver unambiguously states his position that "the laws on sports betting should be changed," and urges that "Congress should adopt a federal framework that allows states to authorize betting on professional sports, subject to strict regulatory requirements and technological safeguards."
Silver became NBA Commissioner on February 1, 2014, succeeding David Stern who stepped down from the post after exactly 30 years in the position. The league enjoyed unprecedented growth during Stern's tenure, and under his stewardship the NBA continued to maintain an anti-gambling stance even if in recent years he began to acknowledge — like Silver — the possibility that legalized sports betting in the U.S. was a likely future.
Silver had already indicated his position back in early September when speaking at the Bloomberg Sports Business Summit about both the strong likelihood of states' pursuit of legalized sports betting and his own stance regarding it.
"It's inevitable that, if all these states are broke... there will be legalized sports betting in more states than Nevada and we will ultimately participate in that" said Silver (as reported by Bloomberg).
Silver then went on to explain how not only would allowing sports betting provide economic assistance to states, but would be of benefit to sports leagues as well.
"If you have a gentleman's bet or a small wager on any kind of sports contest, it makes you that much more engaged in it," Silver continued. "That's where we're going to see it pay dividends. If people are watching a game and clicking to bet on their smartphones, which is what people are doing in the United Kingdom right now, then it's much more likely you're going to stay tuned for a long time."
Many eyebrows were raised at those comments, which suggested a significant change of position by the NBA from its previous stance on sports betting. The comments also encouraged those arguing in favor of recent legislative efforts in New Jersey where a bill was swiftly passed to allow sports betting.
As reported here two weeks ago, those efforts in the Garden State are currently in limbo after U.S. District Judge Michael A. Shipp ruled in favor of an injunction requested by the four professional sports leagues (the NFL, NBA, MLB, and NHL) and the NCAA to issue a temporary restraining order to halt the state's casinos and horse racing tracks from offering sports betting.
There the battle continues with Shipp due next week to hear oral argument on whether to continue to bar sports betting in New Jersey, with the NBA still one of the plaintiffs. Industry and legal observers fully expect Shipp to rule as he did once before amid similar circumstances and continue the injunction prohibiting the Monmouth Park race track from becoming the first site of sports betting in New Jersey.
Yesterday's NYT op-ed finds Silver being even more direct in presenting his view that legalized sports betting is not just inevitable, but a desirable goal for the U.S. and its professional sports leagues.
"I believe we need a different approach," Silver begins before recounting the NBA's historical opposition to sports betting, a position that included support for the passage in 1992 of the Professional and Amateur Sports Protection Act (PASPA) which prohibits sports betting nationwide with a few exceptions, including sports lotteries in Oregon, Delaware, and Montana, and licensed sports betting in Nevada.
As proponents of legalizing sports betting in New Jersey have also repeatedly maintained, Silver acknowledges that despite the federal restriction of PASPA, illegal sports betting "is a thriving underground business that operates free from regulation or oversight" and estimates "that nearly $400 billion is illegally wagered on sports each year."
"Times have changed" since 1992, believes Silver, with gambling having become more accepted generally in the U.S. as evidenced by the preponderance of state lotteries, casinos, and the legalization of online gambling in Nevada, New Jersey, and Delaware ("with other [states] poised to follow"). He alludes specifically to the situation in New Jersey where the bill currently being blocked by the TRO was passed by a 73-4 margin in the New Jersey Assembly before Governor Chris Christie signed it into law.
Silver favors licensed and regulated sports betting, listing a host of requirements such as licensing protocols, close monitoring of line movements, age verification measures, and means to provide help to and exclude problem gamblers.
"Any new approach must ensure the integrity of the game," Silver concludes. Many recall how the NBA was rocked by an extensive sports betting scandal in which one of its referees, Tim Donaghy, himself bet extensively on games he officiated while also providing tips to others from 2005-2007. Donaghy ultimately served time in a federal prison for his transgressions.
Silver's argument is in favor of a federal sports betting bill, and he acknowledges that the law being discussed in New Jersey would violate PASPA, thus making the NBA's opposition to New Jersey's moving forward not inconsistent with his position.
Interestingly, Silver's op-ed appears just a day after the NBA announced a four-year deal with FanDuel, a daily fantasy sports site. Earlier in the week the NHL announced a similar partnership with DraftKings, another DFS site. Fantasy Sports betting is legal in the U.S., having received a specific exemption from the Unlawful Internet Gambling Enforcement Act of 2006.
Read Silver's NYT op-ed here.
Photo: NBA.com
Get all the latest PokerNews updates on your social media outlets. Follow us on Twitter and find us on both Facebook and Google+!