Inside Gaming: New Jersey Passes Sports Betting Bill, Gov. Christie to Decide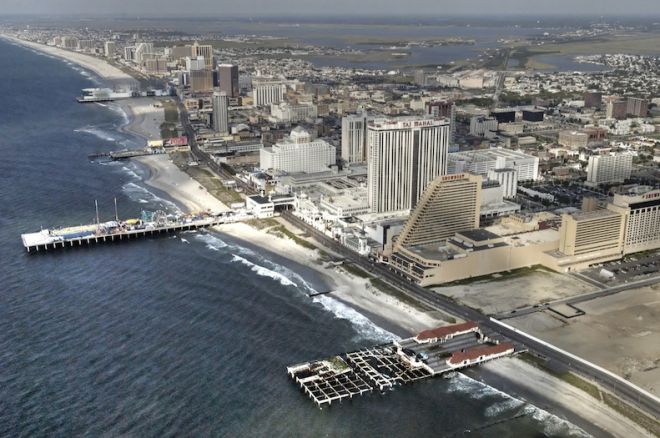 In this week's Inside Gaming a number of stories from New Jersey take center stage as the state's gaming regulators consider skill-based games, its legislators vote in favor of allowing sports betting, and a federal bankruptcy judge's impeding ruling will decide the future of the Trump Taj Mahal. Elsewhere the decline in Macau appears not to concern some, including the Las Vegas Sands who held steady during the third quarter.
Skill-Based Games Considered in New Jersey
There were several stories emanating from New Jersey this week relating to the gaming industry, all related in various ways to the fast-moving efforts of those hoping to revitalize Atlantic City in particular and the Garden State's economy in general.
On Tuesday David Rebuck, the Director of the New Jersey Division of Gaming Enforcement, spoke of an as yet unconsidered approach to injecting some newfound life in Atlantic City's casinos — the introduction of so-called "skill-based gaming" that require more engaging challenges for patrons than pressing the button on a slots machine.
It's a relatively new area of consideration in the casino industry, although Nevada is already working toward establishing regulations to allow for such skill-based games. Examples often cited of such include games based upon or resembling popular apps like Words With Friends or Angry Birds, as well as Wii and XBOX games such as Halo and others — although the possibilities for such games remain wide open.
While Nevada regulators currently discuss the logistics of offering such games — with a proposal being considered by the state's Gaming Commission — in New Jersey, Director Rebuck believes both in the potential to regulate and allow such games and the rich possibilities they might provide to the flagging Boardwalk.
"Bring your innovative skill-based games to New Jersey and we will work with you to get them approved quickly," said Rebuck as part of a statement, underscoring the casino regulator's eagerness to receive submissions of skill-based games to review.
Speaking to Rebuck's offer, Marcus Yoder of Gamblit Gaming noted the possibility of adapting already popular games played on smart phones and have them "gamblified." "We have what we call a gamblification development kit," Yoder told The Press of Atlantic City. "So a game developer could literally take Candy Crush if they wanted to and turn it into a gambling-based games."
Read more about so-called "skill-based" casino games and the discussions in New Jersey to introduce them in The Press of Atlantic City.
Sports Betting Bill Passed, Ball in Gov. Christie's Court
Of more immediate import in New Jersey is another, more familiar gambling option that could markedly change casino culture in that part of the country, as the subject of sports betting has this week dramatically received some rapid legislative support in the form of a new sports betting bill.
A bill authored by state senator Raymond Lesniak partially repealing New Jersey's prohibition of sports betting passed through the state senate earlier in the week, then on Thursday the New Jersey Assembly likewise passed the measure by a 73-4 vote.
Now Assembly Bill 3711 has been sent on to Governor Chris Christie. As was the case with the state's online gambling bill that was ultimately passed into law in early 2013, Christie again has 45 days to decide whether or not he'll sign the state's new sports betting bill into law. Some — including Lesniak — are hopeful Christie will be signing it soon, perhaps even in time for New Jersey bettors to place wagers on NFL games before the end of the month.
When faced with a similar decision over a sports betting bill in August, Christie waited almost the entire 45-day period before vetoing. However, last month a different attitude from the administration was suggested when the state's Attorney General John Hoffman informed the state's casinos and horse-racing tracks they would not be held civilly or criminally liable if they were to begin offer sports betting. That directive appeared designed to exploit a loophole in current federal law regarding states' ability to offer sports betting, with some legislative commentators expressing uncertainty about its feasibility.
Significant opposition to allowing sports betting in New Jersey continues to come from professional sports leagues and the NCAA, also leaving the matter somewhat up in the air at this moment.
Find out what people are saying about the prospects for sports betting in New Jersey at ESPN.
Trump Taj Mahal's Future to be Determined Today
Finally comes one other item from the Boardwalk this week regarding the possible fate of the embattled Trump Taj Mahal Casino. Today at 3 p.m. Eastern time a federal judge will rule on a request by the Trump Entertainment company to force its employees' union to give up pension and health care obligations as part of a plan to enable the casino to continue operations.
Bankruptcy Court Judge Kevin Gross is expected to deliver the ruling in Wilmington, Delaware in response to the Taj Mahal's parent company's position that if unable to drop the compensations the casino will be forced to close on November 13. Should that occur, the Taj Mahal — where more than 2,800 are currently employed — will become the fifth casino (of 12) on the Boardwalk to shut its doors during the calendar year.
Learn more about the positions of both Trump Entertainment and the employees' union in The Press of Atlantic City.
Las Vegas Sands Holding Steady During Macau Decline
Last week we reported on a fourth straight month of decline in gaming revenue for Macau, an ongoing story of significance to the industry around the world, including Nevada's Las Vegas Sands, Wynn Resorts, and MGM Resorts International.
Not everyone affected by Macau's recent downturn is worried, however, including Las Vegas Sands Chairman Sheldon Adelson who expressed optimism following the report that the Sands net income increased 7.2% during the third quarter despite a slight decline in revenue for September.
"Notwithstanding the recent cyclicality in Macau, I am as confident today as I have ever been in the long-term future of our company," Adelson told analysts on Wednesday as reported in the Las-Vegas Review Journal. "This confidence is not based on whimsical fancy, but is founded on the company's sustainable strategic advantages." The comments echoed Adelson's stoicism regarding Macau as shared at the Global Gaming Expo in Las Vegas earlier in the month.
Head over to the LVRJ for more on the Sands current and future plans.
Photo Bob Jagendorf, Creative Commons Attribution 2.0 Generic.
Get all the latest PokerNews updates on your social media outlets. Follow us on Twitter and find us on both Facebook and Google+!