Inside Gaming: Adelson Forced to Cancel $30 Billion "EuroVegas" Project in Spain, and More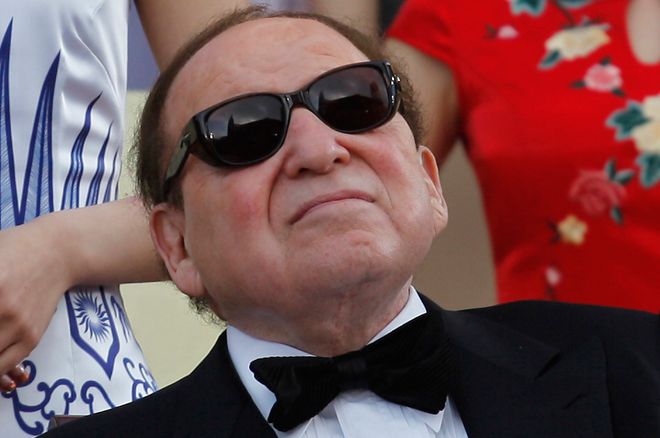 This week's edition of Inside Gaming takes a look at the cancellation of EuroVegas, Bulgaria's decreased gambling tax, MGM's recommendation in Massachusetts, and proposed casino expansion in New Jersey.
EuroVegas Plans Cancelled
Sheldon Adelson's limitless funds couldn't win over government workers and citizens in Spain.
On Friday, CNN reported that the Las Vegas Sands Corp. canceled the multibillion-dollar casino and hotel complex project in Madrid, Spain named "EuroVegas."
"We don't see a path that leads to growing the necessary criteria to move this large-scale development forward," Adelson said in a statement. "As a result, we will no longer pursue the opportunity."
The EuroVegas project was announced in February, and led to protests by Spanish citizens. In September, Bloomberg reported that Adelson was seeking an exemption to a Spanish anti-smoking law that forbid smoking indoors, but the Spanish Government had no interest in amending the law or granting Las Vegas Sands an exemption.
Last month, a government official in Madrid announced that the "groundbreaking" event, which was scheduled for this year, would be delayed until early 2014.
According to Las Vegas Sands, the company will continue its "intense search for opportunities in Asia."
The $30 billion project was to include 12 hotels, six casinos, a convention center, golf courses, theaters, shopping malls, bars, and restaurants. Adelson's biggest selling point was the influx of jobs this project would've generated for Spain, where the unemployment rate is 26 percent. According to estimates from Las Vegas Sands, EuroVegas could've created 250,000 jobs over the next 20 years.
Opponents of the project believed the Vegas-style mega resort would only create low-skilled and low-paying jobs, limiting the positive economic implications. There were also concerns that the resort would attract organized crime and even prostitution.
In November, Adelson started preparations for a public campaign to portray online gambling as "a danger to children, the poor, and others who could be exploited by easy access to Internet betting."
The Las Vegas Sands, which operates The Venetian Resort-Hotel-Casino and The Palazzo Resort-Hotel-Casino, accepts mobile gaming wagers in Nevada.
For more, head to CNN and StarTribune.
Bulgaria Approves Decrease in Gambling tax
Last week, the Bulgarian Parliament approved amendments to the Gambling Act leading to a decreased gambling tax.
The amendment passed with 110 votes in favor, 79 against, and two abstentions, according to Novinite.
Authorities say that the new amendments will reduce tax on gambling activities by threefold. The current regulations enforce a 15 percent tax on operators' revenue.
A corporate tax will now be levied on bookmakers, lottery organizers, and both online poker and casinos. In order to keep their license in Bulgaria, operators must pay a single fee of BGN100,000 ($69,464), and then subsequent monthly fees.
Members of both the Bulgarian Socialist Party (BSP) and the Movement for Rights and Freedoms (DPS) motioned the amendment, and it was headed by the chair of the parliamentary budget committee, Yordan Tsonev.
Previous actions by the Bulgarian government have discouraged foreign gambling operators from operating in the market, but this move by the parliament could increase gambling revenues and ease those tensions going forward.
For more, check out iGamingBusiness.
Massachusetts Investigators Call MGM Fit to Operate
On Monday, after a 10-month background investigation, Massachusetts state investigators recommended that MGM Resorts be declared fit to operate a casino.
MGM is the only remaining contender for the sole Western Massachusetts casino license.
In an extensive hearing held on Monday with the state gambling commission, MGM executives were drilled with questions regarding Macau, China, and former board members convicted of illegal wiretapping and conspiracy.
In July, Springfield, Mass. voters approved MGM's proposal for a casino in their town. Now, with this recommendation from state investigators, the state gambling commission is set to issue a final decision in the coming days.
On Thursday, MGM Springfield inked a deal with the town, and will give the town $100,000 per year for 15 years if the casino is built.
Jonathan Silverstein, an attorney hired by the town to negotiate the deal, believes that town members should carefully document the affects of casino construction and operation. Among the things the people must look out for are impacts on traffic, school population, and public safety. If any of them are compromised, the town may receive additional payments from either MGM or the state.
"This is the most protective contract we could negotiate," Silverstein said.
The $800 million project is expected to generate $400 million in revenue per year and $100 million in taxes for the state.
The Boston Globe and MassLive have more.
Possible Casino Gambling in the Meadowlands
On Thursday, a New Jersey State Assembly committee advanced a bill that would create a study to possible expand casino gambling to East Rutherford, the site of Super Bowl XLVIII.
In the past, representatives in southern New Jersey have opposed similar proposals. They fear that northern expansion would further threaten Atlantic City's already decaying gambling revenues.
"Right now we are losing hundreds of millions of dollars a year being siphoned off to other places," said Assemblyman Ralph Caputo. "If this continues, there will be no market to go to."
Gov. Chris Christie, who is midway through his five-year plan to refurbish Atlantic City, said in October that casinos in the Meadowlands are "not inevitable."
In late November, after an $88 million renovation, the Meadowlands Racetrack re-opened it's doors to harness racing lovers in East Rutherford, New Jersey. Three years ago, the Giants-and-Jets-and-public-funded $1.6 billion MetLife Stadium opened in the famed sports complex.
In a poll on NJ.com, 78.95 percent of voters favored casino gambling in the Meadowlands.
For more, head to NJ.com.
Photo courtesy of Media Salon
Get all the latest PokerNews updates on your social media outlets. Follow us on Twitter and like us on Facebook now!