Inside Gaming: Eurovegas Causing Protests in Spain, New Financing for MGM and Caesars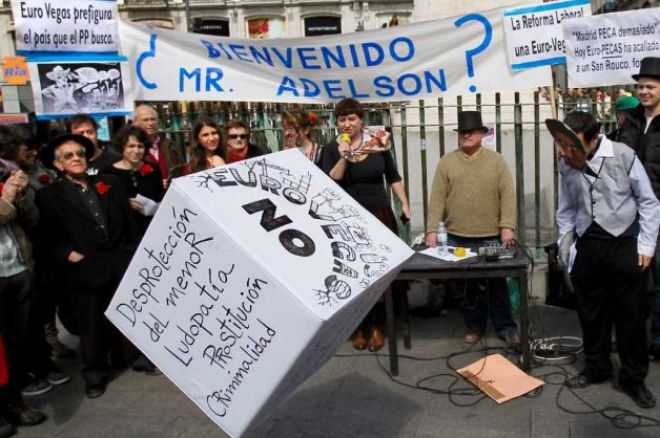 The Sands' proposed $21 billion "Eurovegas" casino complex seems like an economic miracle for Spain, but while Madrid and Barcelona fight for the right to host the future capital of European gambling, some Spanish citizens would rather send the Sands back to Vegas. On top of that, MGM needs cash to pay nearly $1 billion in debt that is due this month. Read all about those two stories and more in this week's Inside Gaming.
Protesters Rally to Keep Vegas Out of Madrid While the Rest of the Country Rolls Out the Red Carpet
Several hundred people gathered in downtown Madrid last week to protest construction of Sheldon Adelson's Eurovegas complex in their city. Adelson will choose either Madrid or Barcelona as the location for the Las Vegas Sands' next major project, a $21 billion entertainment complex that includes six casinos and 12 hotels.
Madrid is fighting hard to win the project and the estimated 200,000 jobs it will create, but opponents say that with all the grants and concessions the cities are promising in an attempt to outbid each other, Eurovegas will cost Madrid more than it's worth. They also cite the traditional addiction and prostitution fears. Supporters, on the other hand, say that with an unemployment rate over 20 percent, Spain needs those jobs. Madrid's tourism director, Ignacio Fernandez, calls job creation the project's "biggest attraction" and the reason Eurovegas is a venture that "politicians have to get for their country."
Adelson isn't offering a single-handed Spanish stimulus plan for nothing. He has a long list of concessions he'd like in exchange for Sands' investment. A reduction in the amount of worker social security mandated by the government, a relaxation of immigration laws, and a loophole in Spain's nationwide ban on smoking in public places are among his requests. Of course, Adelson also sees the tax rate as open for discussion. It's up to the national government to OK any concessions, but political leaders have promised to remain neutral and leave the haggling up to the cities.
While Madrid has been the frontrunner from the beginning, Catalan President Artur Mas says Barcelona is catching up. Each Spanish city has plenty to recommend it as the future epicenter of European gaming. Madrid, the national capital, has the country's biggest airport, while Barcelona, the Catalan capital, is a bigger tourist destination and has a busy cruise ship port.
Adelson hasn't been deterred by the recent eurozone economic crisis. He told Forbes that after four to five years of construction to complete the project, "everything will be solved."
Read more about the protests from Bloomberg Businessweek and about the competition between cities from BBC News.
MGM Issues $1 Billion in Bonds at Lowest Rate Since 2007
MGM Resorts International raised $1 billion in financing last week, issuing unsecured 10-year bonds at the lowest interest rate available to MGM since 2007. The bonds, due in 2022, were offered at 7.75 percent interest.
It's the largest bond issuance in the company's history and the first time since the economic downturn MGM didn't have to offer any of its casinos as collateral. The cash effectively allows MGM to push back 10 years the due date on a $965 million loan due March 14 that lenders refused to extend.
"What this tells the investment community is that Las Vegas recovery is well under way," MGM Chief Financial Officer Dan D'Arrigo said. "MGM Resorts is predominantly Las Vegas, and this deal helps us repay our long-term debt." MGM will still have over $12 billion in outstanding long-term debt.
According to D'Arrigo, MGM's average borrowing cost is 8 percent, "so for every 1 percent improvement in that rate, we can achieve, that's an incremental $125 million in interest rate and incremental free cash flow to our company. As we go forward, we believe there will be more opportunities to further reduce these borrowing cost."
As a result of the added cash, Standard & Poor's revised its outlook on MGM to "positive" and Moody's Investors Service called it "a positive step towards refinancing its considerable debt maturities in the next two years".
MGM sold $850 million of 8.625 percent seven-year notes in January of this year and $845 million of 9 percent senior secured 10-year notes in March 2010.
Bloomberg and the Las Vegas Review-Journal have more financials.
After IPO Success, Caesars Files to Offer Another $500 Million in Stock
Caesars Entertainment Corp. could also be raising a lot more cash soon. The company filed with the U.S. Securities and Exchange Commission last week to sell up to $500 million in shares of common stock. Based on the stock's current price, $500 million is about 40 million shares. Caesars went public in February with a small initial offering of 1.81 million shares, 1.4 percent of the company, which analysts expected was a trial run for a much larger offering to avoid a repeat of Caesars' failed 2010 attempt at a large IPO.
Caesars said it would use the money from the next round of share sales for "general corporate purposes," which could include casino development projects, capital expenditure to improve or maintain existing properties, and retirement of some of the company's $19.6 billion in long-term debt.
Caesars also filed last week to allow up to 40 individual investors and investment firms to sell their stakes in the company, worth a combined 22.3 million shares. Caesars won't receive any benefit from those sales, but private investors in the company had indicated previously that they hoped to use the market as an exit strategy once Caesars went public. Apollo Global Managementand TPG Capital, which own about 70 percent of Caesars after taking the company off the public market in a 2006 private equity buy out, are not among the investors seeking to sell their shares in the near future. Still, some analysts suggest that the possibility that Apollo and TPG will sell their shares in the future and dilute the value of existing public stock will keep Caesars stock price at an artificially low value.
Get more details from the Las Vegas Review-Journal.
Follow PokerNews on Twitter for up-to-the-minute news.
*Photo courtesy of seattlepi.com