Inside Gaming: MGM Remodeling, and Caesars Revenue Up but Feeling Debt Burden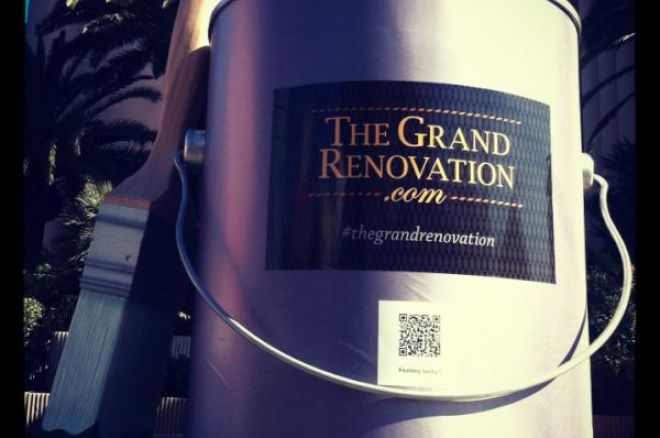 It's been a crazy week in gaming business news. Hard to know which story to follow first between Epic Poker's bankruptcy, the DOJ's seizure of Bodog and indictment of Calvin Ayre, and Chiligaming's merger with Poker770. But once you've gotten all of that straight, we have even more stories for you. Kirk Kerkorian sold another 20 million shares of MGM stock, and MGM announced a different kind of structural change with the start of the long-delayed renovation of the MGM Grand. Caesars announced that it posted a loss for the fourth quarter of 2011 despite increased revenue thanks to growing interest payments.
Kerkorian Sells Another 20 Million MGM Shares after MGM Announces Reduced 4Q Loss and Resort Renovation
Billionaire Kirk Kerkorian sold another 20 million shares of MGM Resorts International this week for $268 million. The 94-year-old financier founded MGM Grand Inc. in the 1960s. He filed with the U.S. Securities and Exchange Commission on Tuesday, notifying them of the transaction. He sold another 20 million shares in August for $214.8 million after he retired from the board of directors in June. After lightening his MGM load by 40 million shares, Kerkorian is still the company's largest shareholder. He still holds 91.2 million shares, which represent 18.7 percent of the company. He held over 50 percent in 2009.
Following Kerkorian's August stock sale, MGM shares fell 13 percent, but rebounded quickly. After Kerkorian's sale announcement this week, MGM shares rose slightly. Kerkorian timed his sale for the week after MGM announced that its fourth quarter revenue for 2011 grew by 55.4 percent from the same quarter in 2010. The company narrowed its fourth quarter net loss from $139.2 million in 2010 to $113.7 million in 2011.
MGM also announced, via 14-foot paint can on the Las Vegas Strip, that it is finally remodeling the MGM Grand hotel and casino after an eight-year delay. The main tower's 3,570 rooms and 642 suites will get a facelift by September, using plans that were drawn more than eight years ago but put on hold when the Las Vegas economy slowed. The renovation will also include new entertainment options. The casino's live lion habitat closed last month, and the nightclub Studio 54 will be replaced with Hakkasan, a high-end Chinese restaurant and club. A new comedy club will be headlined by Brad Garrett and is expected to open in March. Plans are also in place to remodel the 170,000-square-foot casino floor and to replace the lion habitat with an undisclosed entertainment element.
Bloomberg and the Las Vegas Review-Journal cover Kerkorian's stock sale. The LVRJ also reports on the MGM's renovation. And Casino City Times delves into MGM's fourth-quarter earnings announcement.
Caesars 4Q Loss Increases Despite Growth in Revenue and Operating Income
Caesars Entertainment Corp. announced this week that despite increases in revenue and operating income, the company lost $220.6 million in the fourth quarter of 2011. The net loss was 12.2 percent larger than from the same quarter of 2010 because 2010's numbers were helped by early retirement of debt, said a Caesars statement. Interest expenses increased from $509.7 million in 2010 to $673.9 million in 2011, adding to the net loss, as well.
Other measures of quarterly performance painted a positive picture of Caesars' operations. Operating income grew by 61.4 percent to $211.6 million thanks to higher revenue and an aggressive cost-reduction program. Revenues increased 2.4 percent to close to $2.2 billion. Revenue growth at Caesars' Las Vegas and the success of the company's online gaming offerings in Europe helped to offset declines in revenue from Caesars' Midwest and Atlantic City casinos.
Chairman Gary Loveman said in Wednesday's statement that "The continued growth in Las Vegas was driven by robust international play and higher room and occupancy rates at our properties."
Loveman stressed that Caesars' balance sheet is strengthened going into 2012. Las month Caesars went public with as small stock offering of 1.8 million shares on the Nasdaq Global Select Market. After nearly doubling from an initial price of $9 and then falling sharply in the first few days on the market, shares are currently around $11.30.
Caesars also negotiated debt extensions and will continue to "pursue similar transactions to bolster our balance sheet as market conditions warrant," Loveman said. Caesars had $19.7 billion in long-term debt at the close of the fourth quarter. The February IPO gave Caesars an enterprise value, including debt, of $22.5 billion.

Want more numbers? VegasInc.com, Las Vegas Review-Journal, and Bloomberg all have 'em.
Follow PokerNews on Twitter for up-to-the-minute news.
*Photo courtesy of @MGMGrand