Inside Gaming: Caesars Takes on Asia, New Online Laws for Denmark, and More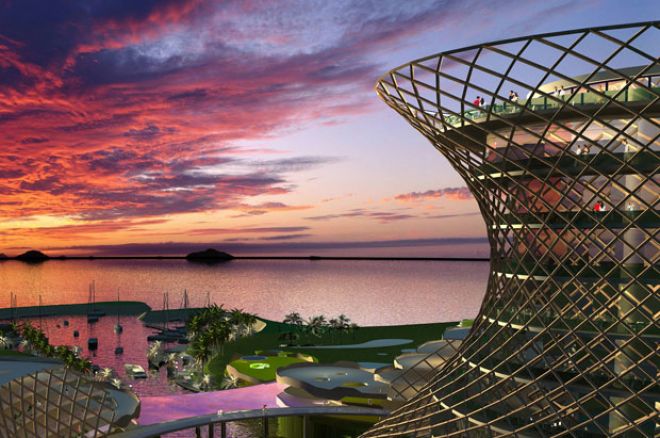 Yup, Full Tilt implodes and the business world keeps turning. It's been a busy week inside gaming. Caesars broke ground on a major strategic move into China with a resort without a casino, but at least its finally getting its foot (and brand) in the door. Imagine the gaming world like a giant, 3-D Risk board. Next week, we'll cover the Sands' plans for Kamchatka. In other news, the Danes are getting new online gaming regulations, and Las Vegas visitors will now be able to place sports bets from their hotel rooms.
Caesars Starts Construction on First of 25 Nongaming Resorts in China
Caesars Entertainment Corp. is finally getting into the Asia-Pacific game. The U.S.-facing gaming giant broke ground on Caesars Palace Longmu Bay in Hainan, China, last week. The luxury resort property will not include a casino, which are not allowed in mainland China. Caesars says its new division, Caesars Global Life, plans to roll out 25 hotels and resorts in China in the next five years.
Caesars' only property in Macau is a golf course, making it the last of the major American casino operators without a resort and casino in Macau. The company intended to develop a casino and hotel around the golf course but never got the license it was expecting from the Chinese government. Unlike MGM International, Las Vegas Sands, and Wynn Resorts, Caesars hasn't been able to depend on success in the Asian market to balance rough U.S. numbers during the economic downturn.
At a time when both Chinese and U.S. Departments of Justice are scrutinizing the law-bending required to secure casino concessions in Macau, the Chinese government has stopped granting licenses, and the market there is already saturated with high-profile American casino brands, breaking into the Asian casino game is no easy task.
"Caesars Palace Longmu Bay will set a global luxury standard in China and build a foundation for Caesars' expansion throughout the Asia-Pacific region, where our brands and reputation are already our most valuable assets," said Caesars Chairman and CEO Gary Loveman.
Caesars Global Life is a way to compete without competing and to familiarize Asians with the brand. The company says its new division will "develop and manage branded luxury hotels, resorts, residences, villas, retail and entertainment destinations around the world," but it's clearly starting in China, the heart of the Asian economy (at least for now). India is next on the list, with projects planned for Delhi and Mumbai.
At a cost of $473 million, Longmu Bay resort will have 1,000 rooms, two entertainment coliseums, Michelin-star restaurants, 36 holes of golf, a marina, spa, and shops. Caesars is partnering on the project with Guoxin Longmu Bay Investment Holding Co. Ltd., which is investing $5.6 billion in a 2-square-mile entertainment complex around the resort. Guoxin's parent company has also financed 13 other five-star hotels. The Financial Post described Hainan as "the Hawaii of China." It is made up of 200 islands across China's southern shore.
Read Caesars' press release at CasinoCityTimes.com. Then check out a Bloomberg story about another massive Asian development, Universal Entertainment Corp.'s $2 billion casino project in the Philippines.
EU Approves Danish Decision to Lower Online Gaming Taxes, Offer Licenses
European Union regulators approved a new Danish online gaming law last week after investigating in response to a complaint filed by land-based gaming operators. Online operators called the EU Commission's findings a "landmark decision" because it cleared EU member states to apply lower taxes to online gambling than to land-based gambling. The law lifted some of Denmark's gambling restrictions and reduced taxes on online gaming.
The country still applies hefty taxes, taking a flat tax of 20 percent of gross gaming revenues from online gaming sites and 75 percent from land-based casinos and betting halls. A European gaming industry lobby said that lowering taxes on online sites was necessary in order to compete with sites based outside of the country, which although not permitted in Denmark, are still "only a click away."
Under new Danish regulations, sites can apply for licenses to offer sports betting, casino games, and poker. The state will retain its monopoly on the lottery. Licenses will take effect on Jan. 1, 2012. Betfair supported the decision and said it will apply for a license. "Denmark's new regulation is a great example of what modern-day gambling legislation should look like across Europe," the company said.
The EU said "The Commission's decision establishes that the lower rate of taxation for online gambling indeed constitutes state aid, but finds it compatible with EU rules, because the positive effects of the liberalization of the market outweigh the distortions of competition brought about by the measure." Hear that, U.S. government? The EU thinks there are positive effects to liberalizing the online gaming market.
Britain already levies lower taxes on online wagers than those placed in brick-and-mortar establishments, and Spain, Greece, and Germany have all proposed legislation that will do the same. Denmark proposed its new regulations in 2010, and the Danish Slot Machine Association and a group of land-based casinos filed complaints with the EU in response, claiming the proposal would give online gaming companies an unfair advantage.
Get more details from Reuters.
In-Room Gambling on its Way to a Hotel Near You (If You're in Las Vegas)
Some people come to Las Vegas to see the sights, watch the shows, and shop. Others come to gamble, gamble, and gamble some more. And now, they don't even need to leave their hotel rooms. Las Vegas resort patrons will be allowed to gamble in their hotel rooms using mobile devices developed and championed by companies like Cantor Gaming. The Nevada Gaming Commission approved in-room gaming on Thursday. The Commission revised regulations to require that licensees be able to convince the state Gaming Control Board that they can ensure that gaming laws will be obeyed before opening new areas of their properties to mobile gaming. Nevada regulations already allowed mobile gaming in public areas like restaurants and pools, and Cantor operates mobile betting at several casinos on the Strip.
The primary concern is keeping the devices out of the hands of underage gamblers. Mark Lipparelli, Control Board chairman, said players will be required to use biometric identification or high-tech password protection. "I'm sure that some companies will be able to do this better than others," he said.
Cantor will likely apply for licenses to use in-room technology at the M Resort, the Hard Rock, the Tropicana, the Cosmopolitan, the Venetian and Palazzo, and the downtown Plaza.
VegasInc.com has more.
Follow us on Twitter for up-to-the-minute news.
*Photo courtesy of FinancialPost.com