Inside Gaming: Wynn-Sanity Escalates, Hooters Auction a Bust, and More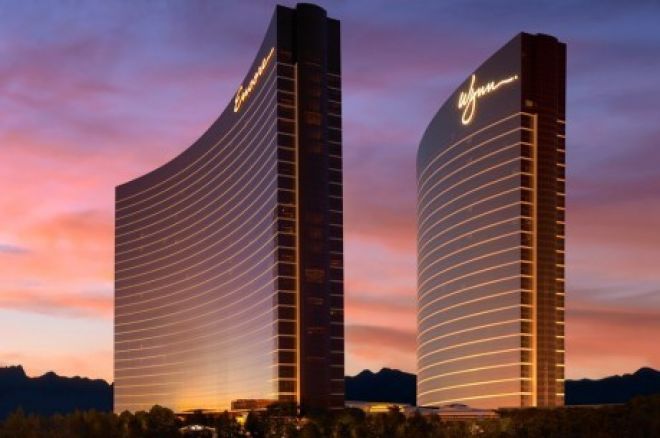 Forget Lin-sanity. This week, all eyes in the gaming world are on the drama unfolding between Wynn Resorts and its largest shareholder. In less made-for-the-big-screen news, we must inform you that it's too late to add Hooters Casino to your personal collection. After no one showed up for the auction, the property's largest creditor will take over. And if you're planning a trip to China around 2015, you'll be able to stay in a familiar-looking resort. MGM announced it will build a Bellagio in Shanghai.
Wynn Alleges Corruption Findings, Buys Back Okada's Shares at Discount
The Wynn-Okada legal battle exploded over the weekend, and the plot twists just keep coming. Add a few car chases, and this could turn out to be the best high-stakes thriller movie of the year. The drama opened a few weeks ago when Kazuo Okada, Wynn Resorts' largest shareholder and a member of the board of trustees, sued the company to gain access to financial records about a $135 million donation to the University of Macau, which Okada implied may have been more than just a commitment to education. The lawsuit caught the attention of the U.S. Securities and Exchange Commission, prompting an informal investigation into Wynn Resorts' business practices in Macau.
Over the weekend, Wynn flipped the script on Okada, charging that he and his company, Universal Entertainment Ltd., were the ones involved in bribery and corruption and that Okada's accusations against the Wynn were "a desperate attempt to divert attention from his misdeeds."
Wynn will forcibly buy back the 24 million shares held by the U.S. subsidiary of Universal Entertainment at a steep discount since a year-long internal investigation into Okada determined that he was an "unsuitable" investor. Wynn said it will pay $1.9 billion over 10 years, a 30 percent discount over his stake's current market value of $2.77 billion. On Tuesday, Wynn Resorts fired another round at Okada, suing him for misappropriating company trade secrets for use at the $2 billion resort Universal Entertainment is developing in the Philippines.
Wynn Resorts said its decision to reclaim Okada's shares is based on the results of a year-long investigation conducted by former FBI Director Louis Freeh on the company's behalf. The report accuses Okada of paying over $100,000, mostly in travel accommodations, to Philippine gaming regulators. It also suggests there may be other other instances of impropriety with South Korean regulators.
"Mr. Okada and his associates and companies appear to have engaged in a longstanding practice of making payments and gifts to his two chief gaming regulators at the Philippines Amusement and Gaming Corp., who directly oversee and regulate Mr. Okada's Provisional Licensing Agreement to operate in that country," Wynn Resorts said in a statement. "As directors of a gaming company privileged to hold licenses, we have a duty to uphold the highest ethical standards and comply with the laws and the terms of the licenses upon which our business depends." The statement also said that Okada is the only member of the board of directors who has refused to sign the company's Code of Conduct.
Universal Entertainment responded by saying it will fight the forced redemption of its shares in court. "The decision by the Wynn board, which followed a rushed investigation that lacks absolute findings, to redeem Universal Entertainment's nearly 20 percent holdings in Wynn Resorts based on its project is outrageous," Okada said.
Wynn Resorts also closed the Okada Japanese restaurant in the Wynn Las Vegas and removed all references to it from the hotel and the company website.
For more on the plot twists, check out the Las Vegas Review-Journal and just about every other news source that covers gaming, Las Vegas, or the market.
Hooters' Creditors Acquire Casino As Only Auction Bidder
Sorry, folks. Your chance to be the proud new owner of the Hooters hotel-casino in Las Vegas has come and gone. The casino was supposed to go up for auction last week, but the property's lead creditor was the only party to submit a qualified bid. Canpartners Realty Holding Company IV won the right on Friday to take ownership of the property and its cash assets for a $60 million credit bid.
U.S. Bankruptcy Judge Bruce Markell approved Canpartners' bid and ruled that they were also entitled to seize Hooters' cash, valued at around $10 million. Hooters' investors contested Canpartners right since they claim that Canpartners acquired Hooters' $181 million in debt for $43 million, less than the value of the hotel. The judge, however, sided with Canpartners, citing differences between bankruptcy sale rules and foreclosures.
Canpartners, a division of Los Angeles-based investment company Canyon Capital Realty Advisors, plans to find a licensed gaming operator to run the property. The sale is expected to close by the end of March.
VegasInc.com has more on the bankruptcy proceedings.
MGM to Open Bellagio in Shanghai
MGM Resorts International announced on Tuesday that it signed a deal to develop a nongaming version of the Bellagio hotel in Shanghai, China. The company has been expanding its international hotel operations for several years, even changing its name to promote a reputation as a luxury non-gaming resort operator.
One of MGM's joint venture companies, Diaoyutai MGM Hospitality Ltd., will partner with the Suning Real Estate Group to build the Bellagio Shanghai Bund hotel along Shanghai's Huangpu River. MGM promises the new Bellagio will have all the high-end retail and entertainment excitement of the Las Vegas version even though there won't be a gaming floor. Construction is expected to be complemented by 2015.
"This strategic partnership with Suning further extends our reach into China, one of the fastest-growing hospitality markets in the world," said MGM CEO Jim Murren. "Along with our Diaoyutai JV partners, we believe relationships like this with Suning create new opportunities to expand our brand reach into this strategically vital marketplace."
Diaoyutai MGM, a joint venture with Diaoyutai State Guest House, already runs the MGM Grand Sanya resort on China's Hainan Island and is developing two hotel sin Beijing. The MGM Grand Tianjin and Skylofts of MGM Grand Tianjin are under construction and will open in 2014. The MGM Grand Chengdu and Skylofts are expected to open the same year.
VegasInc.Com covers the deal.
Follow PokerNews on Twitter for up-to-the-minute news.
*Photo courtesy of Destination360.com