Inside Gaming Las Vegas Edition: Landmark WSOP Bets, May Gaming Win, and Unsound Tower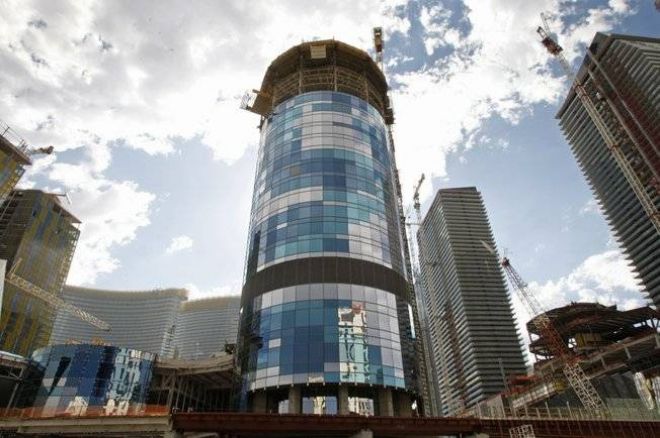 While you're focused on Las Vegas this week for the World Series of Poker Main Event, we might as well give you some local business news to go with your poker. The Wynn Race and Sports Book accepted wagers on the Main Event, making it the first Las Vegas casino to take bets on a non-sporting event. The whole city reported strong gaming returns for the month of May. And watch your step when you walk past the unfinished blue glass tower on the Strip. The Harmon at CityCenter was deemed structurally unsound in the event of an earthquake.
Wynn's WSOP Wagers Big Step for Las Vegas Sports Books
The sports book at the Wynn Las Vegas took a major step last week when it accepted bets on the World Series of Poker Main Event. While friendly wagering on fantasy poker teams is common among poker fans, and many online sports books accept bets on everything from election outcomes to reality television results, the Wynn was the first Las Vegas casino to take bets on a non-sporting event. (Let's just skip the "Is poker a sport?" debate here, please.) Customers could bet on whether certain poker players would cash in the tournament, whether a woman would finish in the top 40, and other possibilities.
Wagers must be approved by Nevada regulators before a casino can accept action on them. The World Series of Poker bets were the first non-sporting wagers to be approved since the Nevada Gaming Control Board voted to allow them in January. Control Board Enforcement Chief Jerry Markling told The Associated Press that since January, "There have been inquiries made, but none that got to this point." Markling said that a casino had asked about taking bets on American Idol, but regulators couldn't research the show sufficiently in time to approve the action. If requests are submitted with enough time, however, casinos could potentially offer bets on awards shows, beauty pageants, reality television, and other events as long as regulators are satisfied that the outcomes cannot easily be controlled by a small number of people or known in advance.
Wynn Race and Sports Director Johnny Avello said that The Wynn worked with regulators for over a month to prove that the WSOP Main Event is "legitimate enough" to keep certain people from having an unfair edge on bets. While players could potentially make bets involving themselves, all wagers were capped at $10,000 to ensure that no one had monetary incentive to throw the $10,000 buy-in tournament.
Avello said, "This just opens the door to do a lot of things." It doesn't green light Las Vegas casinos to accept wagers on anything they want, but it "adds more to the menu." Avello said betting on next year's Oscars might be possible if casinos stop accepting action when academy members finish voting. Markling said the Nevada Gaming Control Board currently has no inquiries about non-sporting-event bets.
Read more about the Wynn's WSOP wagering in the Las Vegas Sun.
Las Vegas Strip Casinos Win Big in May
Las Vegas Strip casinos led the pack as Nevada posted large year-over-year gaming revenue gains in the month of May. Strip casinos recorded a 28.9 percent increase in gaming win, largely because of baccarat and sports book takes. The Strip posted an aggregate gaming win of $550.4 million in May, the highest total since Jan. 2008. The total is reported before expenses and taxes.
Sports books did extremely well in May because of an increase in basketball betting at the start of the NBA playoffs. Strip sports books turned a profit this year after losing $280,000 on basketball bets last May. Slot machine win increased 11.4 percent at Strip casinos led by the continued growth of betting on $100 slot machines. Blackjack winnings were up 26.3 percent, while craps intake fell 10 percent.
The state as a whole reported a 16.1 percent rise in gaming income, the largest statewide monthly gain since 2006. Nevada took in $68.3 million in state taxes and $948 million in gaming win in May. Downtown Las Vegas gaming win was up 7.9 percent, and North Las Vegas recorded a 15.1 percent gain. The Boulder strip and Mesquite also brought in slightly more gaming revenue this May than last, as well. Every Clark County gaming market except Laughlin did better in May 2011 than during the same month in 2010. Laughlin's intake fell by 10.6 percent. The area has recorded a year-over-year drop in the first five months of the year.
Lake Tahoe casinos recorded a 15 percent increase in gaming revenue, but other areas outside of Clark County didn't fare as well. May gaming win was down at casinos in Washoe County, Carson City, and Elko.
Get more numbers and analysis in the Las Vegas Sun and the Las Vegas Review-Journal.
Inspectors Deem CityCenter Tower Unable to Survive Earthquake
The Harmon, an unfinished 27-story hotel tower at CityCenter, would collapse in a "code-level" earthquake and may be unrepairable, said a structural engineering firm that examined the building. At the request of Clark County officials, MGM Resorts International, which owns 50 percent of CityCenter, hired Weidlinger Associates to test the structural integrity of the building. The firm found missing or incorrectly positioned reinforcing steel, also called rebar, in columns, beams, and walls throughout the tower's lower 21 floors.
The Harmon was originally designed as a 47-story tower with hotel rooms on the lower floors and condos on the upper floors. Inspectors in 2008 found problems with the placement of rebar in the building. In January 2009, MGM Resorts canceled plans for 200 condos in the top half of the building and decided to stop construction at 27 stories. The revised design included 400 hotel rooms and a MR CHOW restaurant and was supposed to be run as an upscale boutique hotel by The Light Group. With CityCenter and Perini Building Co., The Harmon's general contractor, embroiled in litigation over the misplaced rebar, construction on the blue-glass building was halted. It has remained virtually empty inside since early 2009.
"The construction defects in the tower observed to date are so pervasive and varied in character that it is not possible to quickly implement a temporary or permanent repair to remediate the defects, or even determine whether such repairs can be performed," said a letter sent by the engineering firm to William Ham, CityCenter vice president of facility operations. That's fancy talk for, "Your building is in big trouble."
The letter said that in a "code-level" earthquake, "it is likely that critical structural members in the tower will fail and become incapable of supporting gravity loads, leading to a partial or complete collapse of the tower." Weidlinger Associates said it would take between 12 and 14 months to determine how to fix the tower or if sufficient repairs are even possible.
MGM Resorts spokesman Gordon Absher said that CityCenter shared the report with Clark County officials and "are awaiting direction as to the next steps."
Read more about the doomed blue tower at LVRJ.com.
Follow us on Twitter for up-to-the-minute news.
*Photo courtesy of LasVegasSun.com