Inside Gaming: Sands Sets Records, Sands China Falls Short, Boyd and Bally Big Winners, and More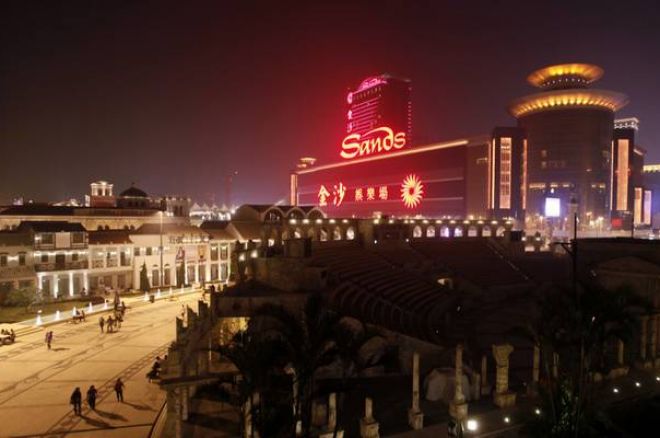 It's been a rumor roller coaster all week in the online gaming industry. So to help your heart stop racing from the thought of seeing your Full Tilt funds again, Inside Gaming has all the scintillating details from quarterly reports' season. Enjoy!
Sands Has Record Quarter Thanks to Asia, but Not Enough for Sands China
The Las Vegas Sands Corp. first quarter revenue nearly doubled from the same period in 2011 thanks to a huge boost from its three resorts in Macau and the Marina Bay Sands in Singapore. But while Las Vegas Sands rode Asian profits to an increase in stock price, Sands China's price on the Hong Kong stock exchange fell as it missed its quarterly earnings estimates.
During the first three months of the year, Las Vegas Sands booked $2.76 billion in revenue, 83 percent of which came from Asia. The Marina Bay Sands alone averaged $4.47 million a day. Net income for the quarter was $498.9 million, an increase of 72 percent over the first quarter of 2011.
Sands Las Vegas Chairman and CEO Sheldon Adelson said he isn't afraid of a slowdown in the Chinese economy trickling into Macau: "The word plateau, in terms of Asia, is not in our vocabulary." Macau revenue increased 25 percent and net income increased 5.8 percent to $277.4 million.
The company's two properties in Las Vegas, the Venetian and Palazzo, increased revenues by 26 percent to $384.6 million, partially driven by strong baccarat wins. Altogether, Las Vegas Sands' properties brought in $1.07 billion in earnings before interest, taxes, depreciation and amortization (EBITDA), a measure of cash flow. "No company in our industry has ever achieved a billion dollars of EBITDA for a quarter," Adelson said.
Despite driving Las Vegas Sands revenue past expectations, the company's Macau properties didn't do well enough to meet earnings estimates for subsidiary Sands China. Earnings gains of 21 percent fell short of market expectations, said Deutsche Bank analysts, who blamed lower retail revenue and reduced margins.
Bloomberg covers Sands China and Las Vegas Sands, and the Las Vegas Review-Journal takes a closer look at the Las Vegas-based company.
Boyd Books Profitable Quarter on Borgata and Biloxi Returns
Boyd Gaming Corp. reported a $5.8 million profit for the most recent quarter, a welcome improvement over the first quarter last year when the company lost $3.5 million. Strong performances by Boyd's properties outside of Las Vegas, especially the Borgata in Atlantic City and the IP Casino Resort Spa in Biloxi, Mississippi, led the company into the black.
The Borgata, which Boyd owns in partnership with MGM Resorts International, beat analyst predictions by $5 million in cash flow, helping Boyd achieve a better-than-expected $133.8 million in the quarter. It's too early to tell how the opening of Atlantic City's newest luxury resort, Revel, will affect the Borgata's future performance.
The IP, which Boyd purchased in October for $278 million, added more than $12 million to cash flow. The company's Las Vegas properties flatlined based on a decrease in table-game hold despite an increase in visitors to Boyd's Fremont Street locations. "We think the market is continuing to strengthen, not at the pace of the Midwest and South region," said Paul Chakmak, Boyd's executive vice president and COO. "The healing process is going to be longer and more extended in Las Vegas.
Riviera Downgraded After Further Losses
Riviera Holdings Corp.'s troubles continued with another $2.5 million drop in year-over-year earnings. The increased loss, to $8 million, and the company's decision to sell its Black Hawk Riviera resort in Colorado, caused Moody's Investors Services to downgrade Riviera's company and debt ratings from B3 to Caa1. The downgrade also affects $83 million in debt that will be due in April 2016.
The Black Hawk Riviera recorded $9.7 million in earnings before taxes, depreciation, and amortization in 2011. Monarch Casino & Resort bought the property for $76 million in September and secured a gaming license last week. Although Riviera's current debt covenants require that the company use all the proceeds from these to pay down debt, it is possible that lenders will allow some leniency. Moody's warned that the Riviera will likely face further downgrades unless it dedicates all of the proceeds to debt principle repayment because the analysts do not believe that the Las Vegas location will rebound fast enough to support operations from cash flow.
IGT Revenue Up, Income Down
Gaming supplier International Game Technology (IGT) grew its second quarter revenues but saw a small decrease in profit. Net income was down 8 percent to $62.4 million in the quarter that ended March 31. The single-digit drop is a marked improvement over IGT's previous quarter, when the company reported a 33.1 percent year-over-year decrease in net income.
Despite two quarters in a row of income decline, IGT tried to steer attention to the 11 percent growth in revenues to $541.2 million. The company said the increase is due in part to IGT's growing interactive business. IGT bought social gaming developer Double Down Interactive for $500 million earlier this year and spent $115 million in 2011 to acquire online poker operator Entraction Holdings. IGT said Double Down picked up 24 percent more monthly users since December, bringing its monthly user total to 5.6 million.
Bally Technology Posts 20 Percent Revenue Gain
Casino gaming supplier Bally Technologies Inc. booked stellar revenues of $229 million in the quarter that ended March 31, a year-over-year jump of 20 percent. Revenue from gaming operations increased 16 percent while revenue from sales of gaming equipment were up 24 percent, partly because of a 10 percent bump in the average price of Bally's slot machines. The company also credits a stronger-than-expected rollout of its new Grease-themed progressive video slot machine.
"The past several months have been momentous," CEO Richard Haddrill said.
Results for the company's new interactive division, announced in October, were not reported. Bally invested $54 million in stock repurchases since December and said it has another $57 million earmarked to rebuy more.
Follow PokerNews on Twitter for up-to-the-minute news.
*Photo courtesy of VegasInc.com