Inside Gaming: Nevada Gaming Revenue Declines in August, Macau Summer Slide Continues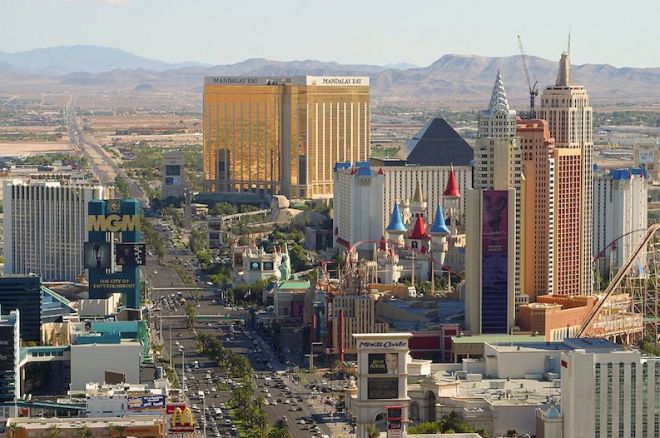 This week's edition of Inside Gaming looks back at Ultimate Gaming's swift exit from New Jersey, notes today's announcement of a revenue decline in Nevada, and also reports on the continuation of Macau's summer slide.
Ultimate Gaming Exits the Garden State
It was late last Friday that Ultimate Gaming announced it had abruptly ended its agreement with the failing Trump Taj Mahal casino in Atlantic City. Just two days later — at 11:59 ET on Sunday, September 21 — both the Ultimate Casino and Ultimate Poker sites ceased operating in New Jersey.
Players on both Ultimate's casino and poker sites in New Jersey were given one week to withdraw their balances, after which any unclaimed funds will be sent to players' registered addresses. Both sites will be taken offline entirely after October 5, 2014.
While the swiftness of Ultimate Gaming's decision might have been surprising to some, their decision to pull out of the Garden State was not after Trump Taj Mahal Associates LLC's filing for Chapter 11 bankruptcy on September 9 and subsequent indications of an intention to close altogether in November unless its creditors choose to provide needed relief. Should the Taj indeed close, that would mark the fifth hotel-casino (out of 12) on Atlantic City's once famed and now troubled Boardwalk to shut down this calendar year.
Speaking of the Taj's creditors, the Fertita Acquisitions Co. — parent company of Stations Casinos who in turn are the majority owners of Ultimate Gaming — was listed as one in the bankruptcy filing, with Trump Taj Mahal owing nearly $1.5 million to Fertita. A statement released by Ultimate Gaming last Friday noted its "agreement was terminated due to multiple breaches by Trump Taj Mahal Associates."
Besides owing Ultimate Gaming's owners, the Trump Taj Mahal had done little to support its online gaming partner in New Jersey, adding to the challenge for Ultimate to find success in New Jersey. While Ultimate Casino had earned a not insignificant $500,000-plus per month in revenue during 2014, Ultimate Poker struggled mightily, rapidly falling far behind Party Borgata and WSOP.com in the state shortly after the sites went online in late November 2013.
Meanwhile Ultimate Gaming continues to operate its poker-only site in Nevada.
Read more about Ultimate Gaming's exit from New Jersey here on PokerNews.
Nevada Gaming Revenue Declines in August
After having increased slightly by less than one percent in July, Nevada gaming revenue declined during the month August, the first monthly decrease since February.
This morning the Nevada Gaming Control Board reported the state's casinos had earned $920 million during August, a dip of 3.66% from the $955 million earned during August 2013. Meanwhile gaming revenue on the Strip declined 6.1% to just over $533 million.
Also of note in this month's report is the online poker revenue, with the state's three regulated sites having combined for $742,000 in revenue during August. That represents the lowest revenue total for online poker in the state since the Board began releasing figures in February.
For more developments surrounding Nevada's August decline and its signficance, follow the Las-Vegas Review Journal.
Macau Mired in Slump As Well
On the subject of declines, gaming revenue in Macau has been in a slump of late as well, having suffered its third straight monthly decrease in gaming revenue during August and its largest of the year.
Gaming revenue in Macau fell 6.1% in August to $3.6 billion, following a 3.7% decline in June and 3.6% fall in July. A strong start to the year, however, still has overall gaming revenue for 2014 up more than 8% over last year.
Industry insiders and other observers have speculated about numerous factors having caused the decline, with the World Cup's having drawn customers out of casinos to watch matches having been pointed to by many early in the summer as an initial cause. However many are now referencing the Chinese government's recent, comprehensive anti-corruption efforts which have had widespread effects on China's economy, which has by extension stemmed the tide of high-stakes gamblers traveling to Macau.
Those same insiders are projecting continued decline for 2014 with a likely upturn to come at the start of next year. "Analysts expect stronger demand in the coming months from so-called 'mass market' visitors who come in larger numbers directly to the casino compared to high rollers who are typically brought in by junket companies or middle-men who take a hefty commission," reported Reuters earlier this month.
Forbes likewise forecasts an eventual turnaround for Macau, including the return of so-called "VIP players," citing Macau's uniqueness as a sole location for legal gambling in the region, recent growth in the number of "high net worth individuals" in China, and Wynn Resorts' development of another casino resort in Cotai among its indicators of a future upswing.
Visit Reuters for more on how Macau has suffered this summer.
Photo: Wikimedia Commons, Public Domain.
Get all the latest PokerNews updates on your social media outlets. Follow us on Twitter and find us on both Facebook and Google+!