Inside Gaming: Macau Casino Revenue Down Again, Largest Monthly Decline in Five Years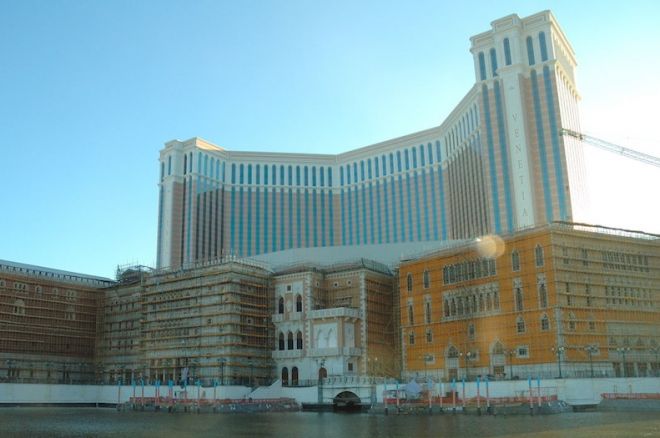 In this week's Inside Gaming, Macau suffers through a fourth-straight month of gaming revenue decline, the Horizon in Lake Tahoe will soon become the Hard Rock, Caesars Interactive Entertainment transfers a percentage of its ownership to Rock Gaming, and the Revel Casino finds a purchaser.
Macau's Summer Slide Continues Further into Fall
Earlier this week came the report that Macau's gaming revenue had slipped again in September — the fourth straight month it has fallen — with the 11.7% decrease representing the largest decline in over five years.
According to Macau's Gaming Inspection and Coordination Bureau, the Special Administrative Region's "Monthly Gross Revenue from Games of Fortune" showed increases through the first five months of 2014, peaking in February when casinos earned greater than 40% more revenue than in Feb. 2013.
But starting in the spring those gains lessened, then in June came the first single-month decrease in Macau's gaming revenue since June 2009. After falling 3.7% in June, July saw a 3.6% decrease, August a 6.1% fall, then a drop of 11.7% in September.
The strong start to the year means that for the first nine months of 2014 Macau is still up 5.9% overall from a year ago, the most prosperous year ever for the SAR which saw 360.7 billion patacas (about $45.2 billion) of gaming revenue.
The initial decline in June was thought by some industry observers to be related to the start of the World Cup pulling bettors away from the baccarat tables and out of casinos while also decreasing business from high-stakes gamblers. That explanation continued to be cited through July, although most now attribute the continued decline to anti-corruption efforts by the Chinese government and its wide-ranging effects on China's economy.
A focus of Chinese President Xi Jinping's domestic policy has been to introduce numerous measures aimed at cracking down on various forms of graft and extravagance, including reducing governmental bureaucracy. The campaign has impacted various industries, including hotels, travel, catering, and high-end retail, affecting short-term growth in each.
It has also directly affected the livelihood of Macau's casino junket operators who earn commissions for bringing high-stakes gamblers from China to the island and facilitating their play with loans and debt-settling. Because the reforms have curbed freedoms with the moving of funds (in order to lessen the likelihood of money laundering), fewer high-rollers have been making the trip to Macau. According to Reuters, at least 15 of the 220 licensed junket firms in Macau have closed, firms which have "traditionally brought in close to two-thirds of Macau's gaming revenues."
Despite the recent decline, some believe a turnaround in Macau is imminent. "Now Is the Right Time to Invest in Macau Casino Stocks," advises The Motley Fool this week, noting the September decline was in fact less than had been anticipated by Wall Street (who had predicted a 13-15% decrease), recent increases in tourism, and a belief that the short-term affects of China's anti-corruption campaign will soon dissipate as adjustments are made to the new measures.
Macau's fortunes, of course, are of great concern to gaming businesses around the world, including Nevada's Las Vegas Sands, Wynn Resorts, and MGM Resorts International, each of which have operations on the SAR.
As Howard Stutz of the Las Vegas Review Journal reported earlier this week, Sands Chairman Sheldon Adelson recently addressed the Macau decline during his keynote speech at the Global Gaming Expo, saying "he thought the high-end gaming business in Macau would recover in two months once the [Chinese] goverment's crackdown on corruption subsides."
Las Vegas Sands operates four casinos in Macau, including the world's largest, The Venetian Macau (pictured above). Stutz notes that the Sands' Macau holdings represent nearly two-thirds of the company's overall quarterly revenue.
Head over to Forbes to learn more about the current situation and future prospects for gaming in Macau.
Nevada Gaming Control Board Approves Deals
Other gaming news this week involved transactions approved by the Nevada Gaming Control Board, including one allowing Warner Gaming to take control of the Horizon Casino in Lake Tahoe and rebrand it as a Hard Rock property.
Bill Warner, head of Warner Gaming, has managed the Hard Rock Hotel and Casino in Las Vegas since 2011, and will be transforming the Horizon into a similarly-styled property in Lake Tahoe.
"We want everyone to forget the name Horizon," said Warner when describing his intentions to the Gaming Board. Warner explained the renovation is anticipated to be completed by January with a cost of $60 million.
Also approved by the Control Board in its Carson City meeting on Wednesday was the transfer of 11% ownership of Caesars Interactive Entertainment to Cleveland-based Rock Gaming.
Rock Gaming — chaired by Cleveland Cavaliers majority owner Dan Gilbert — is already a partner with CIE, operating the Horseshoe Casino Cleveland. The ownership transfer approved by the NGCB was part of an already-begun process of financing.
Read more about both the Hard Rock coming to Lake Tahoe and the Caesars-Rock Gaming deal in the Las Vegas Review Journal.
Revel Purchased for $110 Million
And in other transaction-related news this week involving casinos, Brookfield Asset Management of Toronto received approval from a federal bankruptcy judge to purchase the now-closed Revel Casino in Atlantic City.
The Revel opened in April 2012 and after nearly two-and-a-half years of failing to turn a profit was forced to close its doors in early September. The original constrution cost of the Revel was $2.4 billion, while its sale this week was for just $110 million.
There was some drama surrounding the auction provided by losing bidder Glenn Straub, a Florida-based developer who had earlier expressed intentions of transforming the property into a university "for geniuses." Straub earned a great deal of ire in September for his description of an ideal student at his imagined university as "free, white and over 21," as reported by Reuters.
Straub expressed his intention to have made a higher bid while complaining about the auction process. Meanwhile, speaking of the sale to the Associated Press, one of the Revel's attorneys John Cunningham noted "the best news is Revel is going to reopen as a casino.... It's not going to open as a university."
Learn more about the auction in the Las Vegas Sun.
Photo Hotel Venetian in Macau, Creative Commons Attribution 2.0 Generic.
Get all the latest PokerNews updates on your social media outlets. Follow us on Twitter and find us on both Facebook and Google+!