Former Treasure Island Poker Room Manager Arrested for Theft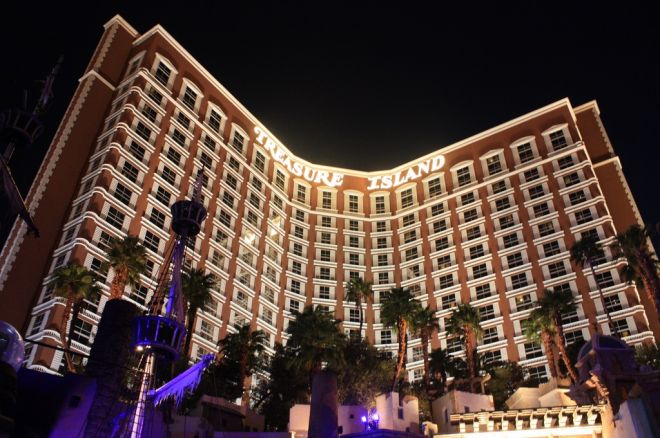 According to Clark County records in Nevada, poker industry veteran Christopher Coffin, who served as the poker room manager at Treasure Island (TI), was arrested on Dec. 12, 2014 for felony theft of $650-$3,500.
Case No. 15F00364X does not go into detail, but according to Poker Fraud Alert, a website established Todd "Dan Druff" Witteles to guard against the "scumbags and criminals" that look to cheat the poker world, a TI employee alleges Coffin was arrested for stealing jackpot money via a football pool.
"This part is unsubstantiated, but it is also believed that he stole money from the tournament toke pool that was intended for the dealers," said the source, who went on to explain how Coffin fleeced the football pool. "It was a promo where you make picks. You get more picks by playing more hours. He created a fake players card and logged hours. Then he made the correct picks and collected the money."
PokerNews reached out to TI, but a spokesperson would not elaborate other than to say Coffin was no longer with the property.
"Christopher Coffin is no longer employed by Treasure Island," said TI Senior Vice President of Communications Michelle Knoll. "We have no further comment as we do not discuss personnel matters with the press."
According to a 2006 interview with Poker Player Newspaper, Coffin was born in Franklin, Indiana in 1961 and relocated to Las Vegas two decades later. He became a poker dealer in 1987, and six years later began dealing at Mirage. In 2005, he helped run the World Poker Tour event at the property and was subsequently named Poker Special Events Manager.
In 2006, Coffin moved over to TI before bouncing back to Mirage. He worked there until June 2013, which is when he rumored to be fired. It is unknown whether his departure was related to a June 18, 2013 arrest charging robbery, burglary, domestic battery with substantial bodily harm, and conspiracy to commit criminal contempt.
It was during his time as manager at the Mirage that he instituted jackpots.
"I started changing the room to focus on the more recreational, everyday player, and offering them what they want," Coffin previously stated in a Poker Atlas interview. "It was non-stop, people asked, 'I don't get anything for my quads? I don't get anything for my Royal Flush?' So we started jackpots. And with the jackpot money, we have done many different promotions for holidays, for football, for any special event."
Coffin's time at the Mirage was highly criticized by former employees in a dedicated TwoPlusTwo thread, though no criminal misconduct was alleged. According to Rob Solomon of Ante Up Magazine, Coffin once again became manager of the TI poker room around June 2014.
In regards to his latest arrest, court documents reveal that Coffin was released on $10,000 cash bond on his own recognizance with intensive supervision.
Lead image courtesy of David Herrera
Get all the latest PokerNews updates on your social media outlets. Follow us on Twitter and find us on both Facebook and Google+!