Five Interesting Facts About Deauville and the European Poker Tour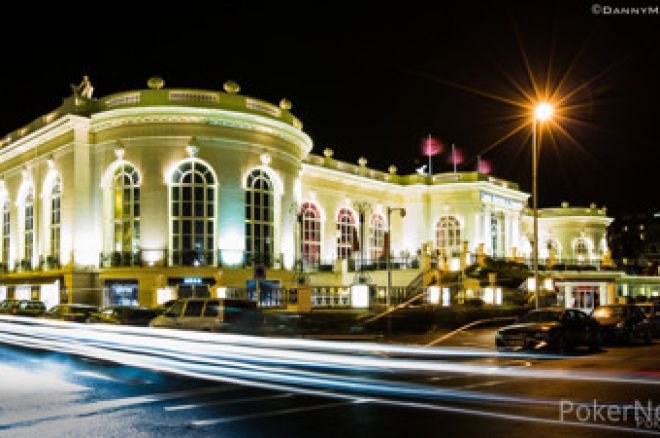 Although one may think that the past eight editions of the European Poker Tour in Deauville taught us everything there is to know about this cold spot of Normandy, the first European leg of the circuit in 2015 has already give us several interesting stories to tell.
Because once you find yourself locked in a casino for a day in a history-rich country like France and surrounded by hundreds of Frenchmen (and women) you can definitely be sure that something significant is about to happen.
#1. Ladies events are against the law. In France
If you have followed anything about the first day of Deauville's EPT, you should know by now that this year's side events have been a little unusual.
Although the organizers have tried to come up with side events for seniors, ladies, and men who are afraid to play against the ladies, as Howard Swains points out on the PokerStars Blog - one thing is to organize something, and another one is to deal with the French legislation.
"Here in France, government legislation — ostensibly to guard against inequality, ironically enough — means that tournament organizers are not able to deny anyone the opportunity to play based only on their gender. It means that if a man really wants to play a women's event, nobody can actually stop him."
As you may have seen already, this resulted in inappropriateness as more than 20 men at the Ladies Event tables, and 18-year-old Luigi Macaluso occupied a seat in the Seniors Event, which should have included only players of at least 50 years of age.
What's possibly more ridiculous than that is that now we are even forced to report that the winner of the Ladies Event is a guy named Derkx Thierry Olivier.
Although Olivier may think that he has finally managed to find the proof that men are better than women at poker - assuming that this was what motivated him to ruin the spirit of the event - he should also be aware of that he probably won't get many chances to exhibit his result with pride. After all, of all the things one could do at a poker tournament, to ruin a ladies event is probably not the best one to choose.
#2. A piece of poker history is 'terrified' by the police
Those at the EPT who are into the more 'literary' side of poker and have read James McManus' Positively Fifth Street: Murderers, Cheetahs, and Binion's World Series of Poker may have noticed that one of the books funniest characters was in the tournament during the Day1b.
In poker for decades and with a past made of six-figure wins in Las Vegas at tournaments where he managed to beat players like Phil Hellmuth, Annie Duke and Men Nguyen, the French player told PokerNews that he would have really liked to allow us to publish his name and share some of his stories, "If it just wasn't for the police."
"They called me already twice," he said. "They want me to pay taxes for over €500,000 - it's horrible what is happening around poker in France. You always wish you could just go away and get a life somewhere else. Look at what happened at the club in Paris, look at all the players that are being questioned by the tax authority - this is an attack against poker."
Known for his 'sweet and sticky' superstitions, the player explained that he had repeatedly thought about relocating to London as most of France's poker players, "but I have my family in France. I just can't do it."
"I don't want to see my face on the front of a magazine, I don't want the police to think that I am a professional player," he went on to explain why he could not share with us details about that time that he spewed almost $400,000 in two nights in Vegas, that time he bankrupted an international clothing company, or that other time when he bought shares of a winning player from a casino's toilets.
#3. No massages in the tournament area
In case you are left wondering how can the massage girls be always so busy that you don't even see them walking around - there's something more you should know about the French legislation.
The country that forbids people to name a pig "Napoleon" and that imposes that between 8 a.m. and 8 p.m. 70 percent of music on the radio must be by French artists has a specific rule that bans massages from the tournament's room.
To understand why France's authorities decided to forbid the massages at the tables, one should go back to 2010 - when Germany's controversial poker player Ali Tekintamgac tried to use poker reporters spy on his opponents cards during an event part of the Partouche Poker Tour.
Ironically enough, in July 2014 Tekintamgac was finally sentenced to three years and five months in prison for repeatedly cheating at the poker table, but masseuses are still banned from the tournament area ... while reporters are free to come and go as casino regulations consider them to be 'essentials' to the event.
#4. The dealers' affaire
British novelist David Lodge once wrote that hostesses need to look beautiful and confident because that makes people enjoy the time they spend on planes and, more importantly, forget about their fear of flying.
In a similar way, poker dealers are always there to welcome players, to make them feel comfortable at the table and to show them that there is nothing they should worry about once they sit down to play.
But, what happens when those who are called to be "the face of the game" are not treated the way they should? Well, if you are in France, they protest.
Right at the beginning of the French Poker Series, an unfortunate episode made the life of the event's dealers a little harder than usual. With their usual hotel closed for the seasonal break, some of the dealers found themselves forced to stay in what someone described as "very dodgy rooms" at the city's hippodrome.
The result? The dealers had some tough time with the casino's management and found themselves forced to fight their way to a better hotel. Rumours say that the diplomatic battle to move from the hippodrome left some casualties on the field - as some of the most opinionated fighters did not manage to find an agreement with those in charge of the event, but this is something we are not able to confirm yet.
#5. How Deauville went from zero to hero
As you can see from Remko Rinkema's Welcome to Deauville clip, there has been a time when this area of France was not the bundle of expensive boutiques, fancy Porsches and Parisian Bentleys it is today - but it served as the battlefield for one of the most terrible and important moments in Europe's history: D-Day.
Internationally known as the hip place for artists and part of Europe's high society before the beginning of the Twentieth Century, Deauville came out from the Second World War almost as a ghost town. Occupied by the German troops, the city has seen most of its leisure proprieties confiscated for use by the occupying force. The city was deserted, its glamorous casino became a hospital and the hope to get the spirit of that animated the city during its best years was almost gone.
Yet, the Germans lost the war, the city got liberated, and thanks to a handful of illuminated families - and a special mention goes to the Barrière one - it managed to resurge and open itself to the world of luxury once again.
Get all the latest PokerNews updates on your social media outlets. Follow us on Twitter and find us on both Facebook and Google+!