Poker on Twitch: All The Accounts That You Should be Following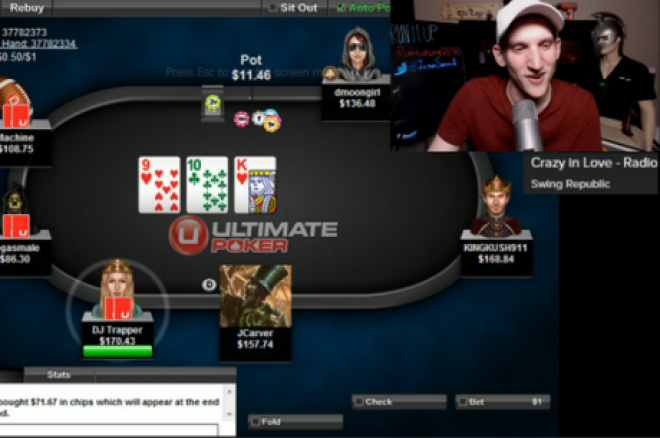 Poker on Twitch is certainly gaining momentum, and much of that momentum can likely be attributed to the massive efforts Jason "JCarver" Somerville put into pushing the live streaming of online poker games. Now, PokerStars has its own Twitch channel, and the Global Poker Index recently inked a deal to get the upcoming Global Poker Masters officially promoted on the Amazon-owned platform.
As part of the poker community turns to Twitch.tv for improvement and entertainment, PokerNews decided to help you get the best out of the poker on Twitch by suggesting you the best (and most active) accounts to follow.
The Accounts To Follow
Jason Somerville
Shortly after the end of his sponsorship at Ultimate Poker, Jason Somerville turned to Twitch to rapidly become the most popular poker player on the platform.
A world-famous professional poker player and World Series of Poker (WSOP) bracelet winner, Somerville was among the first to understand the real potential of a tool like Twitch for online poker. His personal Run It Up channel already has 51,807 loyal followers and more than 3 million views.
"I don't think televised poker really evolved too much after the hole card camera was introduced, especially in America. I feel like poker's best fit is on the Internet where you can stream whatever you want, whenever you want, for as long as you want," Somerville told PokerNews earlier this year. "And not only is it cheaper and more cost efficient, but it makes more sense for poker."
"People have just found some amount of connectivity watching me play with my hole cards up on a four-minute delay," he said. "I just talk through my decisions and serve as a tour guide to poker, showing them why I love the game and the cool things that I see. These are people who are new to poker who are now seeing people like an e-sport."
Check out Jason Somerville on Twitch
---
Randy "nanonoko" Lew
Despite his young age, team PokerStars Online member Randy "nanonoko" Lew has been an inspiration to many online grinders for many years.
Supernova Elite in 2007, 2008, 2009, 2010, 2011 and 2013, Lew set a new Guinness World Record during the 2012 PokerStars Caribbean Adventure when he turned his computer on and played a total of 23,493 hands online in only eight hours, turning a profit of $7.65 — enough for the record to stand.
Although during his Twitch sessions he does not push for anything as extreme as his adventure in 2012 (at that time he refused to eat or use the bathroom during the entire session), Lew shares some very interesting advices and insights on his way to play poker with his audience.
Check out Randy "nanonoko" Lew on Twitch
---
David Sklansky
David Sklansky, the author of the all-time classic The Theory of Poker, is also on Twitch - with a channel that definitely makes him stand out from the masses.
While seeing a veteran of the game and a three-time WSOP bracelet winner like Sklansky in action is already a great reason for everyone to just subscribe to his free channel, his set up is almost as interesting as his online experience.
Although the biggest chunk of the screen is dedicated to Sklansky's online poker games, the pro's webcam will offer you the chance to dive into his world and see him discussing the game while he keeps a cat on his lap and a white bird on his shoulder.
Check out David Sklansky on Twitch
---
Jaime "PokerStaples" Staples
Canada's Jaime Staples is definitely another one to add to your Twitch list. With nearly 15,000 followers, Staples is one of the most active poker players on Twitch, as he streams and share his poker games almost every day.
"I saw what Jason Somerville was doing and wanted a way to participate more," Staples told PokerNews. "Twitch gave me a way to get more involved with poker as well as the poker community."
For a monthly fee of $5 a month, Staples' followers can support the players' work on Twitch and at the same time get access to all of the videos he recorded during the last two months and more.
"Anything I have gotten from subscribers has gone right back into the stream so far. I've gotten a new webcam and microphone to enhance the sound and video quality of the stream. The donations and subscriber money has also gone into playing higher buy-in events and creating better content," Staples continued.
If you want to know more about this full-time tournament grinder from Lethbridge, Alberta, who is taking a break from his Philosophy degree after his sophomore year, have a look at this interview published on Canada's PokerNews.
Check out Jaime "PokerStaples" Staples on Twitch!
---
Felix "xflixx" Schneiders
With his experience as a player and long-time poker coach, German member of PokerStars Team Pro Online Felix "xflixx" Schneiders is one of those who has always something to say about the game.
Essentially, Schneiders transferred his already successful 'Grinding it up' YouTube Channel to Twitch, where he shows viewers how to "grind the way up playing 6-max no-limit hold'em cash games at the 1c/2c level with just an $80 deposit."
So far, the player from Cologne managed to get himself almost 5,000 Twitch followers. The live streams from his channels are free, but to get access to his collection of videos and hands analysis you will have to subscribe and pay $4.99 a month.
Check out Felix "xflixx" Schneiders on Twitch!
---
PokerStars
The world's biggest poker room is now on Twitch, too, and is using the platform in some interesting ways.
If by some chance you can't access a European Poker Tour (EPT) live broadcast here at PokerNews, by heading to the "Past Broadcast" section on the PokerStars Twitch you can get access to a bunch of very interesting live hands played during the EPT in Deauville and Prague, and the 2015 PokerStars Caribbean Adventure.
Plus, PokerStars' account is always guaranteed for a good laugh with commentator Joe Stapleton's blunt comments on all the characters around at the table and on Twitter.
Check out PokerStars on Twitch
---
Greg Merson
How would you like the opportunity to see a WSOP Main Event champion in action and compare the way you play with the way he uses the cards he is dealt?
2012 WSOP champ and WSOP Player of the Year Greg Merson is also on Twitch and is sharing his secrets with his audience.
To catch Merson in action, however, you'll have to be clever enough to keep an eye on his official Twitch profile and also on the Team Gripsed one - as the player has been spotted live streaming right from the poker training team's official account.
Check out Greg Merson on Twitch!
---
Team Gripsed
As we already told you, Gripsed's account is definitely one you want to bookmark and keep your eyes on. With over 10,000 followers and a rich archive, Gripsed's channel gives you a pretty good opportunity to get in touch with the lead instructor of the Get Stackin' University Evan "SenorPokes" Jarvis and watch him play.
Jarvis is one of those who clearly understand that Twitch can be far more than a site to simply host some online poker sessions, and he has put together some interesting additional initiatives like a real-time Q&A session with America's Cardroom CEO Phil Nagy.
---
Kristy Arnett
She may not be on PokerNews anymore, but Kristy Arnett sure is in our hearts - and yes, on Twitch too. In her newly opened Twitch account, Kristy is going to share her online poker sessions and also lots of precious advices on how to get a better (and much, much healthier) lifestyle.
So, if you want someone who is up to share a poker session with you and at the same time talk to you about hands, life, fitness and lots of other interesting things and also keep a contagious smile on the face - make sure you add Kristy's channel to your bookmarks.
Check out Kristy Arnett on Twitch!
---
The big one to come: Elky
As he announced to PokerNews in this interview, also Team PokerStars Pro Bertrand "ElkY" Grospellier recently opened his official account on Twitch and immediately got himself over 2,600 followers…even though he hasn't used it yet.
Although we know that we shouldn't judge a book from its cover and so we shouldn't suggest you something we don't know yet, we are absolutely sure that ElkY is going to be a blast on Twitch.
Besides his impressively solid record in poker, ElkY also happens to have been the first European pro gamer in Korea and a silver medalist at the 2001 World Cyber Games in Seoul.
Given the passionate and skilled Starcraft player he is, we are sure that ElkY is going to share some incredible gaming sessions with his followers. So, really, don't miss the show and add bookmark his account as soon as you can.
Get all the latest PokerNews updates on your social media outlets. Follow us on Twitter and find us on both Facebook and Google+!