888poker Team Pro Sofia "welllbet" Lövgren Discusses Love for Her Poker Life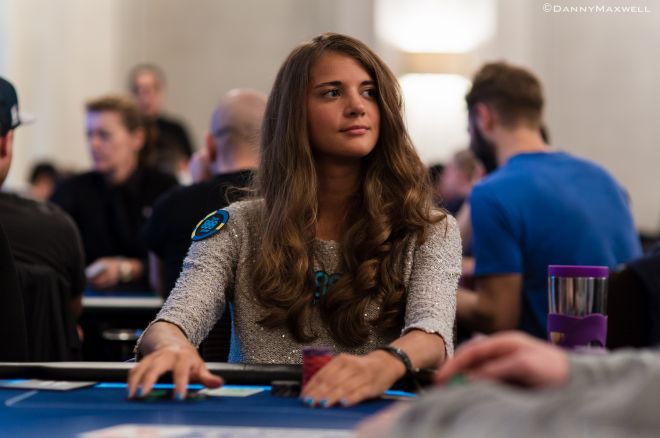 Back in 2010, when the 20-year-old online pro from Gothenburg, Sweden, Sofia "welllbet" Lövgren signed a sponsorship contract to become the first woman to join Team PKR, many wondered if that young and reserved player had what was needed to survive a tough world like the poker one.
Yet, four years later, Lövgren is a well-respected poker player who has managed to climb up the ladder of the game in very many different levels.
Now, proud member of 888poker Team Pro since April 2014, Lövgren has become a regular face in most of the biggest international live poker events, and she has made the island of Malta the base of her online grinding. She has also decided to bring the game into in her private life, as she shares a happy relationship with Italian poker pro Luca Moschitta.
It was right while Moschitta was enjoying Malta's autumn breeze from the terrace of their beautiful apartment overlooking the Mediterranean Sea that Lövgren opened the doors of her living room to PokerNews for a talk about poker, Sweden, and the role of a sponsored pro.
PokerNews: It will soon be one year since you left PKR Poker to join 888poker. Are you still happy with your choice?
Lövgren: It has been a great year so far. At 888poker, we have a very tight team — we have have a lot of fun together, and we support each other very much. This first year with them has been a very fun one. We had some great live events filled with plenty of fun, extra-poker experiences that made every event a very special one.
To give you an example, I have really liked the time we have spent in Cyprus for our 888live event there, as we managed to mix poker with some really fun water activities. Hopefully, this will all continue in the future. In January, we will have an 888live event in Austria that will combine poker with skiing. And that's exactly the kind of event I like.
Is there any difference between being a pro for 888poker and being a pro for PKR?
Both companies are really good, and I have liked to work with PKR as much as I like to work for 888poker today.
There are some differences, though. Now, I spend more time traveling and playing live poker — and I like that. Plus, on 888poker there are a lot of good tournaments and cash games for me to play. Let's put it like this: I really love my poker life right now.
What's the best thing that you did as part of the 888poker team in 2014?
That's a pretty hard question to answer because I have done a lot of nice things this year. I think what I have probably liked most was the Vegas experience, though. We had a great time there during the World Series of Poker with over 150 888poker players. We really had a lot of fun together.
What do you think makes a good poker ambassador?
Actually, I really like the media and the PR part that comes with the being an ambassador for a room like 888poker. In general, I think you need to be passionate about the game and be really interested in poker. To be a good ambassador, you also have to be able to share your experiences and to communicate with other poker players and fans. You also have to be ready to share your views on very different things.
The WSOP final table is just around the corner and you have one of your fellow Swede at the table. What do you think about Martin Jacobson? Will he manage to leave the Penn & Teller Theater with the champion's bracelet on his wrist?
Jacobson is the best poker player in Sweden right now. He's very skilled, and yes, I really believe he can win the title and make history for Sweden. Also, when Swedish poker players win big, they manage to make poker interesting for a lot more people. So, I really think that a big win like that one would help us to bring a lot more Swedish players to the poker tables.
From an ambassador's point of view, out of the November Nine, who do you think would be the best ambassador for the game as the next Main Event champion?
Well, now I have to say Bruno Politano (laughs), and not only because he is sponsored by 888poker. He has an enormous fan base, and I think he will bring a lot of attention around the final table. I am sure it will be a fun game to watch.
Around this time last year, you had just moved to Malta from Sweden. How do you like your new life on the island?
I love it in here, even if sometimes it feels like there's not much to do around. But the weather is extremely nice, the nature is beautiful, and the food is great. For me, it's a very good deal because I travel a lot to other places too, and to get back here every now and then is very nice.
On Thursday, the Global Poker Index announced the launch of a new initiative named the Global Poker League, which has been created to consolidate its mission to "sportily" poker. Do you consider poker to be a sport?
No. To be honest, I don't. I think sports need to include some sort of physical challenge, and poker does not. I think poker is more of a game like chess or backgammon. I know that some people consider chess to be a sport, but I think of it as a game, not as a sport.
Recently, there has been a lot of talk about the rake increase at PokerStars and many people decided to try to express their dissent by organizing a sit out. Do you think that's a good way to convince a room to change its policies?
I don't think it's a very effective idea; it would be very hard to organize and manage something like that in a proper way. There are so many players playing at PokerStars, as at any of the other top rooms, and we should realize that the ones who discuss in the forums are actually a very small part of them. In the end, a room would probably not even notice a protest like that one.
What about the months to come? How does your poker agenda look?
I will definitely continue to travel and play poker around the world during 2015. I will be in Prague in December for the European Poker Tour, then in January it will be time for the EPT in Deauville and the 888live in Austria. In March, I will obviously play the EPT here in Malta. I really look forward to that one, I think it's going to be a huge one.
Get all the latest PokerNews updates on your social media outlets. Follow us on Twitter and find us on both Facebook and Google+!