888poker Team Pro Sofia Lövgren: "Vicky Coren Did Something Great for Poker"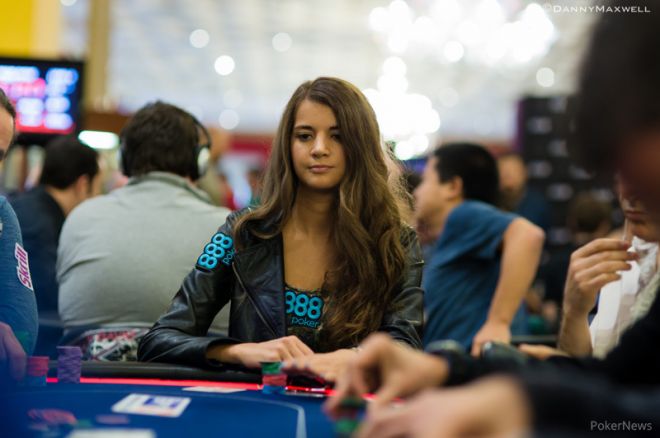 As Victoria Coren Mitchell left Sanremo with the honor of being the only poker player to ever win two European Poker Tour main events, the issue of women's under-representation in poker was bound to come back.
To understand what the poker industry could do to involve women more and allow poker to become a less male-centered game, we met with Sofia Lövgren, the 23-year old poker player from Sweden who recently joined 888poker Team Pro.
After four years playing as part of PKR Team Pro, Lövgren decided to share her views on women and poker, the new adventure with 888poker and something she finds Sweden should change to let people enjoy the freedom they deserve. Also, she added some brief but very important advice for those considering turning poker into a full-time occupation.
The move from PKR to 888poker, for as much as I am sure you have always taken your previous sponsorship very seriously, means raising people's expectations of you. Do you feel a different pressure now that you sit at the table as an '888poker pro'?
I have been a sponsored pro for more than four years now, so I'm used to dealing with people's expectations. Right now I 'm expected to promote 888poker as good as I can which feels great.
While playing live with 888poker patches I don't feel any special pressure that I didn't have before. I always make sure I'm well prepared and very focused.
I feel confident that my poker results will be good enough over time but of course it would be extra fun to win something big soon as a new 888poker Ambassador.
How did the deal come about? Did you get a random phone call one day saying "Hello Sofia, how would you see joining 888poker," or…?
I won't reveal any details, but once I decided 888poker was where I wanted to go- I can tell you that we agreed quickly.
When a new significant sponsorship deal is signed, there is always someone whose instant reaction is to shout that it is totally undeserved. When the contract is then signed between a top room and a young, nice looking player, chances are that the amount of people reacting this way will be even bigger.
So, and here I am asking you to be as much honest as you can: what did you do to deserve this?
I felt that my former sponsor, PKR was very happy with my contribution during my four years as a Team Pro. I prefer to let my new sponsor explain why they wanted me.
888 is the second biggest poker room in the world and a huge listed company. These guys are businessmen so I'm sure they have good reasons.
If you think about your career so far, what kind of advice can you give to those recreational players out there who would love to 'make the jump' and try to become poker pros?
Before you quit your job for poker, your win rate online/hour should be higher than the job you already have. You need to have records from several hundreds of thousands hands to know.
Adding Xuan Liu and you to a team that already counted WSOPE bracelet winner Jackie Glazier and Jessica Dawley as members, surely strengthened the "ladies" side of 888poker. So, here is something I am curious about: what's your opinion on women and poker?
It's very good for poker to involve women more. Successful girls create excitement and interest for poker.
Do you find the industry is paying women the attention they deserve or is poker still a male-dominant world?
Poker has always been and I believe will be male dominated also in the future. Female poker players making good results definitely get their share of the attention. Now we need more winning poker girls.

Does this mean that you think the fact that a woman like Victoria Coren-Mitchell is now the first player to ever win two EPT Main Event titles will help women to be a more "respected" part of the poker community?
It's of course great for poker when an amazing lady like Vicky Coren did something no other player has ever done before. Yes, results like this will definitely contribute to women being more respected in this male dominated game.
Ladies event aside, what else could the poker industry do to attract more women at the table?
I think it's very important to tell the stories of successful female poker players in media. That's critical to attract more girls to the game.
You once named Vanessa Selbst as one of the best poker players around. Which other personalities of the industry do you most admire?
Daniel Negreanu always contributes combining world class poker with his positive attitude. Ole Schemion is a new interesting personality on the tour, already a superstar at the age of 21.
One about your home country, Sweden. Although it is home to some great players like Viktor Blom, Martin Jakobson and Michael Tureniec – just to name three — the country keeps a restrictive approach on online poker and leaves everything in the hands of Svenska Spel. In your opinion, is the monopoly limiting the real growth of Swedish poker? Why?
Yes definitely. Svenska Spel and the casinos in Sweden are owned by the state so no other live tournaments are allowed here.
I'm sure this will be changed in the future since the state will realize that the Swedish people want to live in a free country. Believe it or not but the Swedish Championship of Poker is now held in Malta...
What's next for you? Where are we going to see you at the table hiding your emotions behind your dark shades?
The next few weeks you can find me grinding online at the 888poker cash game tables. I will also play a local live event, the Spring Poker Week Main Event in Gothenburg which I final tabled twice before. Now it's time to win it!
Then I'll be in Vegas for one month during the summer for the World Series of Poker. I plan to play nine events including the Main Event. You will see me take off my shades quite often in Vegas to chat and make new friends at the tables.
Get all the latest PokerNews updates on your social media outlets. Follow us on Twitter and like us on Facebook today!