Victoria Coren-Mitchell: Men Who Play Ladies Events Are "Idiots"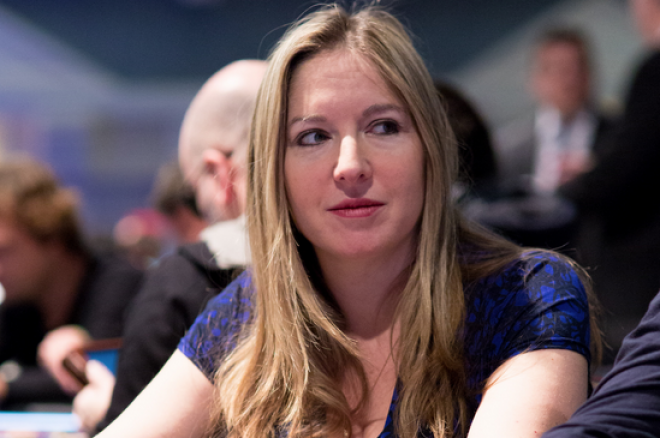 If there's anyone entitled to have a say on pretty much anything that relates to the European Poker Tour, it's definitely Victoria Coren-Mitchell.
Coren is the only poker player to have ever won two different EPT Main Event (London in 2006 and Sanremo in 2014), and also the only one to have dedicated a whole book (For Richer, For Poorer: Confessions of a Player) to her experiences on the tour.
Known in the industry as one of the circuit's most vocal and opinionated characters, Coren - who also incidentally is a widely appreciated columnist for The Observer and The Guardian - met with PokerNews' Giovanni Angioni to share her opinions on the 22 men who joined the EPT Ladies Event in Deauville.
"Those are not 22 men, those are 22 idiots," Coren explained. "Having a ladies event is not about being Prime Minister or running a country - it's not that important.
"This is just a game. People have come here to have fun. Traditionally, women don't play poker - and that's partially because some of them find it intimidating.
"Ladies event are a nice way to create a fun event and at the same time to attract women that would not play otherwise."
In Deauville playing for the dream of a third EPT title, Coren explained how she believes that the creation of ladies, seniors or men poker event have nothing to do with discrimination. In fact, she believes it helps set the ground for a kind of integration that would not exist otherwise.
"All over the world, you are not supposed to discriminate on gender or age, but I would say that it's a bit of fun and the men who played ladies tournaments, whether those are in Las Vegas or anywhere else, they are not making an important political point. They are just being greedy."
According to Coren, the men who entered the ladies event have succeeded in only one point: putting the whole concept of ladies events at risk.
"Theirs was a stupid and meaningless political point. It was just greed. They think women don't play that well and they go to play against them because they are greedy. But that can work only for one time because then ladies events will then get canceled and the game will stay as male-dominated as it is today."
In Coren's opinion, the 22 participants in the ladies event have also utterly failed at making any sort of political point, as she went on to explain that the poker table is definitely not the place for such initiatives.
"Whether it's the men playing the women's event or the young people playing at the senior event, I would say this: if you have looked around at the whole world, and you are looking for injustice, and you are looking for ways to stand up and make an important point of principle to make the world a better place, a poker tournament is not it."
"There's a lot of injustice happening in the Middle East, in Africa. Do you know that homosexuality is illegal in Russia? So, really, do you want to make a brave statement? Then go somewhere else and do something else, but don't think that you can give to your participation to a ladies event a meaning that this does not have."
"I am different from many poker players"
Two months after Coren chose to part ways with PokerStars and take a stand against the promotion of online casino games by the world's biggest online poker room, she decided to join the tour for one of her favorite stops - Deauville.
"I love it! I have been coming to Deauville for 10 years, ever since the EPT first came here. I think it's a wonderful place. The city is, of course, nicer in July and not at its best in January, but I think it's a beautiful and romantic place."
"I adore this city because I am different from many poker players," Coren admitted proudly. "I am not looking for a busy nightlife, for strip clubs or for partying until dawn - that's not what I am here for. You know, Deauville appears in Agatha Christie's novels, in Sherlock Holmes stories - I think it's a beautiful, romantic, and historic city."
Questioned about the differences between European and American players that she often bluntly describes in her poker novel, Coren explained that many of those faded away as the Internet introduced the globalization of culture and behaviors.
"Internet has changed the world, and poker today is an international game," Coren said. "Because of the Internet, young people of all nationalities talk to each other, watch the same videos, listen to the same music, buy stuff on Amazon and drink coffee at Starbucks. You no longer have those kind of national differences that you had in the past. Things are just not the same anymore."
However, "there are still a few," Coren goes on, as a sarcastic smile appears on her face. "When I see American people arrive here in Deauville, I understand they see it as very foreign in a way that you and I don't. I have seen some Americans at the railway station and they seemed baffled by what this place was for them."
Modernity took the fun away from HendonMob
Coren's way to the top of the international poker scene did not happen in one day and is paved with an impressive number of stories and people.
At the core of London's poker scene, she has seen the game develop from the status of a niche and almost intimate movement filled by colored characters, to the one of a multi-billion international mass phenomenon. Yet, in her opinion, everything came with a price to pay.
Reflecting on the deal that has seen the HendonMob website move from the hands of legends like Ross Boatman, Barny Boatman, Joe Beevers and Ram Vaswani to Alexandre Dreyfus' Global Poker Index, Coren said that it "took the comedy off the enterprise."
"I never look at the HendonMob site anymore because it has nothing to do with those people," Coren said. "I thought that was a great thing in the early days of poker, I think there was something genuinely funny about it. In English, The HendonMob sounds funny because it sounds like a joke about the mafia. It was like an Ealing comedy. Really, it's was a joke for poker players call themselves in that way," Coren went on.
"It was all a bit of fun, and now they are not involved in it anymore. Here's what I think about it today: if the website is trying to seriously make poker a sport, I think they may have lost some of the comedy of the enterprise. But it doesn't matter. Is snooker a sport? Is darts a sport? Is chess a sport? I don't think it's an important question, really."
Get all the latest PokerNews updates on your social media outlets. Follow us on Twitter and find us on both Facebook and Google+!