Seals With Clubs Chairman Bryan Micon: "The Police Raid Was Completely Unnecessary"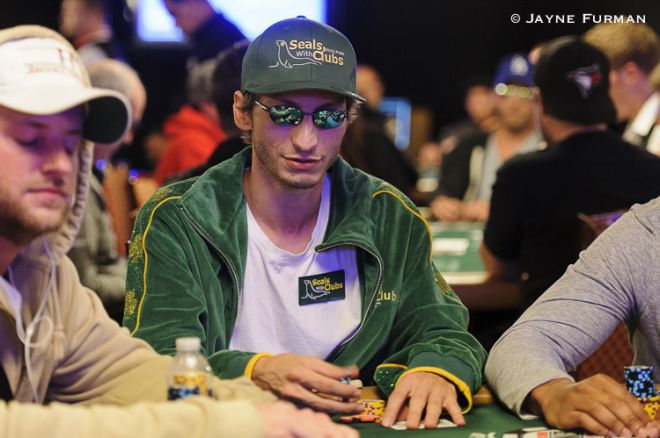 Seals With Clubs, the world's biggest and most popular Bitcoin poker site, was shut down on Feb. 11 after the home of founder Bryan Micon was raided at gunpoint by the police in the early morning.
"It has been a big violation of my personal freedom," Micon told PokerNews on Monday during an exclusive phone interview from Antigua, where he fled with his family right after the episode.
"Even if the State wanted to take action against me, even if they wanted to take all my electronics as they did, a raid like that one was completely unnecessary," Micon said. "It's easy to tell that I am not the kind of person that you need a raid like that for, and it's pretty well known that I am non-violent man."
Micon, who at the time of the raid was at home with his wife and two-year-old daughter, described the police operation as a very traumatic experience. "My daughter was extremely scared," he said. "She didn't cry, she simply hugged my wife and me and stayed with us. Right now my family is fine, even if sometimes, when I sleep, I still see those guys pointing guns at me right to my head."
According to Micon's reconstruction of the events, the police came to his apartment by breaking the front door at 8 a.m. Las Vegas time on Friday morning, pointed guns at him, and handcuffed him in front of his family for some causes that are yet to be fully understood.
"I was not formally charged with any crime," Micon went on to explain. "The agents served me a warrant from the Nevada Gambling Commission, but I am not a lawyer and I don't understand a lot of what's in it."
Warrant at hand, Micon told PokerNews that the accusations moved against him included the violation of the Nevada Revised Statutes NRS 463.750(10b), and the operation of an interactive gaming site without all appropriate licenses as required by State law NRS 463.160(1a). "I have looked these up, but I am not a lawyer and I did not really understand what this all means," Micon explained. He also added that the warrant issued by the NGC included "at least some other 10 similar points."
Micon's Statement to the Internet
Following the raid and his relocation, Micon released the following video statement on his YouTube page discussing the incidents that happened:
Seals With Clubs Already Down for a "Technical Error"
Right before the raid, Seals With Clubs users lamented a series of technical problems that made the room unavailable and that hindered their access to the poker tables. This, combined with an unusual silence from the room's social accounts, immediately raised a red flag for some of the players.
"To date, I still don't know what kind of a technical problem we had," Micon explained. "I don't know the details, but I can say for sure is that Voxility, the company that handles a server used by Seals With Clubs in Romania, had some technical issues. Yet, for what I know, it could have even been simply a power outage."
Questioned about the possibility of a correlation between the "technical issues" that affected Seals With Clubs' regular functioning and the police operation, Micon admitted that the timing of the two events may raise some eyebrows.
"One would assume that these two events are connected, but it's just difficult to see how," Micon stated. "It's true, there have been some irregularities with our server that coincided exactly with the time that my front door was broken down, and it seems too unlikely for these things to not be connected. Right now, however, it's simply impossible to understand what exactly happened."
What is sure, though, is that as soon as the room's technical problems were followed by the raid, Micon's partner in Seals With Clubs decided to quit their Bitcoin poker venture and leave everything in the hands of the poker pro. "I understand that it is not a standard business practice to just hand all the assets of a company to one of the guys in it," Micon admitted.
Yet, in his opinion, his partners' decision has been the only reasonable solution to pursue in order to keep the poker room alive as he seemed to be the only one ready to commit to its future development.
"The previous management, they believed in Bitcoin and poker in general, but they just didn't want to do it themselves," Micon added. "I still want to do it, and there is a lot of other people who have volunteered to work on it after the raid. The team now is slightly bigger than it was before and it's really nice to see this happening."
Micon, however, refused to discuss in detail the team he has allegedly set up in Antigua to work on a new version of his poker room, as he said that "now that we know that there is someone who is willing to use guns to threaten us, I would prefer not to get into the specifics of the team. It's probably best in the future not to even discuss the exact nature of the team since I don't want anything to happen to them."
Why Did the Other Partners Leave Seals With Clubs?
As soon as things started to look dangerous for the people involved in the site, everyone but Micon decided to jump off what could turn to be a dangerous sinking ship. "I don't really speak for them anymore and, to be honest, I never did also in the past. But yes, one would assume that," Micon said when asked if the decision of his unnamed former partner was strictly related to becoming victims of an episode similar to the one that happened to him.
"I am not mad at them," he added. "Everybody assesses risks differently and they are willing to do different things. Perhaps, I am the one who is willing to give up the most right now, and that's why I will continue to work on Seals With Clubs."
Things, however, may not be only related to the fear of more police operations, as in a note published on sealswithclubs.eu Micon's former partners hint at some serious problems that may affect's the site functioning in the future.
"On approximately February 11, 2015, several events occurred related to operational security that we consider to indicate Seals With Clubs now operates in a perpetual state of jeopardy.

"We will not divulge details publicly, but they may come to light if any team member chooses to come forward of their own volition at a later date. All player funds and data remain intact and the issue was not software related.

"We do not believe any of our Bitcoin wallets used in operations to be compromised or lost. However, this event has made the majority vote of the ownership and team agree that shutting down operations is the best move for safety and security purposes.

"Seals With Clubs Chairman, Bryan Micon, would like to carry forward the business with his own team (currently settling in Antigua) but the majority ownership cannot guarantee the future security, solvency, and integrity of that operation because there will be no administrative oversight carried over from Seals With Clubs.

"Members of the Seals With Clubs team and ownership are not ones to lightly endorse anything, not even our own longstanding trustworthy team members, which is why nobody ever makes a sole decision. This dynamic has saved the business several times throughout the years."
In the same note, however, the former owners and managers of the site recognize that "Micon has been extremely enthusiastic and dedicated to Seals With Clubs for longer than any member of Seals With Clubs historically, and we truly believe he wants what's best for its players."
Seals With Clubs 2.0 To Be Launched "Within Days"
The solid reputation of the poker room, the success it has gained since its launch in 2011, and the "overwhelmingly positive" reaction of its users on Twitter, Facebook, Reddit, and on online forums are all elements that Micon believes will guarantee the future of the poker site, even after such a significant attack from the U.S. authorities.
"There are only very few things in this world that motivate me, and these are Golden Tee, poker, my wife, my daughter, and Bitcoin," he said proudly. "If you realize this, you can see why I don't even need to make a choice here. Bitcoin is safe and fair for players. Even now, after what happened, players can still withdraw their money without any problems. In the past, we have seen rooms that have spent the money from their players and became insolvent — this is simply not possible with bitcoins."
As soon as he left his home in Las Vegas to relocate to Antigua, Micon and his new team of volunteers started to work on a new version of the Seals With Clubs poker software that should become available "in three to four days" at swcpoker.eu.
According to Micon, the so called "Seal With Clubs 2.0" poker software, which he plans to license in Antigua — "we are still exploring all options, but that's the plan," he said — will make his Bitcoin-only site survive and prosper thanks to a feature-rich client.
"The people who have seen it are very excited about that, Micon anticipated. "It is truly a new and innovative piece of software. "We have some things that I have seen missing from a lot of other traditional and well-established sites, and this is going to happen in a matter of days."
Although the previous ownership clarified that it "will not be providing Micon or his team with account passwords or authentication information or balance details," Micon said to be optimistic about the future of Seals With Clubs as he believes that the combination of Bitcoin and poker is a sure recipe for success.
"Our three years of history is exemplary," Micon said. "We have never had an issue. Even when in 2013 somebody tricked our hosting into thinking that they were us and convinced them to hand over the passwords of thousands of players, we had a big mess, but the system was technologically sound to the point that no bitcoins were lost in that."
Get all the latest PokerNews updates on your social media outlets. Follow us on Twitter and like us on Facebook