PokerNews Guide To Bitcoin, Pt. 1: What Is Bitcoin and How Does It Relate to Poker?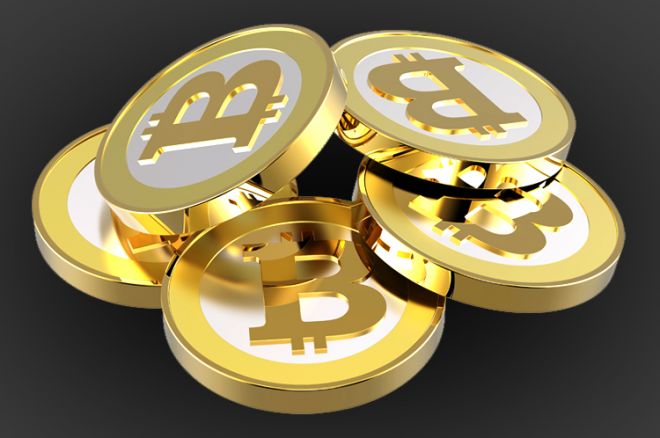 Poker players and gaming companies around the world are finding themselves increasingly enticed by Bitcoin currency for their financial transactions. For the uninitiated, the easiest way to explain Bitcoin is that it is a relatively new form of virtual currency that is starting to find acceptance within the global finance industry, as evidenced by a recent U.S. Senate hearing where different federal agencies agreed that Bitcoin is a viable form of currency and that government needs to find ways to work with it instead of against it. Bitcoin value has also surged dramatically because China has joined the group of countries supporting Bitcoin transactions and which are throwing their financial weight behind the up-and-coming model of financial exchange. The pace of news about Bitcoin is so quick that no one article can keep a reader current. This article serves to provide background understanding for poker players.
Using Bitcoin has several advantages for poker players. The first advantage is the speculative aspect of Bitcoin. Recently, a young Norwegian sold some of the 5,000 Bitcoin he purchased for $27 during the currency's infancy for over $800,000, because the value of bitcoins had increased dramatically. Anyone who thought that value was significant would have been premature, because by mid-November one bitcoin had rocketed to more than $900, and there is the potential that it will keep increasing. This opportunity for increase in value makes it possible for poker players to potentially gain a return on investment (ROI) by buying a bitcoin at a lower price and watching the value of the purchase go up (or potentially down) based on the scarcity of or demand for this cryptocurrency.
The second advantage poker players who use Bitcoin have is getting money on and off Bitcoin-driven poker sites. Whereas traditional currency-driven models require a payment processor and extended periods for cashouts, Bitcoin lets players transfer money on and off sites and dramatically increases the speed of these transactions.
The third advantage for poker players using Bitcoin-driven sites is that these sites let players from all over the world play with one another while current "dollar-only" sites do not. For example, U.S. players who are residents of Nevada, Delaware and New Jersey can play online poker in their respective states, but anyone can play on Bitcoin sites.
In the same way a poker player tries to evaluate how to beat an opponent by playing the "meta-game" (how players play over time and their patterns) and how to maximize the information available (cards on the tables, betting patterns, tells) while a poker hand is being played out, companies and players are trying to evaluate the implications and opportunities of the emerging Bitcoin market on poker.
In the last year, several offshore online poker sites opened their doors to players around the world, including those in the U.S., using bitcoin as their currency. Bitcoin adds to the online poker ante by upping the stakes and challenging current models like Ultimate Poker, PokerStars, partypoker, and WSOP.com.
The application of Bitcoin in the poker industry poses numerous questions, including why poker players would want to use bitcoins, whether they are safe to use, how the gaming industry and government will respond to this new currency, and what issues the online sites face by allowing U.S. players to circumvent the current casino-driven online-site models running or slated to launch within the next year in the U.S.
Although the Web offers Bitcoin explanations, these can be very confusing to anyone outside of the tech community, speculators, and others advising clients and businesses thinking about using bitcoins as a form of currency. So if you are confused about what a bitcoin is or how one works, don't feel bad — you're not alone.
Consider the word Bitcoin itself. Or is it bitcoin? In this article, we have tried to follow Associated Press style, which recommends capitalizing Bitcoin when referring to the concept of a virtual currency, and lowercasing bitcoin when referring to the currency. Did we get the distinction right every time? Don't bet a Bitcoin bitcoin on it. The Associated Press Stylebook says "Bitcoin, the concept of virtual currency, is capitalized. The units are spelled lowercase bitcoin or bitcoins."
What Bitcoin Really is and How it Relates to Poker
Unlike traditional forms of currency like the euro, dollar, and pound, bitcoin — although traded as though it were a stock, bond, or commodity like gold or silver — is not backed by a bank or government. This up-and-coming form of virtual currency does, however, have cash value that allows users to exchange bitcoins for their chosen form of currency online in a matter of minutes through Bitcoin-driven eWallets similar to PayPal, NetTeller, and other virtual currency-exchange sites on the Web.
Operating as a decentralized form of currency that can be used in a variety of ways — such as buying clothes, paying an employee, and as a currency for online poker sites — Bitcoin operates on an open-source (run by the public) platform that uses peer-to-peer computer coding that lets the tech-savvy public create encryption codes to enable transactions or exchanges to take place.
According to Bitcoin.org, transactions require the public to keep the currency moving and to ensure its security by empowering and rewarding programmers for constantly improving Bitcoin by producing computer codes that allow transactions, evolve Bitcoin security, and drive production of the commodity. Anyone can process transactions using the computing power of specialized hardware and can earn a reward in bitcoins for helping create the coding that keeps bitcoin transactions moving. This type of code creation by supercomputers and the computer-savvy public is often called "mining."
The Bitcoin network shares a public ledger called the "block chain," which contains every transaction ever processed. This ledger, or computer program, then uses complex encrypted mathematical equations to allow a user's computer to verify the validity of each transaction. The authenticity of each transaction is protected by digital signatures corresponding to the sending addresses, allowing all users to have full control over sending bitcoins from their own Bitcoin addresses without using banks or other financial institutions as the middlemen.
Because bitcoins are valued as a new means of doing business and completing transactions, some people and businesses around the world are helping this virtual currency gain a foothold, and their activity has forced global financial institutions to take notice. Despite its not being endorsed by the central banking community, bitcoin is now being recognized by several countries as a legitimate form of currency. In August 2013, Germany's Ministry of Finance declared bitcoin a "unit of account" that can be used for private transactions, enabling the country to tax users or creators of the new currency.
Thanks to the attempted prosecution of Mr. Trendon Shavers by the U.S. Securities and Exchange Commission (SEC), a landmark ruling by U.S. Magistrate Judge Amos Mazzant of the Eastern District of Texas recognized bitcoin as a "currency or form of money." According to the SEC, "Shavers made a number of misrepresentations to investors regarding the nature of the investments and that he defrauded investors" and was operating a "ponzi-like" scheme in which his company, Bitcoin Savings and Trust, duped investors for roughly $4.5 million worth of the cryptocurrency by falsely promising them a 7 percent weekly return on their investments in his company.
According to Forbes Magazine, after Mazzant declared bitcoin a form of currency, Bloomberg gave Bitcoin an experimental ticker (XBT). Shortly thereafter, the New York State Department of Financial Services subpoenaed 22 digital currency companies and investors to get a better grasp on the currency to establish regulations to help protect users and to ensure that Bitcoin cannot be used for money laundering and illegal activities.
Similar to Germany and the U.S., other countries are trying to figure out how to regulate Bitcoin. Currently, the United Kingdom has no policy regarding Bitcoin; however, meetings were held at Downing Street in September during which smaller banks, finance houses, and Bitcoin-focused companies pushed for recognition and regulation of the fledgling currency.
Despite the lack of global acceptance and regulation, Bitcoin is being used by several offshore poker sites — including Infiniti Poker, Sealswithclubs.eu and Satoshi Poker as a form of currency — enabling U.S. players to participate with other players throughout the world in stark contrast to the casino-driven and regulated poker sites in Nevada like Ultimate Poker and WSOP.com, which only allow online poker for players located within the Nevada borders including tourists that are visiting the state.
That concludes Part 1 of the PokerNews Guide To Bitcoin. Stay tuned for Part 2 and Part 3 of this series, in which we will be dissecting the pros and cons to using online poker sites that utilize the virtual currency in their game selection.
Editor's note: Since this article was written, the rapidly changing Bitcoin story took yet another swift turn. According to a Dec. 6 article by Kashmir Hill at Forbes.com last week, "the People's Bank of China and four other ministries and agencies announced that banks and payment companies were prohibited from dealing with the coin, but that the country's citizens are still free to buy and sell it." Although China was "largely responsible" for the increase in Bitcoin value over the past month, this news caused the currency to drop from the $1,200s to the $800s.
*Lead photo courtesy of Salon.com.
Get all the latest PokerNews updates on your social media outlets. Follow us on Twitter and find us on both Facebook and Google+!