2015 MSPT Meskwaki Casino Day 1a: Wazwaz Bags Lead Among 36 Advancing Players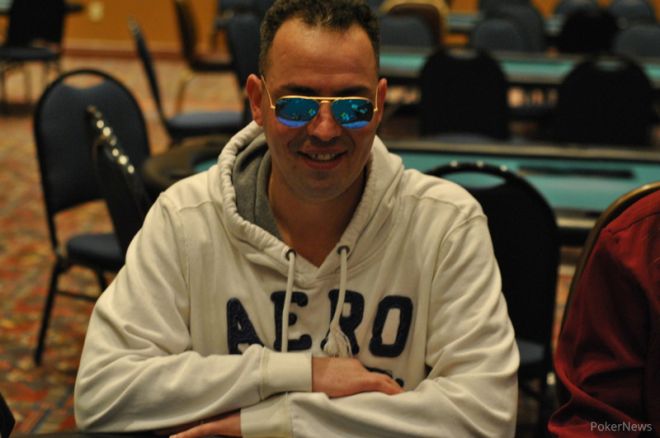 "These guys should be ashamed if they let me bag a stack," Rob Wazwaz declared as one of the later levels ticked down on Day 1a of the Mid-States Poker Tour Meskwaki Casino, which attracted 175 runners.
As it turned out, not only did they let Wazwaz bag a stack, they let him bag the biggest one of them all. Wazwaz finished the night with 244,000 chips to lead 36 survivors after 14 levels of play in Tama, Iowa. The Minnesota player is a regular on the tour, with his best result being a fourth-place finish at MSPT Ho-Chunk in 2013 for $19,133. He has more than $450,000 in career tournament cashes.
Top 10 Day 1a Chip Counts
| Place | Player | Count |
| --- | --- | --- |
| 1 | Rob Wazwaz | 244,000 |
| 2 | Nicholas Aranda | 207,000 |
| 3 | Steve Vang | 189,000 |
| 4 | Matt Kirby | 176,000 |
| 5 | Kevin Suneson | 171,000 |
| 6 | Robert Wittman | 134,000 |
| 7 | Nicholas Anderson | 127,500 |
| 8 | Martin Faldet | 120,500 |
| 9 | Jared Rothkopf | 115,500 |
| 10 | Ben Keeline | 114,500 |
Wazwaz started out strong with an early double but was down to 32,000 during Level 9 (400/800/100) after sending a large portion of his stack to Bill Hanson. However, a key double happened for him early in the next level when he bet 9,000 on a
flop after an opponent checked to him. The player check- jammed, putting Wazwaz at risk for 32,800 total, and Wazwaz snapped it off with
, which was ahead of his opponent's
. The
gave Wazwaz a sweat, but a river
was safe for him.
Others surviving the grind included Nicholas Aranda (207,000), Steve Vang (189,000), tour pro Matt Kirby (176,000), Kevin Suneson (171,000), Ben Keeline (114,500), Rodger Johnson (106,500), Joe Barnard (78,000), and John Reading (50,500).
Aranda already had a solid stack when he got in a confrontation with James Wilson preflop, the latter having opened to 6,500 from the hijack during Level 13 (1,000/2,000/300). Aranda made it 13,000 from his left, and Wilson thought awhile before shoving for approximately 41,000. Aranda called with the
, only to see Wilson show the
. Luck smiled upon Aranda though as a
run out left him with top two and the win.
Plenty of notables took shots and missed on Day 1a, such as former champs Josh Reichard, Ben Wiora, Terry Ring, and Jonathan Olson. Other eliminations included Steve Belland, Todd "Sharkslayerr" Breyfogle, Dustin Dirksen, Mike Lang, Lance Harris, Mike Ross, Kou Vang, MSPT points leader Mark Hodge, and MSPT team pros Matt Alexander and Nick Pupillo.
All will have a chance at redemption on Day 1b, which commences at 4 p.m on Saturday. Of course there will be more live coverage right here on PokerNews, so be sure to check the live blog then.
Get all the latest PokerNews updates on your social media outlets. Follow us on Twitter and find us on both Facebook and Google+!