2015 WPT Vienna Main Event Day 2: Urbanovich Leads Into Day 3; Holz Second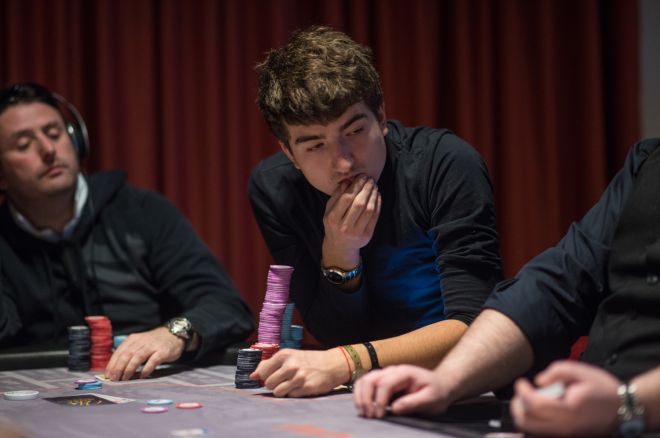 With Day 3 of the 2015 partypoker World Poker Tour Vienna Main Event currently underway, let's take a look back at Day 2.
No less than 14 players signed up at the last moment, bringing the total amount of entries to an even 220. With €150,000 reserved for the winner, the tournament will be paying out 27 players a minimum of €5,480. Reaching the final nine will net someone €14,350, and making it to the six-handed final table banks each player a minimum of €29,500.
On Day 2, the tournament had five levels on the schedule, but the money wasn't reached. After the five 90-minute levels passed, there were 44 players left, so Day 3 will be the day the bubble bursts.
Day 1b Top 10 Chip Counts
| Rank | Player | Chips |
| --- | --- | --- |
| 1 | Dzmitry Urbanovich | 495,600 |
| 2 | Fedor Holz | 416,600 |
| 3 | Pascal Hartmann | 364,400 |
| 4 | Anders Karlsen | 295,200 |
| 5 | Gerald Karlic | 285,000 |
| 6 | Jens Lakemeier | 282,400 |
| 7 | Michel Abecassis | 249,000 |
| 8 | Josef Gulas | 245,900 |
| 9 | Arberd Lalicic | 233,500 |
| 10 | Frederik Brink Jensen | 211,800 |
Fedor Holz started out as the chip leader, and maintained that position for most of the day. He didn't get into too much trouble. In fact, he won a 200,000-chip pot without showdown before the first break. After losing a bit to Sotirios Koutoupas and doubling up Thomas Bichon in an unlucky flush-over-flush hand, Holz still had heaps left and he ended the day with 416,600 in chips — good for second place overall.
Number three on the chip count leaderboard after Day 2 was Austrian grinder Pascal Hartmann. The biggest hand he won was against Frederik Jensen, where both flopped top pair and both hit trips aces on the turn. Jensen check-called all the way, only to see the bad news by the time he paid off the river.
Austria's number two on the all-time money list, Thomas Muehloecker, wouldn't be so lucky. He didn't start out with too many chips and lost those soon enough in a nines-versus-queens hand against Rumen Nanev.
Both the number one (Josef Klinger) and number three (Erich Kollmann) of Austria's all-time money list are still in, though. Halfway during the day we did the math and concluded that Kollmann needed to win or get second and Klinger needed to bust before the money in order for Kollmann to overtake Klinger as Austria's winningest player. That seamed a reality far far away as Klinger was one of the chip leaders at the time, while Kollmann had just a couple of big blinds. At the closing of the day, the situation was still the same; Kollmann had 38,500 in chips and Klinger a bit more with 97,400.
The chip leader is Dzimitry Urbanovich with 495,600 in chips. The young Polish player busted on both Day 1a and 1b, but built the 30,00-chip starting stack he started with today up to almost half a million.
The final 44 players will be back Sunday, March 15 at 2 p.m. local time for Day 3 of the WPT Vienna Main Event. Another five 90-minute levels are scheduled, or down to 16 or 18 players, something the tournament director will decide. PokerNews will again be present from the first flop till the last river, so check back for more updates of coolers, bad beats, incredible value bets, and nasty suck outs.
Get all the latest PokerNews updates on your social media outlets. Follow us on Twitter and find us on both Facebook and Google+!