PokerStars Pro Leo Margets Reflects on Poker in Spain and the Estrellas Poker Tour
Adrian Delgado

Giovanni Angioni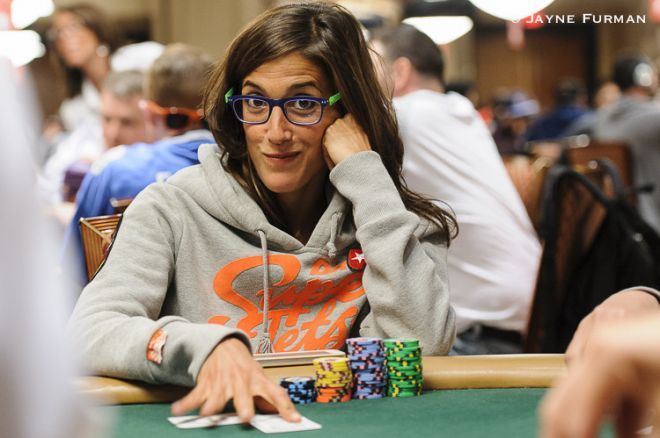 It's again time for some great poker in Spain, as the sixth season of the Estrellas Poker Tour (ESPT) is set to begin on Monday, March 9, at the Casino Gran Madrid in the country's capital city.
With a calendar that includes a good number of side events with buy-ins that start from as little as €80 and a €1,100 Main Event running from March 11-15, the ESPT aims to replicate the success of 2014, when the event organized by PokerStars.es attracted 721 players and generated a €692,160 prize pool.
Among the pros expected to appear at the tables of the first ESPT event in 2015 is the only Spanish member of Team PokerStars, Leo Margets.
Recognized as the Last Woman Standing at the 2009 World Series of Poker (WSOP) Main Event and a participant in Spain's version of the popular Survivor TV show, Margets met with PokerNews Spain editor Adrián Delgado to discuss her plans for 2015 and share some precious advice on how to become a better poker player.
PokerNews: From what you wrote on your Twitter profile, it seems you have been away from poker during the first months of 2015. Can you tell us what have you been up to?
Margets: Yes, that's correct. The reason why I have not played at any live event since the 2015 PokerStars Caribbean Adventure (PCA) in January, is that I have been training for a marathon - and that took most of my time. During the past months, I have been focusing mostly on my training.
Although I could manage to fit pretty well some online poker sessions in my schedule, I just didn't have the time it takes to play live and to do all the traveling that this involves. Usually, every time I am not playing poker, I try to cultivate my two other big passions: sports and writing.
Right after this break, you will get to the tables to play the ESPT in Madrid and the European Poker Tour (EPT) in Malta. Are you ready for these battles?
I am always eager to play when I sit at a tournament - and now, after an almost two-month break, I want to play even more than usual. Yet, I have been around for long enough to know that I should keep my expectations low and be reasonable. We all know how poker works and, unfortunately, it does not go very well with illusions.
Reflecting on the ESPT in general, do you think an event like this could a good opportunity for new players to discover live poker, or is this already a too big one for an inexperienced player?
I think the ESPT is an ideal event for those who are looking for a tournament to get in the poker world and to discover the circuit. Although the buy-in of the Main Event is somewhat significant, players have the opportunity to qualify for a lot less than that - and this means that you can get a very good experience at a big event - and eventually win some big prizes - for very little.
You have been with PokerStars since years now. What's your favorite part of being a Team Pro?
On one hand, to be part of a team is a recognition per se and is something I enjoy. I also feel comfortable with the idea of being an ambassador for a specific sector like this one, and I like that. A sponsor is a great help for a player, as a sponsorship contract can make your professional life much easier.
Let's talk about your expectations. How important would be for you to win a big live event like an EPT?
I would obviously love to win a major tournament, but at the same time this is not something I am obsessed with. What really haunts me, is to keep learning about the game and to always find a way to play well - this is something I value much more than a title. Then, you see, a success at an EPT would be simply a logical consequence of my plan.
This is why, when I am at a tournament, I always focus to make sure that I try to play each hand in the best possible way.
Although we are no longer in the middle of a poker boom, there is a big number of players who would like to discover more about the game and become better at it. Yet, many often have doubts about what to do and what to choose to develop their poker skills. Do you have any advice for them?
If one decides to start to play poker today, he definitely has plenty of specialized websites that offer a lot of information, especially about basic poker strategy.
Past that, if one thinks the 'free' strategy articles and advice out there are not enough, I would recommend him to turn to some paid 'online poker schools' as these services help players to develop and to play at a more professional level . A more serious step, then, would be to contact a poker coach to develop some specific aspects of the game.
Spain's online poker industry is not going through the brightest moment in its recent history. What is your opinion on the future of the industry in your country: could it go back to a growth?
Right now, we are in a complicated moment for the Spanish poker industry. The regulated marked gives players the opportunity to be protected and to play in a safe environment but, unfortunately, it also caused a dramatic decline that could be reversed only if the current laws will be amended. For online poker to grow again, it is essential to open to international shared liquidity and to lower the taxes applied to the players.
Personally, I am confident that this is all going to happen - especially since everyone would benefit from it. The players and the rooms would have more traffic, and the regulators would collect higher tax revenues. Before the regulation, Spain was an ideal place where poker players could settle. Unfortunately, the current regulation changed everything and made this impossible.
What are your plans for the months to come?
When it comes to poker tournaments, I like to improvise. However, after the ESPT in Madrid I plan to play the EPT Malta, the EPT Grand Final and the ESPT Marbella in June. Then, of course, I will also be in Las Vegas for the WSOP Main Event.
Follow us on Twitter and find us on both Facebook and Google+!