Michel Cohen on How Online Poker Revolutionized Live Games in Paris

Giovanni Angioni
Julien Tissot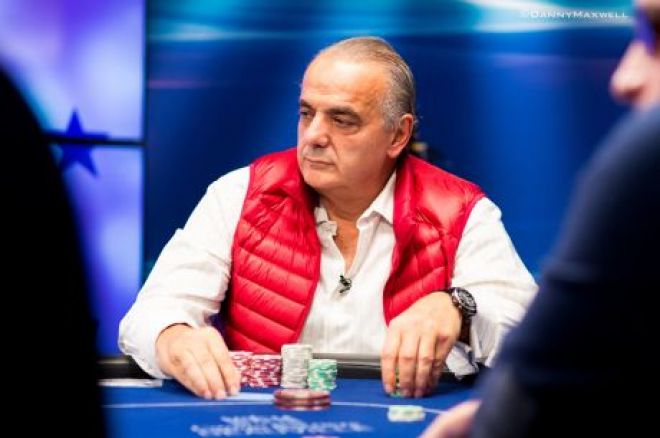 Besides being the proud owner of the Clinique des Champs-Elysées, the leading private centre for aesthetic surgery in Paris, Michel Cohen is also a well-known face in the French live poker scene.
A regular at the Aviation Club de France (ACF) before the iconic poker room was shut down by France's Judicial Police, Cohen is a true veteran of the game. With his first recorded live tournament cash dating back to December 1996 (source: HendonMob), over the years the the 63-year-old doctor from Paris managed to put together some remarkable results, including one that saw him end the 2015 European Poker Tour Deauville Main Event in seventh place for a €85,530.
As he gets ready to head to Monaco for the upcoming EPT Grand Final (April 28-May 8), Cohen sat down with PokerNews.fr's Julien Tissot to talk about his career, the years he spent at the ACF, and his thoughts on the rumors about Paris' first-ever brick-and-mortar casino.
PokerNews: Let's start by looking back at your early days in poker. Is the game you play today the same you used to play in the mid-1990s?
Cohen: Poker has changed a lot. Back in the day, the Aviation Club de France was full of grandfathers who would play only premium hands. Things changed once the online grinders entered the room, because those young guys started to play a lot more marginal hands than the others did.
The Internet has been a true revolution that introduced a brand new way of playing poker. Once that happened, you had to be able to adapt and change your game, as the alternative was to disappear like a mammoth. Luckily, I have managed to do so. Putting things into perspective, I think my greatest strength is exactly the ability to know how to vary my game.
As for other kinds of changes, over the years I have seen many poker clubs close down, and that's why now I am forced to travel when I want to play poker.
During the recent EPT in Deauville, you had a great run that ended in seventh position. Do you have any regrets
I am satisfied with my performance because I think I played well and my analysis of the game has been fairly good. I didn't feel much pressure, even if I do regret not getting a spot [on the final day].
You are mostly a tournament player and, lately, we have seen you getting some pretty satisfactory results. Besides your good runs at the EPTs in Deauville and Malta, you closed the High Roller event at the World Poker Tour National in Paris in fourth position for €15,000. How do you feel about these positives?
I am a competitive person, and I find a lot of excitement and fun in poker tournaments. I played very well at the ACF, where I think the level was very good. That place has been a great school for me. Regulars at the ACF like Alex Réard, Simon Perez, Franck Kalfon, Florence Allera, and Laurent Polito are all doing very well now, and that's not because they are lucky.
My game is in place and my analysis is quite accurate. Then yes, I can say that things are going pretty well for me right now.
You mentioned the importance of the ACF in your evolution as a player. What do you think about the closure of the club imposed by the French authorities?
I think what happened is outrageous and made me feel extremely sad. I discovered the ACF in the mid-1990s, and I can tell you that it was a place where people of all backgrounds, religions, nationalities have always been welcome.
I was a regular at the €500 buy-in event on Wednesdays. I loved the atmosphere there because the club was a unique place to socialize. It's there that I first met some good friends such as Kalfon, Polito, and Allera.
How about the online side of the game? Do you play online as well?
I have been playing poker for many years now, and I have to admit that when I play online I get bored pretty quickly. After only two hours of play I already want to go to sleep, so I just go all in. Poker is a social game that is made of the interaction between people; that's why I find it a bit sad to play my games alone, sitting in front of a screen.
During the past days, the media has been discussing a study that may lead to the opening of a casino in Paris. What do you think about that?
I don't have doubts that a casino would allow to get a better control over the money involved in the games. The advantage of a casino in the capital is that it would make it possible to organize big international tournaments and attract foreign players. Yet, it will take time before a new casino could get the recognition and popularity of an iconic room like the Aviation Club de France.
We often see you at the poker table wearing a suit and a tie. Why is that?
That's right, I often have a suit on, but that's just because I go to play my tournaments right after work. Or, at least, that's what used to happen when I was playing at the ACF.
I usually try to avoid to go back home before the tournament begins because my wife and my six girls would simply not let me go (laughs)! I always try to find a way to combine my passion with my professional life and my private now. Luckily enough, I need very little sleep!
Follow us on Twitter and find us on both Facebook and Google+!