The Do-It-All Force Behind London's Most Unique Poker Hangout, Kerryjane Craigie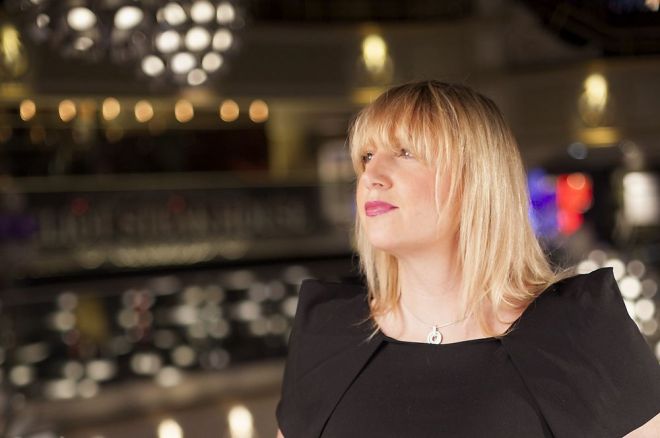 Bubbly, blonde and beautiful, it's quite possible you can actually feel Kerryjane Craigie's love and enthusiasm for poker emanating from her. As The Hippodrome's alpha female, or "Head of Poker" to use her official title, it's a love she indulges with on a daily basis.
"The buck stops with me upstairs," she says, proudly, when we meet, secluded in a private room I didn't know existed within the three-ring circus walls of The Hippodrome in Leicester Square. But although Craigie might appear to be one-part Uma Thurman, a shot Kathy Liebert, and a healthy sprinkling Glinda the Good, she makes it clear from the outset she's no dumb blonde when it comes to owning her game.
"I run it as a business up there," she emphasises, pointing to several floors above our seats to where the poker room perches, aerie-like, above the casino gamers. "I have to make it innovative, exciting, profitable, endearing, whatever needs to be — keep bums on seats."
But when it comes to management, Craigie's career path has been anything but typical, even though her friends claim she was destined to work in poker.
"I finished college and didn't know what I wanted to do, so I ran away and worked overseas for a number of years, she says. "I trained in the tourism business in marketing, then, and this is the point where everybody laughs, I joined the marketing team at Disney. I went straight from child entertainment into adult entertainment — I worked for the Playboy Club and then for Caesars."
When you look around, Craigie's touch of genius lies oftentimes in the smallest attention to details. She evidently takes great pride in the Hippodrome's Poker Deck — even in conversation, she will refer to her ownership of it — with a mission that her room and staff offer each player their own unique playing experience.
"Most poker rooms will take whatever waitresses they're sent from the rest of the casino," she explains by example. "I have my own team of seven. They only work on the poker deck. They know the players. The players know them. The service is outstanding because everybody knows each other. We consider ourselves a family, so it's service you don't get anywhere else. It's like Cheers: everybody knows your name.
"The mentality of poker is quite genetic," she elaborates. "People tend to do what they've seen people do before. But our building has a personality of its own. We don't follow, we lead, and we're very innovative in our thinking. We're for today's poker player."
But when it comes to today's player, I'm curious as to whether Craigie finds much crossover between the worlds of casino and poker or if they're different cultures entirely.
"I do find that there's more crossover in The Hippodrome because of the environment that The Hippodrome is," she says. "We're at the top of the building, but we absorb the atmosphere from the rest of the casino. The route to the poker deck takes you through everything else we have, and the poker players love that. They'll sit and play poker, but they'll order a £25 steak from the restaurant. Poker players are a different creature, but I think they're evolving in The Hippodrome and this is why we have new players coming in all the time."
Craigie takes pride in the fact that The Hippodrome "moves with the players themselves." But how has she seen the poker player evolve over the past years? Has the "Moneymaker Effect" had as big an impact in the brick-and-mortar casinos as it has online?
"PokerStars' online offering has opened up the world of poker even more," she states. "Especially with their live events, which of course we've partnered with them in. On my poker deck, right now, you'll see different ages, different backgrounds, different intellects, side by side, all enjoying the same game. Not many other environments have such a diverse group of people conversing over a game of skill and luck. Poker has evolved. It's very rewarding to see people from so many walks of life all enjoying it."
And does this include the rise of the female player?
"I'd say it's still very male dominated when you base it on actual figures," she muses. "If you based it on the amount of women who play poker in different environments, women who are at the top of their game in the poker environment, whether that be in work or playing-wise, then I don't think you can be as standard in saying it's all about the male player. Look at Vanessa Selbst! She's one of the top players in the world, regardless of gender. There are more men that play poker than women, but it doesn't mean they're necessarily better at it."
And does she still play herself?
"I don't play as much now as I used to, as I get my fix coming to work," Craigie admits. "I began playing when I was a lady of leisure living over in the US. I just really enjoyed the elements of skill and luck and that feeling where you beat another player and win the pot."
It's clear Craigie's job operates in an open-all-hours environment, but does that mean the job become non-stop, too?
"My supervisors ask me when do I sleep, because I will tend to answer most emails even when I'm not here," she says. "But I have true faith in my team, so I do sleep at night. My iPhone will be the first thing I look at when I wake up, but that's the gaming world. Your focus has to be on it 24/7. Because whether people come in at three o'clock in the morning or three o'clock in the afternoon, their experience should be the same. That mentality comes from the passion for what you do."
But aside from being a successful and career-driven woman, Craigie loves her job simply for the fact that, in her own words, "It makes me smile." Her time as captain onboard her poker deck fills her with such satisfaction, she says, that it can be difficult to make herself leave. Her sheer enjoyment is palpable.
As a manager, moreover, she also takes pride in the hands-on approach she brings to The Hippodrome's poker offering. Whether it's running the floor, manning the cash desk, handling buy-ins, organizing chips, or acting as hostess, Craigie isn't afraid to get stuck in with any of the 50 employees who report to her daily. As I discovered while interviewing the venue's CEO Simon Thomas, the sense of community spirit is simply a part of the building's brickwork.
"I'll sit on the table and do the payroll on my laptop, next to people playing poker," she says. "I actually rather hate it when I have to go and sit at my desk away from everyone. The other day I had a waitress who was ill, so there I was, making teas and coffees and dispensing water to the players."
But whether channeling the savvy business development executive, the bright-eyed poker enthusiast, or overseeing live PokerStars events with a maternal dictatorship, Cragie's goal at The Hippodrome remains the same: "We create an environment for each individual poker player, as they need it."
I suppose in other places it might be called multiple personality, but in Leicester Square's own "Palace of Varieties," Craigie's uncanny abilities have helped craft London's most unique poker hangout.
Get all the latest PokerNews updates on your social media outlets. Follow us on Twitter and find us on both Facebook and Google+!