Poker Jobs: Meet London's Hippodrome Owner and CEO Simon Thomas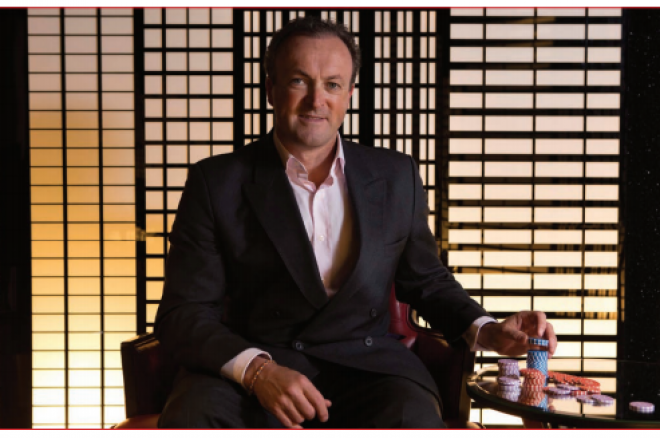 What must it be like to walk through a venue like London's Hippodrome as the owner? Just think about that for a second. The grandeur and opulence of the building, the crowded gaming tables, the elegant bars — it must illicit a sense of deepest pride mixed with an almost unrelenting pressure.
But, luckily, the man I was meeting as I walked through that famous foyer just happened to be Hippodrome CEO and owner Simon Thomas.
"Getting it open," is how he responds to the question of his biggest challenge so far as the Hippodrome's head honcho.
Taking full advantage of changes in legislation and advertising laws, Thomas set out to create the mini-resort setting we know today, sitting comfortably on the corner of Leicester Square.
He bought the building — fending off competition from Andrew Lloyd Webber and Cameron Macintosh, among others — and the rest, as they say, is history.
"The whole model was changed to a venue which included food and live entertainment as opposed to a 'gambling den,'" explains Thomas. "The building itself began life as a circus with high-diving dwarfs and live elephants, then moved into the music hall era with the Folies Bergère."
Although poker and casino games are perhaps the primary draw for the Hippodrome now, Thomas obviously harbours a deep respect for the building's roots in showbiz. He is quick to rattle off the impressive list of icons who have trodden the boards there — Charlie Chaplin, Stevie Wonder, Ella Fitzgerald, Tom Jones, and Judy Garland, to name but a few.
But in terms of establishing a fresh vision, his aim was to create a casino the likes of which had never been seen in the UK before.
"We have a team here who are the best of their class," he says with confidence. "They're a challenging lot to manage, but the end result is tremendous. In the beginning, we anticipated 18,000 customers a week and we're now sitting at over 30,000."
Referred to by management as a "palace of varieties," the Hippodrome is an intricate tapestry of sensory pleasures, carefully woven together behind the scenes by Thomas and his top-notch team. But how does poker fit into this tapestry, and how important is it to the Hippodrome's overall design?
"Vital," replies Thomas. "It had been done in London before, but there was no glam and energy. Our poker is in keeping with the overall offering — our poker deck isn't hidden away in a basement somewhere, it's up with the gods! It has a view 60 feet down into the original atrium. It's directly above our steakhouse and has a door onto a smoking terrace.
"Poker players aren't generally looked after the way they should be, but we have a cabaret club, five bars, a restaurant, international poker events, and the main casino floors," he adds. "So we have a lot of different products to offer players. It's the difference, essentially, between family business and large PLC. We're constantly talking, learning, listening, and smiling. It rubs off on the staff and customers."
Simon, then, must straddle something of a creative dilemma — on the one hand, the Hippodrome has the history of the West End running through her, but on the other players are demanding more and more technological conveniences at their tables. Which, I wonder, is more important: innovation or tradition?
"To rely on the history would be a big mistake, but to build on its legacy is what makes it brilliant" he says, after some consideration. "Each new generation has given it a new lease of life. As a casino location, it's perfect — it's on the busiest corner in Europe and we have a second door straight into China Town. So it's building on the historical pedigree, while driving it forward. In exactly the same way as Lord Delfont and Charles Forte did when they turned it into Talk of the Town, then Peter Stringfellow did when he turned it into Stringfellow's Nightclub."
Many of the major London casinos, and their poker rooms, naturally wage amiable war against one another for the attention of large-scale live events and loyal patronage. Having visited The Vic a few weeks ago (producing interviews with Jack Germaine and Tom Scott for PokerNews), I have found The Hippodrome to be an entirely different animal.
But on the subject of competition, Simon Thomas says he not only tolerates it, but welcomes it.
"If you have two or three venues which are pushing it increases standards, and that's really healthy," he welcomes. "The Vic is a great traditional club. We would say we're more exciting, in a better location and have more to offer. We steer away from the closed-club mentality — I think the world is past that now."
As someone overseeing all aspects of the Hippodrome's multi-layered (in both senses) environment, I wonder how distinctly Thomas sees the differences between the casino patron and the poker patron?
"It is undoubtedly true that casino games are fixed odds and you are buying entertainment, whereas poker is undoubtedly a game of skill," Thomas reminds us. "I've watched the debate go through the courts. Over time, the skilled player will make the most of the cards dealt. When we did our first tournament on the main stage, we opened up the curtains. There was a fear that the poker players might not look very glamorous — remember, this is a stage which has held the cream of the entertainment world — but it just looked beautiful. Stunning. And the players just loved it. We had lots of pretty girls wandering around, and they've never really gone out of fashion."
He then adds, "Our big quarterly tournaments are getting stronger and stronger, and we have great fun with our partner PokerStars. It gave us a critical mass very early on and build brand awareness — and it maintains our standard of only working with the very best."
But when it comes to his own skill at the poker tables, Thomas isn't putting too much faith in his playing power, describing himself as "lousy."
"I've played a few times," he says, "but I show my emotions much too openly! I don't seek to be a great poker player, but I am seeking to make an environment where players can have incredible fun."
When asked what his work schedule looks like, Simon is clearly changing hats faster than his cabaret dancers.
"I can be negotiating changes of law in Parliament and then having a drink with a customer in the same afternoon," he provides. "I'll tend to be here three or four evenings a week, and often during the day as well. It's fun, and it's seductive. I regularly try to leave at midnight and end up being here until four. All this rubbish about casinos pumping in oxygen — you just don't need to do that here. There's so much energy in the place to keep you going. It's a buzz, and at the end of the day you've got to be here when the customers are around. I don't play golf, let's put it that way!"
What seems to make Simon unique as a CEO, and owner, is leading the Hippodrome's open mentality from the front. As opposed to elevating himself Emperor-like in an office and surveying his multi-tiered domain from above, he much prefers to talk with his staff and customers on the floors and rooms of the casino itself.
This principle is carried over into the Hippodrome's poker offering — set in an aerie high above the gaming tables it maintains a club-feeling while remaining a part of the "palace of varieties" in which it operates, so the players absorb the atmosphere from the rest of the casino.
The poker player is celebrated, and the words "friends and family" are used by Simon without a hint of condescension. All poker room staff are carefully hand-picked, and chosen because of their love of the game. In this way, the poker fraternity is embraced as a vital part of the Hippodrome's ever-evolving character.
It helps, of course, when that character is also working an intimate relationship with the world's biggest online poker room.
"The poker players have the best view in the place," laughs Thomas. "Quite often a casino thinks, 'I've got to have a poker room, where can I put it?.' They don't build it in, it's an afterthought. Nearly always a very secondary location. We don't believe in that here."
The character of the casino itself is something which Thomas describes as "a certain weirdness" — jugglers and acrobats rub shoulders with gamblers and card players. Magicians sit at the bar alongside chic cosmopolitan consumers and city boys.
"David Blaine called in for a cocktail the other day. Tom Jones came in for a cigar. It's just random stuff like that which is so cool. It's a palace of varieties; an adult playground. So underlying it all we have a very efficient and very well managed business. When people play here, they are absorbing and creating history."
But when it comes to passing the torch and giving advice to follow in his footsteps, Simon's message is remarkably simple:
"Take a very deep breath. Steal yourself. Be bloody minded and bloody determined. You have to work incredibly hard and always find solutions. Always remember: the buck stops with you."
Get all the latest PokerNews updates on your social media outlets. Follow us on Twitter and find us both Facebook and Google+!