Living the Dream: Jesse Katz Finds an Experience of a Lifetime, Nearly Wins WSOP Gold
Visitors to Las Vegas have always lived by the code "what happens here, stays here." But each summer for the last 45 years fate has smiled on a fortunate few: newcomers to the World Series of Poker stage, who come on a lark and leave with a story worth telling for the rest of their lives.
Spanning the social spectrum — from college seniors looking for a quick buck to senior citizens checking off their bucket list — recreational players of all stripes show up at the WSOP hoping to make their one time count. Thousands of these aspiring amateurs head home every year, bringing back only a tale of a bad beat and a burning desire to redeem themselves, but every so often Cinderella shows up to crash the ball.
With bracelet-hunting season looming once again for hopefuls around the globe, PokerNews is proud to shine the spotlight on members of an exclusive club. Amateurs who ponied up a single buy-in and parlayed some run good into a life-changing result, dedicated grinders who struck gold on their first WSOP dig; small stories in the grand scheme of things, but stories that will always be worth telling for those who lived the dream.
Katz Calls His Shot
Seasoned pros on tour today know better than to book their room in advance before a long tournament. After all, variance assures that they'll be making more early exits than deep runs, so it's usually best to assume the worst.
Jesse Katz is a New Yorker though, and like the Bambino before him, calling one's shot is in his blood. So when the 28-year-old dreamer from Manhattan with years of experience on the felt finally decided to attend his first WSOP last year, he spared no expense, securing accommodations at the Rio for a full final table run.
"I booked the trip for five days so I would have time to recuperate after the final table," Katz recalled. "Because I knew I was going to make it. In my mind, a bracelet was just waiting there for me to take it."
Confidence of this kind can seem like nothing more than a crutch, but despite his status as a WSOP rookie, Katz came prepared to play his preferred game. After arriving in Las Vegas late at night and alone, Katz juggled both jet lag and the jitters before registering for the only tournament in town he wanted to play — Event #43: $1,500 Limit Hold'em.
He had good reason for targeting what could generously be termed a niche variant today, because while his generation was turning no-limit hold'em into the new national pastime, the young Katz always had an affinity for the poker purist's game.
"I transitioned to limit in college and really never looked back," he said. "I just enjoy the game a lot more, I enjoy the mentality behind it. The fact that I can value bet and thin value-raise hands that I just can't do in no-limit, without someone blasting back over the top."
Katz cut his teeth at local casinos during his time as an Arizona State University undergrad, eventually becoming a regular in limit cash games back east at the Taj and Borgata. Before that, Katz frequented New York City's famed underground card clubs. Sitting secretly in card rooms like Ace Point and Players' Club — gambling dens that gave rise to Rounders' inimitable sense of style — Katz occasionally played pots with future pros like Phil Laak.
"I actually learned the game when I was very young, before the boom really hit," Katz said of his poker progression. "My dad taught me how to play hold'em and stud at the kitchen table when I was 11 years old. And right before poker exploded, I was 13 or 14 and started teaching my friends, so I actually ran a little weekend game from my house. When I first walked into Ace Point, I was 17 years old and I was the youngest person in there by far. Then, I started grinding the limit games midway through college, playing $6/$12, $8/$16, and taking shots at bigger games. The hours were way longer but the money was more consistent, because I could take a few beats and not go broke. I never actually had a real job in all that time, poker was enough, but it was a grind."
Despite countless hours spent pursuing that grind, including several trips to Las Vegas during his time at ASU, Katz never managed to make it to the Rio during WSOP season. After graduating in 2009 and beginning a career as a Manhattan-based sales director, Katz spent the next few years sharpening his skills by siphoning big bet after big bet from Atlantic City's thriving limit hold'em cash-game scene. Then, as the stars seemingly aligned in his favor, Katz decided the time had come for a trip to poker's most celebrated festival.
"I was playing $20/$40 limit at Borgata quite a bit, and I was running well," he said about the epiphany. "I was playing really well, and I just kind of knew where I was at in almost every spot for like seven or eight months. So four months before the tournament, I looked at the schedule and saw the $1,500 Limit, so I said 'this is the year, this is the time.' And for four months straight I told every single person who would listen: 'I'm winning a bracelet, there's no doubt in my mind.'
"The circumstances were just kind of perfect; it was synchronous. Poker-wise, I had been playing really strong, I was very confident in my game. And everything in my life was just going very well, so I figured this is the time to take my shot, to go out there and kind of live this dream that I've had since... well, since 2003 when I saw Chris Moneymaker win."
After registering for his own personal main event, Katz proceeded to soak in the sights and sounds that make the WSOP so special for poker fans. A longtime subscriber to Live at the Bike — a live stream featuring cash-game sessions broadcast from the Bicycle Casino — Katz found his favorite commentators sweating the action, with David Tuchman railing Bart Hanson. Never shy when it comes to chatting, Katz introduced himself and told Tuchman to watch for him during the WSOP's own final table stream of the limit event.
"Live at the Bike was something that really elevated my game," Katz said. "I subscribed just to watch four hours of live $40/$80 cash games, so it was really cool to talk with Tuch."
Stepping Up to the Plate
Come tournament time, Katz showed up bright and early to catch Jack Effel's signature "shuffle up and deal!" announcement — so early, in fact, that a security guard ushered him back out into the Rio halls. That brush with the law left him a bit flustered of course, but according to Katz, the enormity of the experience soon took a backseat to the tried and true mechanics of his favorite game.
"Any nerves or butterflies really went out the door just by sitting there and playing," he said. "I had set goals for every day of the tournament, and I'll tell you this, there is no information out there on limit tournaments, right? So I knew it would play similar to the cash games I was used to, but it's still a tournament so there's a different mentality. Ben Yu wrote a three-part article for Card Player, and one of the pieces was called Stack Management in Limit Hold'em Tournaments. And it's awesome. I read this thing like five times, and it basically talks about the idea of the 'L,' which is the 3.5 big bets you need to play a hand through the river. How you want a certain amount of 'L' to maintain your stack, so I had this mentality where I wanted 25 big bets at all times."
Surveying his first table draw and finding no stars in sight, Katz saw no reason to believe that this goal was unattainable. Nonetheless, his starting stack of 4,500 slipped to 3,700 at the 400/800 level, forcing Katz to fade overs and a straight draw in one of his only all-in situations of the tournament. After surviving that close encounter, it was smooth sailing from there, bringing Katz to his first milestone moment of the trip.
"I'd never bagged up chips before," he said with a laugh. "So we're winding down and I'll never forget, I double counted like forty times because I didn't want to get in trouble for miscounting. I was just jacked up, because I knew with my stack I had to be up there in chips. And I kept the bag, it was my first ever bag-and-tag, so I still have it has a souvenir to commemorate everything."
His initial instincts proved correct, and sure enough Katz ended Day 1 with 48,400 — good for 30 big bets to meet his "L" goal, while putting him in 11th place of 118 survivors from a 657-runner field. With dozens of top pros rounding out that field, Katz attributed his initial success to the simple act of breaking the ice with his table mates.
"A big key for me on Day 1 was that I started talking with everyone at the table immediately," he said. "I tried to build up a sense of camaraderie and have fun with it, because at the end of the day, I love limit hold'em. It's there to be fun, a fast, sociable game where people can talk. Any nerves went out the door and I was completely focused. I convinced myself that I was going to win."
Second Best Leads To Fifth Place
That intense focus propelled Katz to another strong performance on Day 2, as he continued to table talk and take chips at a relentless pace. Before the day started, Katz even had the chance to thank Yu (who bubbled the event) for his contributions to limit hold'em tournament theory. At one point though, Katz' constant chatter even prompted an opponent to call the floor, hoping in vain for a penalty to be assessed for "excessive excitement." Fortunately for Katz, the tournament director on hand didn't bite, so he was free to let his loose lips sink enemy stacks.
"Table talk has always been a part of my game," Katz explained. "Because I don't actually play a lot of hands. I'm pretty tight, so when I keep talking it gives the illusion of action, but I'm not really giving any. So I get some bets I probably shouldn't, plus it allows me to throw people off when they're focused on my conversation rather than making the best decisions."
By the time Day 2 ended, an especially stacked final table lineup was set, and Katz found himself facing a murderer's row of top-tier talent. Jeff Lisandro, David Chiu, Brandon Shack-Harris, and eventual winner Dan Kelly held 13 gold bracelets between them entering final table play, a fact Katz was well aware of at the time. Still, he sat down at the most important poker table of his life sitting fifth in chips with 294,000, and holding high hopes.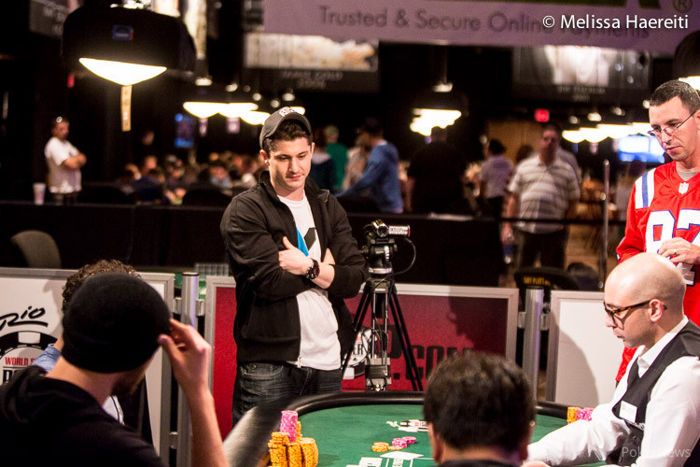 "I had no fear," Katz proclaimed. "I'm deep in this thing sitting around former champions, all of these great players, what do I have to lose?"
On the 11th deal of the final table, Katz watched a recently-crippled Ron Burke put his last chips in the middle preflop, so he called with the Q♣7♣ looking to check it down and ladder up. Despite making the second nuts on a A♠K♣3♣4♣J♥ board, however, he wound up shipping a chunk of his stack to Sean Berrios, who tabled the A♣J♣ for the winner. Katz did move up in the money with Burke's elimination, but he couldn't regain his traction after the cooler, never eclipsing the 300,000-chip plateau and hanging on for a bittersweet fifth-place finish. And while $42,857 in prize money certainly provided some measure of consolation, Katz admitted that waking up abruptly from such a splendid dream was a shock to the system.
"I remember when I busted, it was like the worst feeling I've ever had," he said. "Because I actually missed my goal. My goal was to win, and I was just so focused on winning that when I finally busted, I broke down crying. I hadn't slept for three days and I was so focused that my body just physically broke down when it was over. It took a couple days for it to actually sink in; what I had actually accomplished. Immediately after and still to this day, I'm very proud of what I was able to do. More so, how I handled myself. How much fun I had out there, and just the fact that I had wanted to do this for so long, and it became one of the best experiences you could ever have."
Memories To Last a Lifetime
Nearly a year removed from his remarkable maiden voyage at the WSOP, Katz has already booked a return trip for the 2015 edition. Knowing how close he came to capturing a bracelet added ample motivation, but to hear Katz tell it, it's the memories he made during his three-day run that leave him wanting more.
"I look back on it with unbelievable regard," he said. "And it was really kind of the start of something. I thought about it and wanted to do it for so long, that when I was finally out there, I saw everything firsthand. I lived it, I experienced it, and I had a great time. Now, it's something I'm going to do every single year of my life. Not to play a full tournament schedule or anything like that, but every June I will be playing in that tournament, every single year. And I guarantee you, I'm going to win it one year. It's an experience that I loved. I feel like I accomplished a great thing, but I want to really feel like I accomplished my goal, so I want to win.
"It's a hell of a rush, and it's a lot of fun to be on a stage like that — and then perform. When I think back on my fondest parts, it's not the money or the final table or anything like that, it's the experience and some of the little stories in between. Chatting with Scotty Nguyen on break, or singing with Jeff Lisandro, or running out the back of the Amazon Room and seeing Phil Hellmuth shoot basketball — and he's one of the worst shooters I've ever seen (laughing)! You know, talking to Brandon Shack-Harris, I think Brandon's one of the nicest guys, a really cool dude. Telling those stories to my friends back in New York, or the cash-game regulars back at Borgata, that to me is something I wouldn't trade for anything in the world."
Get all the latest PokerNews updates on your social media outlets. Follow us on Twitter and find us on both Facebook and Google+!