Five Things to Do in Las Vegas this Summer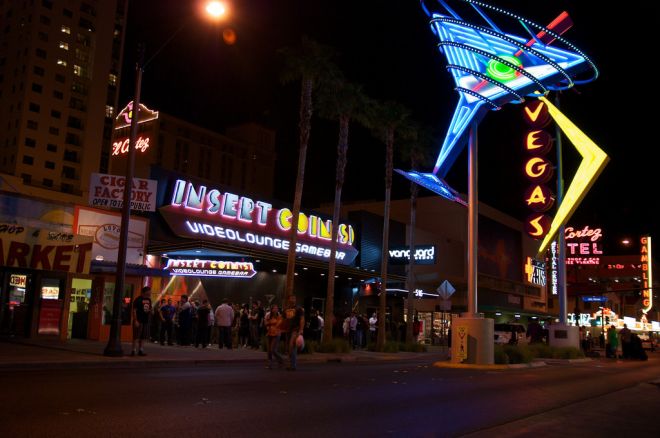 If you're reading this article, you're very likely headed to Las Vegas this summer with the primary goal of playing (and winning in) poker. That's all well and good, but there comes an inevitable time in almost every poker trip where we just need to get away from the game for awhile. Be it a horrific beat, a sick cooler, or just a heartbreaking flip to send you "to the showers" just short of the money late in a big tournament, at some point your burning desire to play the game will likely wilt temporarily.
When that happens, you'll need something to do with your time. Of course, you could simply sit around and kick rocks in a hotel room or lounge poolside and sip overpriced margaritas. But better options abound if you're willing to get out and explore the city and the surrounding area.
Here are five ways you can while away your days away from the poker table.
1. Red Rock Canyon
Those who enjoy the outdoors will find plenty to do at Red Rock Canyon National Conservation Area. Located about 25 miles to the west of the Strip, the park attracts around 1 million visitors each year, and for good reason. A slew of activities can be enjoyed around (and on) the aptly-named stone walls.
If it's exercise you're looking for, hiking, climbing, and biking are some of the most popular ways to explore the Conservation Area. However, you don't even need to leave the comfort of your vehicle to see the sights. In addition to nearly 20 hikes and trails detailed on the park's website, there's a 13-mile scenic drive open every day of the year.
"My friends and I regularly head out to Red Rock Canyon, and I know plenty of poker players that do the same," said PokerNews Editor-in-Chief Donnie Peters. "The views are great, the hikes are fun, and it's just an excellent opportunity to get outside, get some exercise, and enjoy one of Vegas' hidden gems."
If you do wish to enjoy the area, be advised that you'll want to be prepared to sky-high temperatures in the summer, averaging over 90 degrees throughout the World Series of Poker. On the bright side, fees are minimal compared to other attractions.
"Yes, it can get hot out there in the middle of a Vegas summer day, but that's also when most players will want to be playing, anyway," added Peters. "I recommend heading out to Red Rock early to get yourself feeling good for the day ahead. It's a refreshing break from the recycled casino air."
2. Mob Museum
Not quite as cheap as the Red Rock but still affordable, the Mob Museum costs a mere $22 for an adult ($14 with a Nevada ID — the Mob Museum is one of many attractions offering lower price points for residents of the state).
Officially known as the National Museum of Organized Crime and Law Enforcement, the Mob Museum chronicles the history of organized crime, which almost matches the history of this country itself. The museum offers up a view of the eternal battle between sophisticated syndicates of organized crime and the equally sophisticated elite law enforcement units that sought to stop them.
A tour of the facility, located not far from Fremont Street, takes more than two hours and involves media, artifacts, and plenty of learning.
3. Pinball Hall of Fame
As poker players, we devote hours upon hours of our lives to a game. For many of us, this isn't the first such game we've dumped our time and money into. A love of games seems to be a prerequisite for a life in the poker world, and one type of game that's spawned plenty of love is pinball.
Located just a 10-minute drive east of the Strip, the Pinball Hall of Fame offers a treasure trove of the old machines ready to play. The hall's website proudly boasts a mentality of games and charity (it's a registered non-profit), and the place is run that way: more than 150 pinball machines and 50 arcade games are not just ready to play, but cheap to play. Games cost just a quarter or two, and entrance is free.
"Some games even cost a just nickel to play!" Peters excitedly added. "I've also been to the Pinball Hall of Fame a few times, and it's one of the places I like to bring family and friends who come out here visiting. They've got everything, and I do mean everything. If you're a gaming nerd like me — and face it, we love poker so we are all nerds on some level — you can get lost in this place for hours."
You'll find us on the Ms. Pac-Man machine.
4. Golfing
A warm, sunny day on a golf course is about as far as possible from cool, less-than-well-lit casinos. That can be a welcome respite from the long grind.
A climate that's warm (at the least) more often than not, a city replete with money, and seemingly infinite tracts of surrounding desert land make Las Vegas is a premier golf destination.
Literally dozens of courses can be found throughout the city and the surrounding areas. Some of them were designed by golf legends such as Jack Nicklaus and Arnold Palmer, and there's sure to be a course fitting your skill level, be it expert or amateur.
5. Hoover Dam
One of the most popular Vegas destinations, the highest concrete dam in the Western Hemisphere plays host to more than a million visitors per year. It was constructed in the 1930s and stands more than 700 feet above the Colorado River, creating Lake Mead, the largest reservoir in the United States.
For $30, one can enjoy a full tour of both the Hoover Dam and the power plant, featuring a video and then a detailed look at the dam both inside and out, including an amazing view of Lake Mead. Seeing one of the great man-made achievements of this country is a rare opportunity, available if you're willing to take a 35-mile drive outside the city. Be advised the tour takes a few hours and is unavailable to children under eight and those needing wheelchairs or crutches.
Of course, this list is far from exhaustive. Hopefully, though, it's inspired you to find something enjoyable to do with your time off. The grind can be incredibly draining, and it's important to step away from it every now and then.
Get all the latest PokerNews updates on your social media outlets. Follow us on Twitter and find us on both Facebook and Google+!